From Dumpster to Dining Room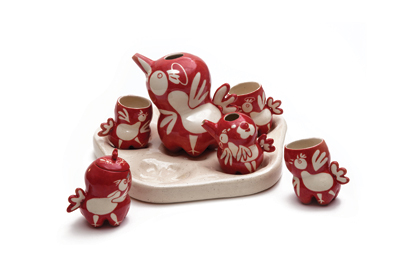 Glorious sunsets, grand mountain landscapes or a simple bowl of fruit – one never knows what inspires another to create art. Some find art in decaying city streets or in dark, brooding bayous. And then there is the angst of a fertile subconscious that has driven modern art since Sigmund Freud entered the world's psyche. WangLing Chou of Pineville, however, finds her expression in the everyday trash and flotsam of today's disposable society.
A discarded plastic Coke or energy drink bottle, a Styrofoam egg carton, or the plastic container from a roasted chicken purchased at a local supermarket all find new life as cleverly designed bowls, vases, cups and plates for the dinner table. Chou's art and vision call to mind how the acerbic Oscar Wilde once described an artist's view of the world: "No great artist ever sees things the way they are. If he did, he would cease to be an artist." Chou sees trash not as it is but as it could be. Looking at the feminine curvatures of an empty coke bottle or the molded clear plastic cover of a roasted chicken carton, she sees only beauty and gracefulness in utilitarian objects that were never intended to be art. A Coke bottle becomes a ceramic teapot or an egg carton a table centerpiece for a Thanksgiving dinner.
In a sense, repurposing and transforming objects from one unrelated form to another is a metaphor for Chou's own life. Born in Taiwan and now an American citizen, the 40-year-old artist has been on a long transformational journey that started as an elementary school teacher in her native land. After five years teaching young children, and over her mother's strenuous objection, Chou moved to the United States in 2002 to pursue her passion in art at the University of the Arts in Philadelphia. "I finished my teaching contract, quit my job and enrolled at the university," she says, recalling her life-changing break with everything she knew. "My parents thought I was crazy. They didn't understand. When I ran out of money, my parents wouldn't send me any except for a ticket home."
---

LEFT: "Roast Chicken Sarcophagus" RIGHT: "Caretaker"
---
Unhappily, she returned to Taiwan but later set off for the United States again after her former professor in Philadelphia, the internationally celebrated potter James Makins, met with her parents while on a lecture trip to Taiwan and convinced them to let WangLing follow her dream. He also helped her obtain a graduate fellowship to study with acclaimed ceramic artists Kirk Mangus and Eva Kwong at Kent State University in Ohio. After completing graduate school in 2006, Chou lived for a brief time in Santa Fe, New Mexico, before securing a job at Louisiana College in Pineville, where she now serves as the coordinator of the art department and teaches ceramics and three-dimensional design. "Doors just keep opening," she says. "I heard a voice tell me to be faithful and devoted to my talent." Chou stepped through another door when she married Matthew Stokes of Alexandria, who had spent two years in China, teaching English as a second language.
Nothing illustrates Chou's metaphysical journey more than her "Dumpster" series. "I am a material conservative," she says. "I recycle and I hate to create trash. I repurpose materials. One day, I saw packing materials being thrown away as trash. I thought the form was too beautiful to throw away. I save my trash to give it a second chance. Designers create the initial forms and many are beautiful like the beautiful design of a Coke bottle." In today's throwaway world, Chou has no trouble finding material. Landfills are full of it. "Lots of times, people and students who have heard about my work bring me their trash materials," she says. "When I go grocery shopping, I pay attention to plastic bottles and containers. I often buy the products simply because I want the container. I transfer lowly items to higher forms. They become art. Transformation."
That transformation begins with a seemingly innocuous object such as an egg carton or a roasted chicken container. Unlike many artists who create a mold from the object to be copied, Chou uses the object itself as the mold. It is an interesting process. First she washes the item in warm, soapy water, dries it, and sprays a thin coat of WD-40 to the object's interior. After wiping off the excess lubricant, she presses thin slabs of ceramic clay to the mold's inner walls, making sure all indentations are filled with clay. Once the clay feels leathery hard, she cuts away the mold (which she may reuse again). She then paints on her designs, applies various glazes to give the finished object luster, and finally fires it in a kiln.
---

LEFT: "You're Too Young to Understand" RIGHT: "Two Black Swans"
---
Actually, Chou's hand-painted ceramic ware is a continuation of an ancient Chinese tradition in which painted scenes on teapots and bowls told stories. In a contemporary way, her work does the same. Chou's cartoonish designs often include rabbits and chickens that act out symbolic moments in her married life. According to the Chinese calendar, Chou was born in the Year of the Rabbit and her husband, Matthew, in the Year of the Chicken. We'll leave it to Chou to interpret those moments.
Although Chou plans to continue her "Dumpster" series, she constantly thinks about her work, its meaning and future directions. "I keep reaching for a clearer vision about the mission in my life," she says, as she contemplates finished and unfinished work sitting on shelves and tables around her studio. "I know it's art and teaching, but I wonder what I can do to make it better, more meaningful. I wonder what will be my next vision. Where is my art going to take me? When I left Taiwan, I thought I had thrown away my teaching experience and life, but I'm still a teacher but in art. I have turned back through the circle." As to her parents, she says, they "feel proud but won't say it. They don't say anything negative any more now that I am a college professor."
In recent years, Chou's work has gained considerable recognition. She has received nine regional and national awards and has shown her artwork in almost 50 juried exhibitions across the country. In Louisiana, Chou's work can be seen at Louisiana Pottery in Sorrento and at the Alexandria Museum of Art Gallery. For additional information, visit wanglingchou.com