From the Editor: Crowning a Seafood King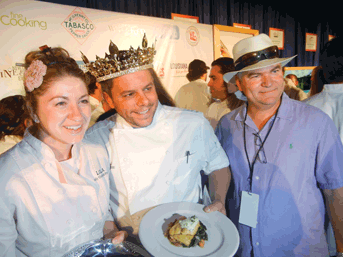 Huey Long's anthem was "Every Man a King." That notion made great politics for the former governor but not such good logic. In a land where every man is a king (or, as Huey was quick to add, "Every Woman a Queen"), no one really rules. Probably some warrior general would have to ride in to set everyone straight.
There are no such worries in the kingdom of Louisiana seafood, for there is only one king. His name is Keith Frentz. He and his wife and fellow chef, Nealy Crawford-Frentz, operate Lola, a previously little-known restaurant in Covington.
Frentz won the crown (and he did literally receive a crown) after a competition against nine other chefs staged by the Louisiana Seafood Promotion and Marketing Board during the recent New Orleans Wine and Food Experience.
Since the oil disaster in the Gulf, the Seafood Board has had both its agenda and its coffers full, the latter thanks to a check from British Petroleum. Disaster often breeds opportunity (just ask the people rebuilding New Orleans) as Louisiana seafood is now being touted to the world. Having a king helps. In August, Frentz will represent Louisiana at the Great American Seafood Cook-Off, also held in New Orleans.
Cory Bahr, chef at Cotton in Monroe, won the crown last year, proving that someone from upstate can compete with the seafood slingers from down south. This year the effervescent Bahr served as co-master of ceremonies of the festivities, watching his crown being transitioned.
Frentz won with what he called his "Friday lunch special" consisting of wild-caught fried Des Allemandes catfish (not the farm-raised stuff) dusted with cornmeal and served alongside a red-beans-and-crawfish succotash, as well as braised collards and his own tartar sauce.
Chef Kevin Templet of Fremin's restaurant in Thibouaux finished second with a black drum crusted in Zapp's Cajun Crawtators and served alongside a knockout bacon and asparagus risotto.
(As one of the judges I can reveal that the gap between first and second place was less than the width of a catfish whisker.)
Drew Dzejak of the New Orleans Windsor Court's Grill Room finished a respectable third with his rendition of a Brown Butter American Red Snapper.
Of the 10 entries there were only two clunkers; one suffered from lack of imagination and the other, which was quite imaginative, failed because the fish wasn't cooked to edibility. The other eight chefs, however, could all wear the crown. Their dishes show that the creativity in Louisiana restaurants is as fertile as the bounty from the sea.
Hope the folks from BP can try some of our dishes. They are a long way from fish and chips.