From the Editor: Holly Beach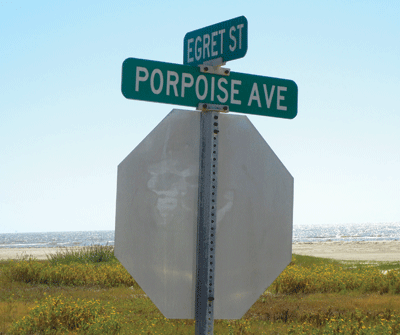 There were neither porpoises nor egrets that could be spotted from this intersection. Nor, for that matter, was there an avenue or much of a street. Someone could have exceeded 15 miles per hour, and no one would have noticed. The back of the stop sign seemed appropriate for, at the moment, Holly Beach is more "stop" than "go."
Located at the southwest corner of the state in Cameron Parish, Holly Beach is in need of a makeover. Not that the area doesn't have natural beauty. Like any great beach, the sea that defines it can be mesmerizing, and there are always the sunsets to behold. Missing, though, is visible life, human or otherwise. On this day a man and woman and their dog walked along the shoreline, their bare feet – and paws – leaving impressions in soil that was more muddy than sandy. Along beaches, nature provides its sensory sensations: On this day there was salty breeze, cool water and – dead fish. Unfortunately the latter overcame the former. Thousands of menhaden had been bulldozed into dozens of decaying piles along the beach.
Menhaden is not a glamorous fish, not something that would appear grilled and topped with crabmeat at nearby restaurants – if there were nearby restaurants. It is, however, a very important fish, yet another one of Louisiana's oil deposits. When we buy fish oil products, there is a good chance that the contents came from Gulf menhaden. A nearby plant, itself smelling similar to the piles, processes the oil on the way to factories.
Once Holly Beach was referred to as "the Cajun Riviera," but Cajuns know better. Hurricanes have been cruel to the spot. In 1957 Hurricane Audrey scraped the land clean with 12-foot surges, and then in 2005 Hurricane Rita leveled what there was of a beach community. To add insult, in the wake of Katrina's well-publicized damages a few weeks earlier, hardly anyone noticed the demise of Holly Beach. There are folks who want to rebuild along the shore, but the regulations are tougher now. There is little frolicking along this riviera.
All is not gloomy, though. The beach is along the route of the Creole Nature Trail that takes a coastal dip between Sulphur and the east side of Lake Charles. Many day-trippers drive along the coast, which, in stretches, comes nearer the waterline than many of the famous Florida beaches.
For those who want solitude, it is available here. Holly Beach may never again be a famous place for humans to party, but it could be a spot for nature to be free. And that's not all bad.