From the Editor: Les Chansons du Carnaval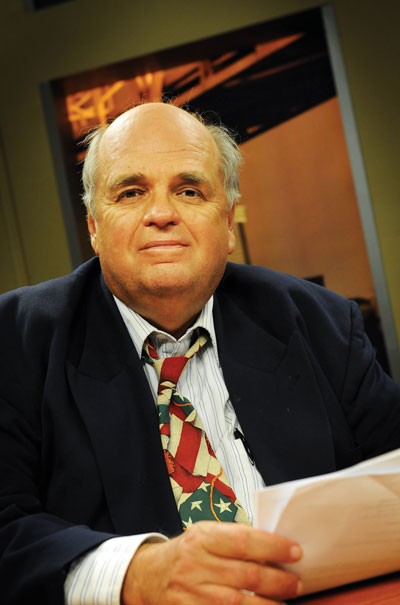 On Mardi Gras morning in those villages of the Cajun prairie that are blessed with a Carnival celebration, a pack of mounted revelers heads towards various homes. As they approach they sing a special song in Cajun French:
Les Mardi Gras s'en vient de tout partout,
Tout alentour le tour du moyeu,
Ça passe une fois par an, demandé la charité,
Quand-même ça c'est une patate, une patate ou des gratons
For the British among us that translates into:
The Mardi Gras come from all around, all around the center of town.
They come by once per year, asking for charity.
Sometimes it's a sweet potato, a sweet potato or pork rinds.
Several stanzas later the message reaches its high point:
Captain, captain, wave your flag, let's go to another neighbor's.
Asking for charity for everyone who'll come join us later,
Everyone who'll come join us later at the gumbo tonight!
Entitled "La Danse de Mardi Gras" the song has been recorded several times including by Bee Deshotels, the Balfa Brothers and Steve Riley and the Mamou Playboys. The lyrics vary slightly from singer to singer but the eternal message of man pursuing chickens with thoughts of a gumbo remains the same.
No state celebrates the Carnival season in more and better ways than does Louisiana. At its most basic the season is a reason to have an extra beer and for catching something on a street corner. At its deepest meaning Carnival has sociological roots that meandered from Europe and then across the Atlantic with some deviating through the Caribbean. Louisiana became the garden where those roots sprouted, in different years and in different places. No celebration, none whatsoever, creates as much indigenous music as Carnival in Louisiana.
In New Orleans the music of Carnival is mostly rhythm and blues that has been frozen in time since the 1960s including Professor Longhair's "Going to the Mardi Gras," the Hawketts' "Mardi Gras Mambo" or Al Johnson's "Carnival Time." Then there's the subset of songs that draw from the Mardi Gras Indian tradition including "Big Chief," which combines the sounds of the islands with the music of back street New Orleans.
Most important is Carnival's anthem, "If Ever I Cease to Love," which Rex adapted from a British Burlesque show back in 1872 and which has since been embellished as a march and as a spritely jazz standard and recorded by many. Throughout the pre-Lenten days up until Carnival's closing moments the anthem is there as though it is escorting the season.
Ash Wednesday, the day after Mardi Gras, is mentally a world away from masked riders symbolically rustling chickens. For most of the rest of the world the day before is just another working day. In parts of Louisiana we celebrate and sing as no others do.
Wherever there is native music there is native soul — and that itself is worthy of a song.
(Note: The Along the Way column by managing editor Melanie Warner Spencer will return in the April/May issue.)
---
DID YOU KNOW?
Doc and Satchmo
A story is told that in 1915 some officials of New Orleans' Krewe of Comus were worried that younger people had lost interest in their tradition-laden society balls. To entertain the kids, the krewe, on Mardi Gras evening of that year, arranged for a special dance to be held at the Pickwick Club. Although the old-liners looked down at some of the newly emerging spontaneous music forms such as ragtime, a group of Tulane students known as the 6-7/8 Band was hired for the gig. Their music was part of the evolutionary process that would eventually be known as jazz.
One person would carry the cause through the decades. Among those students who played in the 6-7/8 band back in 1915 was Edmond Souchon who, as an adult, would become known as "Doc." One of the best known versions of Carnival's anthem, the 19th-century ditty "If Ever I Cease to Love," was recorded with the raspy-voiced Doc Souchon doing the vocals — set to jazz time.
In 1950 his daughter, Dolly Ann, was going to be Queen of Carnival, yet one of his idols was riding as king in the Zulu parade. What to do? Who to see? His idol was n Louis "Satchmo" Armstrong.
Through some precise scheduling Souchon served both monarchs. He missed the limousine ride downtown with his daughter so that he could see Armstrong arrive by boat on the New Basin Canal, than he scurried back to his family with the Rex entourage.
— EL