Game Day in Tiger Stadium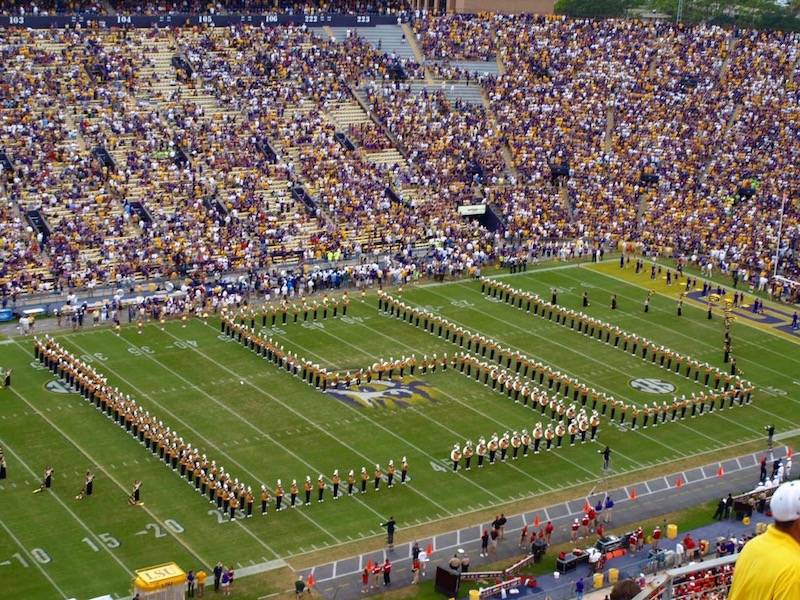 There's an old joke that in the South on football Saturdays, cities double in population. Take Baton Rouge, for instance, which counts around 228,000 residents within its city limits. When the LSU football team plays at home in a massive stadium that's nicknamed "Death Valley," more than 102,000 fans may be in attendance, making it one of the largest college sports stadiums in the country and the fifth largest city in Louisiana on game day.
There's nothing like Saturday night in Tiger Stadium. The roar of the crowd mimics the school's mascot, Mike the Tiger, a noise so intense it routinely deafens the calls of the opposing teams. It's no wonder other college teams dread playing in the stadium.
But the experience goes beyond the football game. Thousands tailgate around the stadium, many who watch the game from big-screen TVs while cooking up Louisiana favorites. LSU also offers one of the most historic and beautiful campuses in the Southeastern Conference so there's lots to visit before the game, as well.
Here's a timeline if you're heading to Baton Rouge this fall:
Take a hike – Tailgating stretches around the campus with RVs parked alongside Tiger Stadium and tents pitched in the Parade Grounds as well as other spots on campus. You'll find aromas of some of the finest tailgating foods imaginable, plus games, music and more.
See a real tiger – LSU's mascot, Mike the Tiger, lives in a comfortable habitat on North Stadium Drive with glass walls that allow visitors to watch him play or hear him roar. He's the only live tiger on an American college campus. You can also view Mike in action on his webcam at www.mikethetiger.com.
Pre-game – Don't miss gathering along Victory Hill before the game to watch the Golden Band from Tiger Land march down and into the stadium. The band's rendition of LSU's fight song, "Hey Fighting Tigers," is one of the most goose bump-inspiring songs in the SEC. Speaking of… you need to be in your seats 20 minutes before the game starts to watch the LSU band silently take the field and, without warning, deliver a striking rendition of the song. More goose bumps to enjoy.
Kick-off time – The teams arrive with much fanfare and the football begins. The noise will rock your socks.
The LSU football schedule for 2018:
Sept. 8 — LSU plays Southeastern Louisiana University in Baton Rouge
Sept. 15 — Auburn at Auburn
Sept. 22 — Louisiana Tech in Baton Rouge – Purple Game
Sept. 29 — Ole Miss in Baton Rouge – Gold Game / 1958 National Championship Reunion
Oct 6 — Florida at Gainesville
Oct. 13 — Georgia in Baton Rouge
Oct. 20 — Mississippi St in Baton Rouge – Homecoming
Nov. 3 — Alabama in Baton Rouge
Nov. 10 — Arkansas at Fayetteville
Nov. 17 — Rice in Baton Rouge
Nov. 24 — Texas A&M at College Station
Dec. 1 — SEC Championship in Atlanta
*Bolded dates are home games
For more information: