Gary L. Jones, Ph.D. – Louisianian of the Year – Education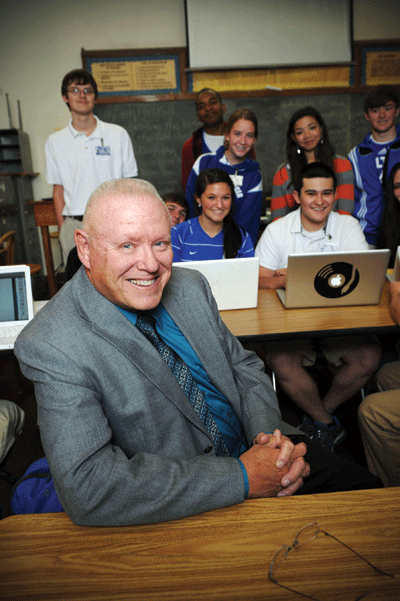 We present here our first class of Louisianians of the Year. In doing so we defined some key categories: Conservationist, Visual Artist, Civic Activist, Educator, Celebrity, Chef, Musician and Entrepreneur. There are other important, higher profile categories that we could have looked at – politics and sports being among them – but these chosen eight represent to us an impressive cross-section of local creativity. Thanks to all of them for their good works; thanks to all of you for providing an active state in which those works can be appreciated.
Education
Gary L. Jones, Ph.D.
Public schools superintendent, Rapides Parish / Alexandria
Schools chief 'negotiates' with troubled students.
Not everyone would agree that military training is the best preparation for a public school administrator, but that doesn't worry retired Army National Guard Brig. Gen. Gary L. Jones.
"Some people like it; some don't," he says. "I take the position that leadership is not necessarily a popularity contest."
Yet Jones, who for the past eight years has been superintendent of the Rapides Parish School District, seems to have plenty of fans. Members of
the American Association of School Administrators and the Louisiana Association of School Executives recently named him Superintendent
of the Year for 2011.
Jones was born in Washington state, but his military father kept the family on the move. Jones considers his home to be Monroe. He was a school superintendent in Monroe and in Claiborne Parish before moving to the Alexandria-based system.
The Rapides Parish district was running on empty at the time Jones took charge, but he eventually turned an $11 million deficit into $14 million in reserves. He says he did it by "targeting" resources.
"A lot of money comes through our district," he says. "I just try to put it where it will get the best results."
Jones' success has not been limited to the balance sheet. He is also seen as a successful innovator.
Two years ago, with Louisiana schools under pressure to graduate high school students in no more than four years, Jones came up with a way to keep kids in classes even when outside circumstances disrupt their schedules. An online learning program he instituted lets students switch back and forth between traditional classroom and online learning in order to keep them on track toward graduation.
The program also lets high-performing students take extra courses and move through high school faster.
"I've got a kid who's a freshman, got a 30 on his ACT in the eighth grade and took high school algebra 1 this summer; he's now taking algebra 2, geometry and advanced math at the same time," Jones says.
Jones says some of his most rewarding work has been with troubled students who could easily end up in detention centers rather than classrooms.
"I get personally involved with troubled students," he says. Instead of getting expelled, such students meet with Jones to sign a performance contract.
"We negotiate a contract between the student and me," he says, " and then we both agree to live up to it."