Get Lit This Season
The Louisiana Holiday Trail of Lights adds two new destinations to lineup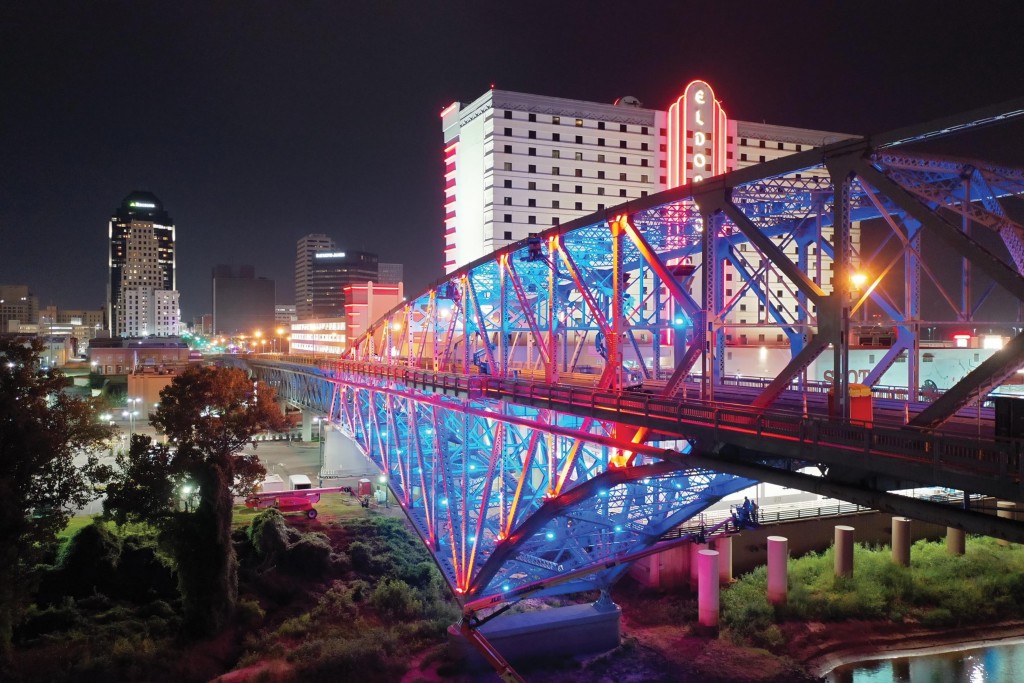 The Louisiana Holiday Trail of Lights, a connection of cities along Interstates 20 and 49 that promote the holidays to visitors and residents, have added two new destinations. Ruston and Logansport join the festivities in Shreveport-Bossier, Minden, Natchitoches, Alexandria-Pineville and Monroe-West Monroe.
This "marketing cooperative partnership" in central and north Louisiana began in 1992 and has been morphing for years. Now, the Trail will broaden in east Louisiana to include the college town of Ruston and head west from Shreveport to Logansport, a bookend of sorts on Interstate 20.
"The Holiday Trail of Lights is such a unique partnership that allows all of us to come together and leverage the amazing holiday offerings we have all across the northern part of Louisiana to provide a more cohesive and engaging experience for visitors," said Amanda Carrier, president and CEO of Experience Ruston. "We feel like the addition of Ruston and Logansport really ties the trail together and gives visitors even more incentive to hit the road and experience all the holiday festivities that our area of the state has to offer."
Each town promotes its holiday events, everything from Christmas parades and Santa visits to special attractions such as the American Rose Center's annual "Christmas in Roseland."
The seven cities are within a day's drive of each other and the Trail may be enjoyed for a day or stretched into a long weekend. For a complete schedule of events, visit holidaytrailoflights.com or follow the Trail on Facebook and Instagram by searching Holiday Trail of Lights.
Here are a few events to start planning your itinerary.
Logansport
This Sabine River town kicks off the holidays Saturday, Nov. 19, with a holiday train ride, fireworks, parade and entertainment. Other events in the Parish include the Grand Cane Christmas Parade and Grand Cane Holiday Tour of Homes on Dec. 3, holiday performances at the BackAlley Theatre in Grand Cane, Christmas parades in Mansfield and Stonewall on Dec. 10 and the Keachi Christmas Musicale Dec. 18.
When in Logansport, be sure to check out its many restaurants, the Riverfront Park with its wooden boardwalk to the Sabine River, the iconic Bucking Horse statue gracing a downtown business, the historic 1882 cemetery and the Louis Moses Rose gravesite, the only survivor of the Alamo.
Ruston
The home town of Louisiana Tech (and a short drive from Grambling) starts things rolling on Thursday, Nov. 17, with the Downtown Holiday Open House, but the "Kickoff to Christmas" celebration follows on Saturday, Nov. 26, with a tree-lighting ceremony, horse-drawn carriage rides, a visit from Santa and more in the heart of Ruston. Ruston Community Theatre's annual holiday play at the Dixie Theatre stage happens on the first weekend in December, as well as Lincoln Parish Park's annual Lincoln Lights Up the Pines drive-through light display. The park's holiday attraction features thousands of lights, festive displays and decked out vintage campers. Then on Thursday, Dec. 8, it's the Holiday Sip & Stroll.
Natchitoches
Louisiana's oldest city has been celebrating the holidays in a big way since 1927, and this year will be no different. The 96th annual Natchitoches Christmas Festival begins on Saturday, Nov. 19, when officials "Turn on the Holidays" to more than 300,000 lights and set pieces, many located right on Cane River Lake. The fun runs through Jan. 6, 2023, with fireworks every Saturday in December, live concerts, the Holiday Tour of Homes, a parade, holiday market and more. There's the festive Northwestern State University Gala Nov. 30-Dec. 2, a holiday boat parade on Dec. 10 and actual snow on the downtown riverbank on Dec. 17. It's too much to list here so visit www.natchitocheschristmas.com for the complete schedule.
Shreveport
The Bakowski Bridge of Lights, formerly known as the Texas Street Bridge in downtown Shreveport, will be decked with 13,000 LED lights that can be programmed with custom designs. The annual holiday fireworks display will be ignited from the bridge this year with a custom light show set to music.
As for the popular Christmas in Roseland, we understand there will be even more light displays this year to be complemented by nightly entertainment by area church choirs, musical groups, bell choirs, dancers and storytellers. This annual fundraiser with its hot chocolate and Santa visits is perfect for families.
Photos courtesy: The Bakowski Bridge; Natchitoches Christmast Festival