Gina Womack – Louisianian of the Year – Civic Activism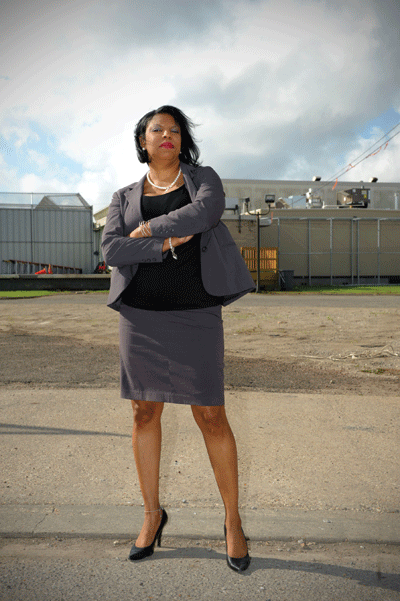 We present here our first class of Louisianians of the Year. In doing so we defined some key categories: Conservationist, Visual Artist, Civic Activist, Educator, Celebrity, Chef, Musician and Entrepreneur. There are other important, higher profile categories that we could have looked at – politics and sports being among them – but these chosen eight represent to us an impressive cross-section of local creativity. Thanks to all of them for their good works; thanks to all of you for providing an active state in which those works can be appreciated.
Civic Activism
Gina Womack
Advocate for incarcerated children / New Orleans
Offering support for jailed and castoff kids.
When she landed a job with the Juvenile Justice Project of Louisiana in the late 1990s, Gina Womack was grateful. She had recently separated from her husband and needed the work to help support her three children. But she had no inkling of what the job would become.
"As an office administrator, I was doing books, budgets, payroll and also answering phones," she says. "That's when I really learned what was going on."
Many of the phone calls came from children who were in juvenile detention facilities or from their parents who said their kids in the facilities were being mistreated.
"I thought parents needed a way to talk to each other and share information," Womack says.
She decided to form a support group for the parents, and in no time her effort snowballed.
Recently, Womack, her staff and many supporters celebrated the 10th anniversary of the Families and Friends of Louisiana's Incarcerated Children, a statewide organization that works to improve the lives of young people involved in the juvenile justice system.
In September, Womack, as co-founder and executive director of the organization, received the national Alston Bannerman Fellowship award, presented by the Center for Social Inclusion. She was one of six fellows selected from around the country.
"I'd like to say I had some brilliant idea, but I didn't," she says of the organization's growth. "Our support group turned into parents really getting a sense of their power."
The thousands of young people who are placed in detention centers and jails each year range from kids who are first-time misdemeanor violators to repeat offenders who could be headed for a lifetime of crime. Most come from low-income households, and many have dropped out or been expelled from school. What many also share is the lack of opportunity to turn their lives around.
The Families and Friends group aims to re-route the school-to-prison pipeline in several ways, including reducing unnecessary school suspensions and expulsions that funnel kids into centers offering little chance of rehabilitation.
The group also formed the Parent Leadership Project to encourage more positive behaviors in the classroom and at home.
One of the organization's biggest successes was the passage of the Juvenile Justice Reform Act of 2003, which led to the closing of the notoriously abusive Tallulah Correctional Center. But Womack says she can't rest on such achievements.
"We closed the prison, but some of the same problems still exist," she says. "Systemically, we have a long way to go."