Goliath Gipper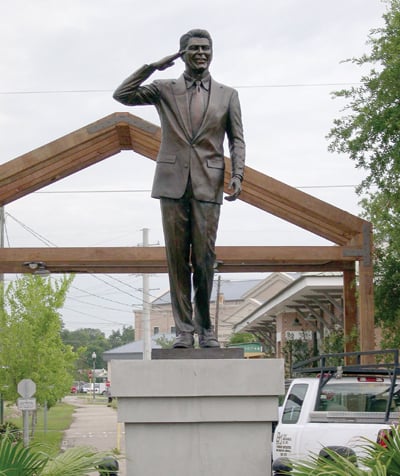 Ronald Reagan was – and continues to be – a larger-than-life figure for many. That perception of the former president takes on a literal interpretation at the Covington Trailhead, a terminus of the 31-mile Tammany Trace. The "Gipper's "nine-foot likeness towers over the trailhead park, saluting and grinning at those who walk, jog, or cycle past. The Reagan statue also happens to be the world's largest of the former president.
The bronze statue's six-foot-tall pedestal holds a simple plaque that gives little detail as to how this all came to be; it simply says the statue was commissioned and donated by Patrick F. Taylor on June 27, 2008.
That's the same Patrick F. Taylor, of course, who made a name for himself – and quite a pile of money – in the oil industry. Taylor founded Taylor Energy, a highly successful oil and gas company operating in the Gulf of Mexico. The enterprise earned Taylor billions, and at the time of his death Forbes magazine had estimated his net worth at $1.2 billion. That put Taylor at 234th on the list of the richest people in the United States, and the only Louisianian on the list.
But Patrick Taylor is known for more than just his successful business ventures; he was also a prolific philanthropist. Taylor and his wife, Phyllis, started the Patrick F. Taylor Foundation, which makes grants to New Orleans-area nonprofits and scholarships to individuals.
Taylor was such a strong believer in higher education he spearheaded state legislation that would become known as the TOPS program, or the Taylor Opportunity Program for Students. Through the program, Louisiana residents with qualifying grade point averages and test scores can receive scholarships to Louisiana public colleges, up to full tuition plus additional assistance for other expenses.
Taylor, a Republican, was also a supporter of Ronald Reagan and had expressed a desire to build a memorial to his favorite president. In 2004, Ronald Reagan died at his home in Bel Air, California. Patrick Taylor died just five months later of complications from bacterial endocarditis. He was just 67 years old.
Phyllis Taylor made sure her husband's wishes of a Ronald Reagan monument were upheld, although nearly four years passed between Taylor's death and the dedication of the statue on June 27, 2008. It made sense the statue would land in Covington, near Highway 190, which had been dedicated as the Ronald Reagan Highway in 2003.
Ponchatoula sculptor Patrick Miller was chosen as the statue's artist.
"What I mostly remember of that time was Hurricane Katrina," says Miller, whose work ranges from large-scale public monuments to portrait busts and bas reliefs. When Katrina hit, Miller had begun work on a small-scale model of the sculpture called a maquette.
"You usually sculpt a smaller version before the full-sized sculpture," he explains. "It was in clay and pretty fragile so I packed it in an ice chest with lots of padding and taped it up. I didn't know how bad [the storm] would be for us on the Northshore but I didn't want anything to happen to the sculpture. I had so much time invested in it."
Miller was without electricity for three to four weeks after the hurricane and didn't resume work on the statue until the fall, he says. In the end, the statue took over a year to complete.
"It was a fun and challenging project," Miller says.
His handiwork now stands over the small park at the Covington Trailhead, home to art markets, farmers markets, and outdoor concerts. Ronald Reagan seems to be offering his approval of the merriment taking place at his feet.