Good Life: Cajun Country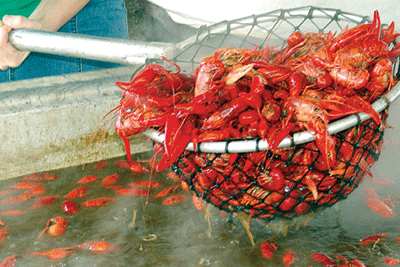 Cajun Country, nestled along the Gulf of Mexico, is internationally known for its flavorful cuisine, its fascinating culture and some of the friendliest folks you'll ever meet. Many a visitor has come for a vacation and decided to make Cajun Country home base; the same attributes that make it a delectable place to visit make it an ideal retirement home.
Cajun Country was settled by French Acadians who left their native Nova Scotia more than 250 years ago. Its fertile land and many bodies of water made for great hunting, fishing and farming. Today, the area is home to a busy oil-and-gas industry as well as modern educational and medical resources.
A good place to start checking out Cajun Country is Lafayette, one of the region's most beautiful cities. You'll find plenty to do: take a swamp tour, sample a bowl of seafood gumbo or shrimp Creole or tour the University of Louisiana at Lafayette's well-known art museum. Two don't-miss times to visit Lafayette are the spring Festival International de Louisiane, where you can hear all kinds of music and taste flavorful seafood and Caribbean cuisine, and the Festivals Acadiens and Créoles in the fall, where you can dance the Cajun two-step to the music of some great bands.
Lake Charles, near the Louisiana-Texas border, is another popular Cajun Country destination. Some say the pirate Jean Lafitte made Lake Charles his hideaway; each May, the Contraband Days festival re-enacts this tale. The festival also features live music, Cajun treats and carnival rides.
If your retirement plans center around the relaxed life of a small town, Cajun Country can fit the bill. Abbeville, Mamou, Breaux Bridge, Crowley, Opelousas and Thibodaux are just some of the choices you have. Each town has a variety of living styles from which to choose and lots of friendly people eager to welcome newcomers with a pot of steaming café au lait and a plate of pralines, a candy treat made with Louisiana pecans. Many towns are noted for festivals celebrating their natural resources, such as the crawfish festival in Breaux Bridge and Crowley's rice celebration.
After decades spent in office cubicles, many retirees are eager to explore the great outdoors. That's easy to do in Cajun Country, which features Lake Fausse Pointe State Park and the 180-mile Creole Nature Trail. And you'll have more days to spend outdoors, thanks to Louisiana's mild climate.
Cajun food gets its reputation from its use of the local produce and seafood that are so plentiful. Even the area's smallest cafés pride themselves on their versions of such regional treats as jambalaya, gumbo and étouffée. Cajun cooks were practicing the "local food" movement years before it became trendy, filling their menus with dishes made from fresh local meats, fish and vegetables.
Retirees who aim to finish a college degree or earn a new one have several two- and four-year schools from which to choose. Some have special breaks for seniors; the University of Louisiana at Lafayette, for example, offers a tuition discount for students over 60.
Whether you choose Cajun Country for its music; its cuisine; its fascinating culture; or its laid-back, friendly people, your retirement days will be short on boredom and long on fun.