Good Life: Greater New Orleans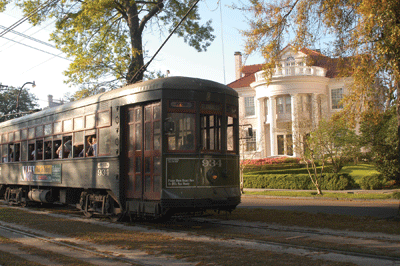 You will sometimes hear New Orleans referred to as the country's "most European city." It's true; generations of English, French and Spanish settlers left their unique marks on the city. The many Irish, Italian and German immigrants brought their ways, adding to an already vibrant African and Caribbean culture. More recently, Vietnamese people have made New Orleans their new home and added to its rich mixture.
The resulting blend has kept New Orleans from turning into one of the cookie-cutter communities you find throughout the country. And those who choose New Orleans as their retirement home will constantly find new aspects of the city to explore.
Shopping, cooking and eating are three of a New Orleanian's favorite things to do. A variety of cooking classes, including those at Delgado Community College, are tailor-made for newcomers who want to cook like natives. Dining out is another common preoccupation, and in New Orleans the variety of restaurants is infinite. Special occasions might call for a trip to such grandes dames as Commander's Palace or Arnaud's. But one can dine with equal enjoyment at any of the many cafés and poor boy shops.
No matter what you are interested in, New Orleans offers lots of opportunities to learn. If art is your passion, the New Orleans Museum of Art, ensconced in beautiful City Park, is a great place to start. Other don't-miss museums include the National World War II Museum and the Ogden Museum of Southern Art.
History takes center stage at such historic buildings as the Presbytere and the Cabildo. Professional opera, ballet and symphony performances provide regular entertainment, while the New Orleans Jazz & Heritage Festival and the Essence Festival are annual events that draw people from all over the world.
If you like to relax outdoors, you'll be in heaven. You can choose from one of the area's excellent golf courses or have a picnic or family reunion at leafy Audubon Park. Drive across the Causeway bridge to the city's north shore and go berry-picking or fishing, or take a bicycle ride along the Tammany Trace.
It's easy to find the right sort of housing in New Orleans – and at a wide variety of prices, too. Those who long to live in a historic old home can choose from several neighborhoods, including the gracious Uptown district. Those seeking suburbs with big yards and such amenities as swimming pools have dozens to explore, many on the Northshore. Downtown offers modern lofts and condos, while independent and assisted-living communities are there
for those who may need a little help. No matter which part of town you live in, you'll be near top-flight medical facilities.
Finally, if you retire in Louisiana, you won't lack for company. Friends and relatives from "back home" who are aware of New Orleans' reputation will love to come visit, and you won't run out of things to do. Take a streetcar ride along historic St. Charles Avenue, spend the day browsing Magazine Street's miles of shops, enjoy Café du Monde and beignets in the French Quarter. And if grandchildren come to stay, don't miss the Audubon Institute's zoo, Insectarium and Aquarium of the Americas. That's just one of New Orleans' many charms: There's something to please people of every age.