Grape Expectations
Louisiana isn't known for good wine but two Ouachita Parish couples are crushing that notion with patience — and thoughtful blends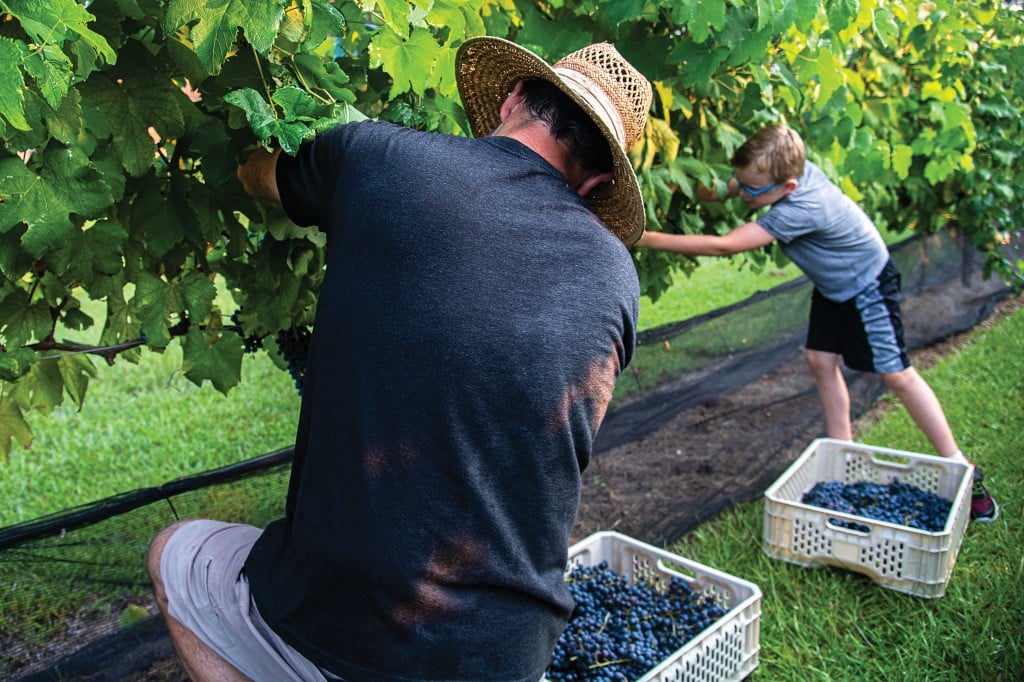 Savannah Ray left her home in Ouachita Parish one weekend and returned with a dream. Her husband, Michael, says, "She went to Sonoma Valley and thought it was pretty." With timing that comedians spend years honing, he gestures toward one block of Thirsty Farmer Winery & Vineyard, a quarter-acre in the family's backyard in Calhoun. "This is what 'pretty' led to."
Starting from scratch, the couple knew that it takes three years — three "leaves" — before vines will produce fruit of winemaking quality. They planted riesling, pinot noir, and chardonnay, all European varietals. "We planed those because we liked them," Michael says. "We thought, OK, now we have three years to learn how to make wine. Then we met Jeff." He pauses. "He hurt our feelings," Michael says, flashing a grin.
Jeff Landry and his wife, Libby — doyen and doyenne of Louisiana viticulture and the largest wine producers in the state — have been growing grapes and making wine for more than 20 years. They started Landry Vineyards in Folsom, where weather patterns mean increased rainfall in the leadup to harvest, an unfavorable seasonal rhythm for their work. Still, they persisted, but the south Louisiana climate kept their vineyard wet. And grapevines, Jeff says, "will not tolerate wet feet." He drained the property. He increased the percentage of sand in the soil, but even in years without tropical storms or hurricanes, the vines struggled.
Then came Katrina. The Landrys sought refuge in Ouachita Parish, finding a support system through a local Presbyterian church. Along with the rolling hills and weather patterns that bring drought conditions in summer, making the region more conducive for viticulture, a new world opened. To Libby, he said, "This is the vision I've had." More than a decade later, he looks upon one block of his 16-acre vineyard. "For Louisiana, it doesn't get better than this for growing grapes."
Landry Vineyards had been established in West Monroe for more than a decade when Jeff received Savannah and Michael's invitation to visit Thirsty Farmer. With vines approaching their third leaf, the Rays were excited to show off their work. Jeff walked through the vineyard and delivered a swift verdict: "It's not a matter of if you're going to get PD, but when."
Spread by insects, Pierce's disease, or PD, is a pathogenic bacterium that costs the California wine industry, on average, $100 million annually. It's a particular threat to warm and subtropical grape-growing regions. Knowing about PD, Jeff has never attempted to grow non-resistant varietals. Knowing about Savannah's dream, Michael resumed work, but that meant starting all over again.
"We failed miserably," Michael says. "It was a valuable lesson for me to learn that we need to grow a different grape here." Finally, the Rays enrolled in Wine College, a.k.a. Grayson College in Texas, where they learned about PD-resistant grapes and started to plant them. To hone his fermenting process, he started with pears. "I made gasoline out of that."
Three leaves later, on the eve of their first harvest, Savannah brushes past Syrah, the Rays' border collie mix, to pick up a 4-inch by 6-inch sign inscribed with the phrase "Be Still" beside a small vine. "We're really proud of our babies," she says. "This work is not about making a big decision overnight. It's about constant, persistent work together." Michael nods, saying, "It's a constant babysitting of vines."
Less than nine miles southeast of Thirsty Farmer, the Landrys — along with their son Noah, the vineyard manager — maintain a similar philosophy. Both families endeavor to make great wine and show that Louisiana can produce more than muscadine. Both believe that their work provides a chance to create community.
"Nobody's going to have a good time over a nasty bottle of wine," Jeff says. "If you believe that God made the earth, which I do, you know He gave us grapes for wine making — and to be happy. It's very clear in the Bible that drunkenness is a sin. But a buzz is a blessing from the Lord. Everybody's together, having a good time."
If that latter sentiment has the ring of an unofficial state motto, the Landrys and Rays want to make sure that you have a good bottle of Louisiana wine while you're at it. "I have a passion for sharing a bottle with someone," Savannah says. "That's my favorite part about all of this."
Did You Know?
Facts and Figures
Due to Pierce's disease, Landry Vineyards and Thirsty Farmer Winery & Vineyard import some grapes that cannot be grown successfully in Louisiana. Imported varietals include malbec, merlot and cabernet sauvignon.
Landry Vineyards produces, on average, 60 tons of grapes each year.
Besides growing grapes and making wine, Thirsty Farmer Winery & Vineyard also makes blueberry-apple, green apple, and raspberry-lime apple cider.
Jeff Landry refers to the beneficial weather patterns of Ouachita Parish as the Monroe vortex. After precipitation moves in from the west, it "fizzles out" over Monroe, he says, picking up again near the Delta. Rainfall decreases from April to November. In July, the area moves into drought-like conditions, enabling sugars in the grapes to rise. Too much rain, on the other hand, dilutes sugars and decreases the character of the wine.