Great Louisiana Chef: Diana Chauvin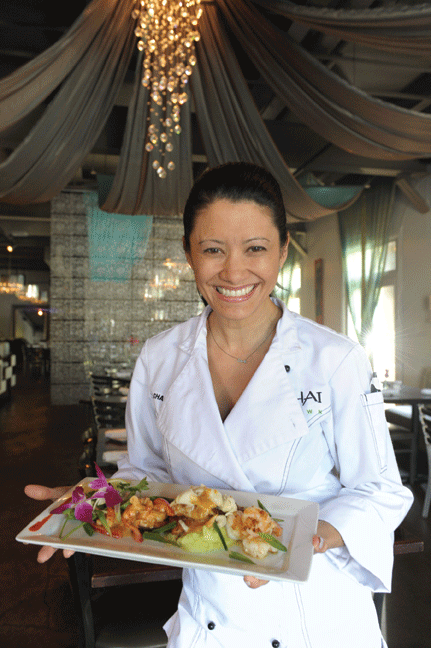 Diana Chauvin, owner and executive chef of La Thai, was the first runner-up in the Louisiana Seafood Cook-off in 2011. She is heavily involved with the Louisiana Seafood Promotion & Marketing Board and participates in countless charity and fundraising events and all of the Dine Out for Gulf Seafood events.
"My roots are culturally Thai, yet I am heavily rooted and cultured in New Orleans," Chauvin says. "My cooking is traditional Thai with a heavy emphasis on Louisiana seafood. I use only Gulf seafood with the exception of sea bass and mussels – the best mussels are from Prince Edward Island, Canada. Other than those two products, I pride myself on Louisiana oysters, crawfish, fish, soft-shell crab and jumbo lump crabmeat. We at La Thai have a distinct menu with the Thai and Cajun spices mixed with the delectable Louisiana seafood."
Louisiana Seafood Chauvin
6 3-ounce portions of pecan-crusted redfish fillets (recipe follows)
1 ounce vegetable oil, plus more for searing fish
1 teaspoon red curry paste
1/2 can coconut milk
1 1/2 tablespoons sugar
1 tablespoon fish sauce
Salt and pepper, to taste
1/4 each of red, yellow and green bell peppers, sliced thin
1/4 cup enoki mushrooms
1 shallot, sliced thin
1 clove garlic, peeled and roasted
1 ounce fresh lemon juice
2 pinches blended Thai red bird chiles (depends on desired spice)
1/3 cup P & D Louisiana crawfish tails
1/2 pound jumbo lump crabmeat, picked free of shells
5 ounces champagne or white wine
6 10/15 count shrimp, heads and tails on, peeled and deveined
6 sprigs Thai basil leaves
1/2 cup fresh herbs for garnish
Pecan crust for redfish
4 tablespoons finely crushed pecans
1 cup panko bread crumbs
Salt and pepper to taste
Combine the pecans, bread crumbs, salt and pepper. Coat the redfish fillets with the mixture, and set aside.
For the seafood and sauce:
Heat a medium saucepan over medium-low heat. Mix 1 ounce of the vegetable oil with the red curry paste, and stir until smooth. Slowly add the coconut milk, stirring until smooth. Bring to a medium-high heat. Add the sugar, fish sauce and a pinch of salt, stirring continuously. Bring the heat down to low, and simmer. Add the bell peppers, enoki mushrooms, shallot, garlic, lemon juice and red chiles to desired spice level. Add the crawfish, and let simmer on low for a few minutes.
Place the crabmeat and wine or champagne in a small saucepan over low to medium heat. Heat for 3 to 4 minutes, stirring and swirling to make sure the crabmeat gets hot.
Prepare a large sauté pan over medium heat, and add oil. Wait till it's hot, add the pecan-crusted redfish fillets, and cook for about 3 minutes per side. In same pan, add the six shrimp, and sear on both sides for 2 minute per side.
Wasabi mashed potatoes
10 fingerling potatoes, peeled and boiled
2 ounces powdered wasabi mixed with 3 ounces warm water until smooth
Salt and pepper to taste
1/2 cup half and half
1/2 stick unsalted butter
Cajun seasoning to taste
Mash the potatoes with all of the other ingredients until smooth but still a bit lumpy.
To plate: Spoon mashed potatoes in the middle of six entrée plates. Place the redfish on top, and spoon the sauce mixture over it. Place one shrimp on each plate, and spoon the warm crabmeat on top of the fish and around the plate. Garnish with a sprig of Thai basil, fresh herbs and oil.
Serves 6.