Great Louisiana Chef: Holly Goetting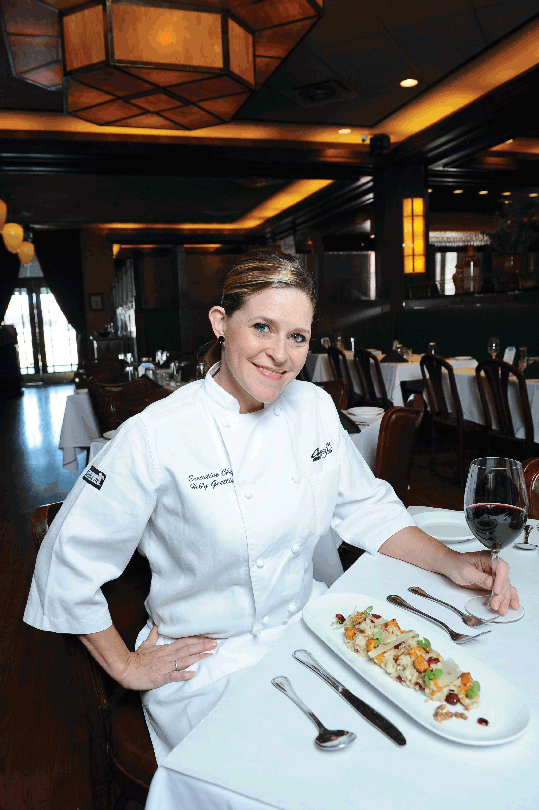 According to family lore, when she was only 10 years old, Holly Goetting fell in love with cooking and dining and (although she doesn't remember saying so) declared her ambition to be a chef.
Years later, after working in the kitchens of Lafayette restaurants while attending the University of Louisiana at Lafayette, Goetting followed her dream and began her studies at the Chef John Folse Culinary Institute at Nicholls State University in Thibodaux. As a component of her curriculum there, she chose to work at Goose Cove Resort on Penobscot Bay in Maine for an externship. After her graduation from Nicholls in 2000, Goetting worked briefly in Vail, Colo., at the Mirabelle Restaurant, where she was introduced to classical French cooking and culinary techniques.
Since 2001, Goetting, a Lafayette native, has worked at Charley G's in Lafayette. Starting as a cook, she worked her way up to the position of sous chef in 2002 and to executive chef in 2003. In her position as chef at Charley G's, Goetting says she enjoys "the freedom of creativity and self-expression of working with fresh ingredients." The monthly wine dinner is high on her list of favorite activities at the restaurant.
Although her travels have taught her different culinary customs, she says she most appreciates "the special flavors and tastes of Louisiana – especially Lafayette and Acadiana."
---
Sweet Potato, Cranberry and Roasted Pecan Risotto
2 pounds sweet potatoes, peeled and diced
2 tablespoons olive oil
1 tablespoon dried thyme, basil and oregano
1 cup chopped pecans, roasted (recipe for roasting follows)
2 ounces butter
1 cup chopped yellow onion
4 cups arborio rice
1/4 cup minced garlic
2 3/4 quarts chicken stock
1 cup dried cranberries
1/4 cup fresh thyme
4 ounces Parmesan cheese, plus more to sprinkle over the top
1/4 cup butter
Salt and pepper to taste
Sweet potatoes: Preheat the oven to 400 degrees. Toss the sweet potatoes with olive oil, dried herbs and salt and pepper. Place the sweet potatoes in an oven-proof pan, and bake for 15 to 20 minutes or until tender, stirring occasionally. Set aside.
Roasted pecans: In a medium skillet on the stove, heat the pecans, stirring often until they are fragrant and browned, about 3 to 5 minutes. Set aside.
Risotto: In a large stockpot, melt 2 ounces of butter. Add the chopped onions, and sauté until tender. Add the arborio rice, and stir until the grains are completely coated. Add the garlic. Stir the hot chicken stock into the arborio mixture ladle by ladle, as often as liquid dissipates. Reduce the heat, and simmer for 20 to 25 minutes, stirring frequently, until the rice is cooked and all of the liquid is absorbed.
Add the reserved sweet potatoes, cranberries, reserved pecans and thyme to the risotto along with the Parmesan and butter. Mix well, and finish with salt and pepper to taste.
Serve with more Parmesan on top of the risotto. Enjoy!