Great Louisiana Chef: Mohamed Chettouh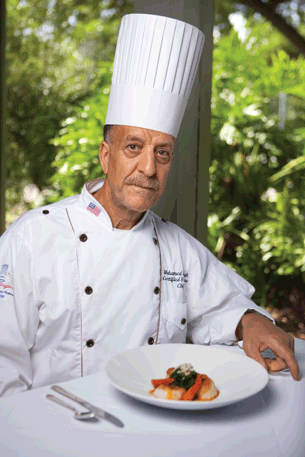 Chef Mohamed Chettouh and chef/partner Arthur Durham have brought fine dining to an even higher level at their restaurant, La Truffe Sauvage in Lake Charles.
To prove the point, Chettouh, a native of Algeria, who came to Lake Charles after stints in Texas preceded by other international stops, provided this recipe, which introduces scallops to many Louisiana home kitchens.
Pan-Roasted Natural Sea Scallops with Kalamata Olive Spaetzle, Sauté Spinach, Tomato Confite and Saffron Broth
Tomato Confite: A variation on preserved tomatoes; can be done a day or more in advance.

2 each large tomatoes, ripe
2 tablespoons olive oil
4 sprigs thyme
1/2 teaspoon salt
1/4 teaspoon black pepper
Core and score the bottoms of the tomato with an "X." Plunge into boiling water for 10-15 seconds, and then cool in an ice water bath. Peel tomatoes, cut into 9-10 wedges, remove seeds and set aside. Mince thyme, place in mixing bowl with olive oil, salt and pepper and mix well; add tomatoes and toss until well-coated. Place on baking pan and put in a 225-degree oven for 1 hour. After an hour, turn wedges over and bake an additional hour.
---
Spaetzle: A German dumpling made with specialized equipment, which can be readily purchased online if not available locally. This can be prepared in advance and warmed at a moment's notice.
2 whole eggs
1 egg yolk
1 tablespoon cream
1/2 teaspoon salt
1 1/2 teaspoon black pepper
1/4 teaspoon nutmeg
3 ounces Kalamata olives, pitted, minced
9 ounces all-purpose flour
Olive oil, as needed
Combine everything except flour in a mixing bowl and mix well. In a separate bowl, place the flour and make a well in the center. Pour the wet ingredients into the well and stir with a heavy wood spoon, gradually incorporating more flour into the wet ingredients. If the mixture is very stiff, add a touch more cream. The mixture should be like a firm batter, not too soft or stiff. Have a pot of boiling water and a skimmer (medium-sized mesh strainer) ready. Press dough through spaetzle press over the pot so the dough drops into the water. The dough will rise to the surface after sinking; allow it to boil for a couple of minutes, and then skim out of the water. Toss with a small amount of olive oil and keep warm while finishing the remaining spaetzle.
---
Saffron-Tomato Broth
1 tablespoon olive oil
1 teaspoon garlic, chopped
1 tablespoon shallot, chopped
1 pinch saffron
2 cups ripe, red tomato, diced
1 cup fish fume or chicken stock
Salt and cayenne pepper to taste
Using a saucepan over medium heat, add the olive oil, garlic and shallot and stir until soft (do not brown). Add saffron, tomato and stock and bring to a boil; lower heat and simmer for 30 minutes. Purée in blender, and then strain through fine, mesh strainer; adjust seasoning with salt and cayenne. Yields 1 1/2 cups.
---
Sauté Fresh Spinach
1 pound spinach, fresh, washed, steamed and spun dry
1 tablespoon shallot, chopped
1 tablespoon olive oil
Salt and white pepper to taste
Have ready a strainer suspended over a bowl to catch excess water from spinach after cooking. Heat a large sauté pan over high heat until hot. Add olive oil and shallot, sauté for 30 seconds; add spinach and sauté another 30 seconds. Season with salt and white pepper and transfer to strainer; keep warm until ready to use.
---
Pan-Seared Natural Sea Scallops
18 sea scallops (natural), approximately 2 pounds
3 tablespoons olive oil
Salt and white pepper
Season scallops with salt and pepper. Heat a large skillet over high heat and sear scallops on each side until brown. Each side should be seared only once – do not overcook. Keep warm until ready to serve.
---
Assembly: Place a mound of warm spaetzle in the center of a shallow bowl. Place the scallops, three per serving, around the spaetzle; shingle the tomatoes on each of the scallops; top the spaetzle with the spinach. Spoon sauce at the base of each scallop and serve immediately.