Great Louisiana Quiz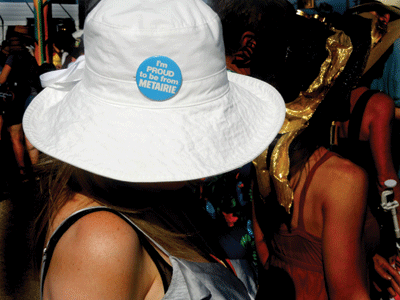 Metairie is a suburb of New Orleans. An intersection there is considered to be one of the busiest in the state. What is it?
A. Veterans Boulevard and Causeway Boulevard
B. Airline Highway and Williams Boulevard
C. Veterans Boulevard and Transcontinental Drive
D. Power Boulevard and Hammond Highway
Located across the Red River from Alexandria, Pineville is the home of a small university. What is it?
A. Centenary
B. University of Louisiana-Pineville
C. Louisiana College
D. Holy Cross College
After being advised by a judge that he should leave Shreveport, your friend moved across the river to Bossier City where he noticed an airbase. That's when he decided that he wanted to join the Air Force and be a pilot. Besides his not knowing how to fly and his penchant for falling asleep on the job, your friend has no idea what types of planes are flown there. What are they?
A. A-10 Thunderbolts
B. C-12 Hurons
C. B-52 Stratafortresses
D. C-5 Galaxies
Located west of Lake Charles, this is the last town along Interstate 10 before crossing into Texas:
A. Westlake
B. Sulphur
C. Bordelonville
D. Vinton
Your friend's psychiatrist advises him to settle on a houseboat in Northeast Louisiana where there are no riverfront casinos to get him into trouble. His parole office concurs and suggests the river that separates Monroe and West Monroe. What is that river?
A. The Atchafalaya
B. The Mississippi
C. The Ouachita
D. The Red
Suppose you live in Breaux Bridge. What university are you closest to?
A. McNeese
B. University of Louisiana–Lafayette
C. Louisiana State University-Eunice
D. Louisiana Tech
Although still a part of New Orleans, this community located on the Westbank feels like a town unto itself. What is it?
A. Westwego
B. Algiers
C. Gretna
D. Marrero
Immediately across the Interstate 10 high-rise heading west from Baton Rouge is a town named after Civil War governor of Louisiana. What is it?
A. Gonzales
B. Gramercy
C. Scott
D. Port Allen
You live in Houma, and you have a craving for catfish. This nearby town is known for its harvest. What is the town?
A. Des Allemands
B. Waterproof
C. Lockport
D. Raceland
This well-located Tangipahoa Parish town can be a suburb of both New Orleans and Baton Rouge. What is it?
A. Hammond
B. Mandeville
C. Covington
D. Madisonville

Answer this BONUS QUESTION and be eligible to win an overnight stay for two at the luxurious PARAGON CASINO RESORT: Several Louisiana towns have the name of a foreign city or region. Name them and the parishes they are in.
Send in your answer on a postcard addressed to:
Louisiana Life Bonus Question
110 Veterans Blvd., Suite 123
Metairie, LA 70005
Two winners will be drawn from among the correct answers. Each will receive an overnight stay for two at the recently expanded and remodeled Paragon Casino Resort in Marksville. Winners' names will be announced in the January/February 2012 issue.
For our may/june issue, the question was: An early pioneer and soldier was said to have a pair of Catahoula dogs. Although originally from Kentucky, by 1812, he lived near Opelousas. Name the person, as well as an invention credited to him and the place where he fought his last battle.
The correct answer was:
Jim Bowie, Bowie Knife, The Alamo. A drawing was held from among those entrants with the most correct answers.
Winners were:
Ricky Cedotal of Donaldsonville
Jesse and Linda Reynaud of Scott
ANSWERS TO THE ABOVE QUESTIONS:
1.A 2.C 3.C 4.D 5.C
6.B 7.B 8.D 9.A 10.A
SCORING
Score 10 points for each correct answer:
0-20 Consult your nearest library.
30-60 Begin by buying a good road map.
70-90 You should run for office.
100 You're a candidate for a Ph.D.
in Louisianaology. n