Great Louisiana Quiz: Basketball Edition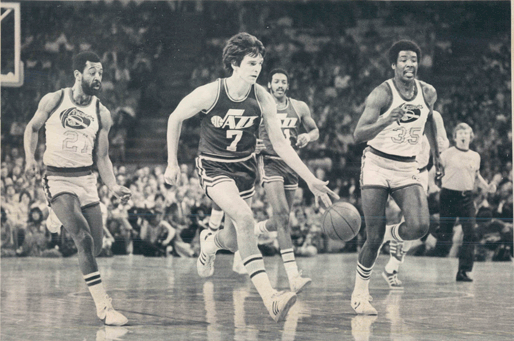 1. Pictured here is Pete Maravich of the former New Orleans Jazz. What city is the opposing team from?
A. Atlanta
B. Chicago
C. Denver
D. New York
2. Louisiana native Karl Malone played most of his career for the Utah Jazz. By what nickname was he known?
A. The Mailman
B. Louisiana Lightning
C. The Exterminator
D. Bayou Man
3. After his career at LSU, Bob Petit became an early NBA star playing for a team that would eventually move to another city. What was the team?
A. Minneapolis Lakers
B. St. Louis Hawks
C. Kansas City Royals
D. Charlotte Hornets

4. Which was the main reason that Pete Maravich chose to play for LSU?
A. He was dating a girl from Denham Springs.
B. He wanted to play on the baseball team, too.
C. He liked the climate.
D. His dad was the coach.
5. Your friend has an ambition to get an NBA franchise for Dry Prong and to call the team the Lakers. Since his medication has not totally kicked in, you hesitate to tell him that (A.) Dry Prong might not have the right market size (B.) the name Lakers has already been taken and (C.) there's no lake in Dry Prong. The nearest large lake is to the east. What is the lake?
A. Lake Catahoula
B. Lake Maurepas
C. Lake Bistineau
D. Lake Tallulah
6. Although its name suggests otherwise, Cane River is actually a lake. What is the main town along the lake?
A. Bordelonville
B. Many
C. Jonesboro
D. Natchitoches
7. Which of these Lake places is closest to the town of Transylvania?
A. Lake Arthur
B. Lake Charles
C. Lake Catherine
D. Lake Providence
8. Which current member of the New Orleans Hornets was on the University of Kentucky basketball team that won the national championship in New Orleans?
A. Austin Rivers
B. Anthony Davis
C. Eric Gordon
D. Carl Landr

9. New Orleans has had three professional basketball teams; the Jazz and the Hornets in the NBA and a team in the defunct American Basketball Association. What was that team's name?
A. Pelicans
B. Maskers
C. Buccaneers
D. Creoles
10. During the 1976- '77 season, in a game against the New York Knicks, Pete Maravich set a league record for the most points ever scored in one game by a guard. How many points did he score?
A. 51
B. 68
C. 72
D. 76
---
BONUS QUESTION:
Several Louisiana parishes are named after presidents of the United States. Name the parishes and the towns that are their parish seats.
Answer this BONUS QUESTION and be eligible to win an overnight stay for two at the luxurious PARAGON CASINO RESORT.
Send in your answer on a postcard addressed to:
Louisiana Life Bonus Question
110 Veterans Blvd., Suite 123
Metairie, LA 70005
Two winners will be drawn from among the correct answers. Each will receive an overnight stay for two at the recently expanded and remodeled Paragon Casino Resort in Marksville. Winners' names will be announced in the January/February 2013 issue.
For our May/June issue, the question was: What are Louisiana's four longest bayous and four biggest lakes?
Winners were:
Patrick Anderson Sr. – Monroe.
Patsy Soileau – Bossier City.
ANSWERS TO THE ABOVE QUESTIONS:
1.C 2.A 3.B 4.D 5.A
6.D 7.D 8.B 9.C 10.B
SCORING
Score 10 points for each correct answer:
0-20: Consult your nearest library.
30-60: Begin by buying a good road map.
70-90: You should run for office.
100: You're a candidate for a Ph.D. in Louisianaology.