Great Louisiana Quiz – Restaurant Edition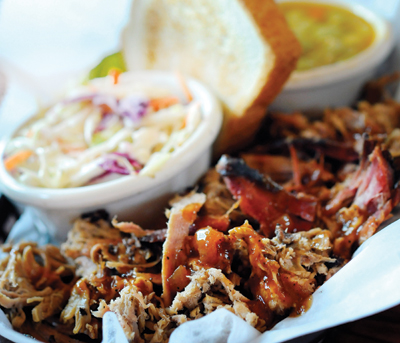 1- Pictured here is a serving of pulled pork at The Joint, a restaurant in New Orleans. What part of the pig is usually used in preparing pulled pork?
A. Shoulder
B. Back
C. Breast
D. Loin
2 – This seafood restaurant began along False River and now has locations in Baton Rouge, Bossier City and New Orleans. What is it?
A. Oxbow River Seafood
B. Le Roi
C. Ralph and Kacoo's
D. Huey's
3 – This is the oldest restaurant in Louisiana.
A. Antoine's (New Orleans)
B. Juban's (Baton Rouge)
C. Arnaud's (New Orleans)
D. Tujague's (New Orleans)
4 – Your friend has created a dessert consisting of bananas sliced, cooked with rum and spices and then flamed before being served with ice cream. You need to tell him that that dish already exists and was the house specialty of Brennan's restaurant in New Orleans. What is it called?
A. Bananas Flambé
B. Baked Alaska
C. Barbecued ice cream
D. Bananas Foster
5 – Lee's has long been known for its ham sandwiches and pies. Where is it located?
A. Gonzales
B. Port Allen
C. LeCompte
D. Bordelonville
6 – This former Opelousas restaurant was famous for its baked duck dishes. What was it?
A. Fred's
B. Didee's
C. Boudreaux's
D. Canard's
7 – Your friend has an idea to start a chain of restaurants serving buffalo wings; only he has not been able to find where there are buffalos with wings. You suggest instead that he seeks employment with a Louisiana-based chain that serves chicken fingers. What is the chain's name?
A. McNugget's
B. Golden Chicken House
C. Snappin' Fingers
D. Raising Cane's
8 – Restaurant Cotton, which has won many accolades, describes its food as "North Delta Cuisine." What town is it in?
A. Ferriday
B. Monroe
C. West Monroe
D. Columbia
9 – Lasyone's in Natchitoches is famous for this dish:
A. Boudin Balls
B. Cracklins
C. Cochon de Lait
D. Meat Pies
10 – Which one of these famous Louisiana chefs is a native of Massachusetts?
A. Paul Prudhomme
B. John Folse
C. Emeril Lagasse
D. John Besh
---
Answer this BONUS QUESTION and be eligible to win an overnight stay for two at the luxurious PARAGON CASINO RESORT:
In what Louisiana towns, and their parishes, are there festivals dedicated to the food items: cochon de lait, strawberry, tamale, poke salad, gumbo, andouille, crab, shrimp?
Send in your answer on
a postcard addressed to:
Louisiana Life Bonus Question
110 Veterans Blvd., Suite 123
Metairie, LA 70005
Two winners will be drawn from among the correct answers. Each will receive an overnight stay for two at the recently expanded and remodeled Paragon Casino Resort in Marksville. Winners' names will be announced in the January/February 2014 issue.
---
For our MAY/JUNE issue, the question was:
What parishes are divided by the Mississippi River and what is the parish seat of each?
The correct answer was:
Iberville Parish – Plaquemine; Ascension Parish –Donaldsonville; St. James Parish – Convent; St. John the Baptist Parish – Edgard; St. Charles Parish – Hahnville; Jefferson Parish – Gretna; Orleans Parish – New Orleans; Plaquemines Parish – Belle Chasse; St. Bernard Parish – Pointe-à-la-Hache.
Winners were:
Jerry Folse, Gonzales
Lisa Haydel, Metairie
(Note: One other person qualified for the drawing but did not include his/her name and address.)
---
ANSWERS TO THE QUESTIONS:
1.A – 2.C – 3.A – 4.D – 5.C – 6.B – 7.D 8.B – 9.D – 10.C
---
SCORING
Score 10 points for each correct answer:
0-20 Consult your nearest library.
30-60 Begin by buying a good road map.
70-90 You should run for office.
100 You're a candidate for a Ph.D. in Louisianaology.
---