Great Louisiana Quiz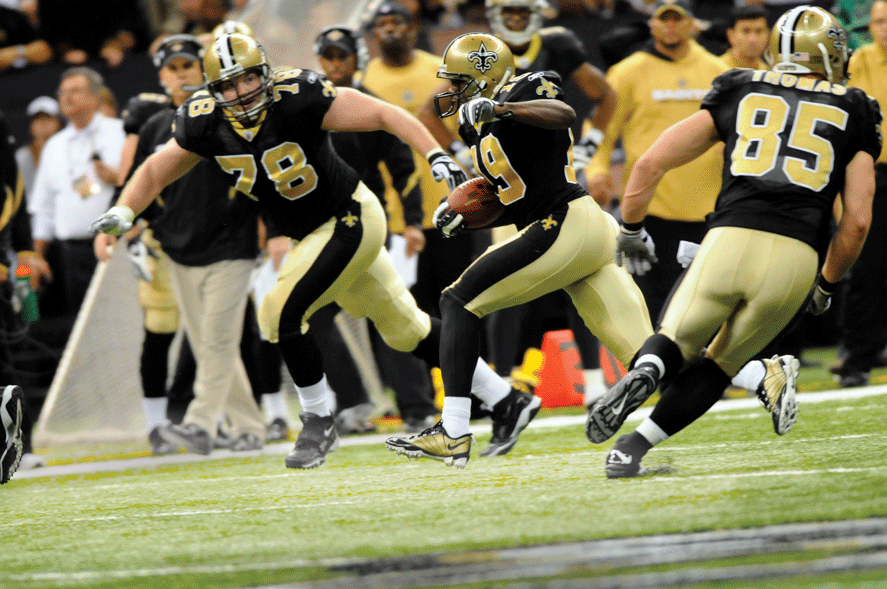 Pictured above is Lafayette native and Opelousas High graduate Devery Henderson completing a run against the Arizona Cardinals in a playoff game. Watching from the sidelines is a former Saints player (wearing the gold pullover and pictured between Henderson and No. 85.) Who is he?
A. Pat Swilling
B. Rickey Jackson
C. Craig "Ironhead" Heyward
D. Deuce McAllister
Two Saints players who were in the Super Bowl played high school football in West Baton Rouge Parish, one at Port Allen High and the other at Brusly High. Who are they?
A. Will Smith and Darren Shaper
B. Jabari Greer and Charles Grant
C. Tracy Porter and Randall Gay
D. Anthony Hargrove and Marques Colston
Indianapolis Colts quarterback Peyton Manning played high school football at which New Orleans school?
A. Warren Easton
B. Country Day
C. Newman
D. Jesuit
Because his time in jail was once reduced to eight months, your friend is very partial to that number. He has decided that he wants to try out for the Saints but insists that if he makes the team, he wants to wear that number. Besides the fact that your friend has never played football, the number would be a problem, too, because No. 8 is retired. Which Saint once wore that number?
A. Morten Andersen
B. Rickey Jackson
C. Tom Dempsey
D. Archie Manning
Which of the Super Bowl Saints played college ball at LSU?
A. Randall Gay, Devery Henderson
B. Devery Henderson, Tracy Porter
C. Will Smith, Darren Sharper
D. Usama Young, Randall Gay
To try to make the team, your friend has to first try to find the Saints' training camp. Where is it located?
A. Houma
B. Mandeville
C. Metairie
D. Bordelonville
Who exclaimed, "Pigs have flown; hell has frozen over!" in response to the Saints' Super Bowl success?
A. The chairman of the Mansura Cochon De Lait festival
B. Gov. Bobby Jindal
C. New Orleans Archbishop Gregory Aymond
D. Saints radio broadcaster Jim Henderson
In the third quarter of the Super Bowl, this LSU grad scored a touchdown for the Colts to give his team a 17-13 lead. Who is he?
A. Reggie Wayne
B. Marshall Faulk
C. Joseph Addai
D. Pierre Garçon
While the Who Dat Nation waited for the second half of the Super Bowl to begin, The Who performed during half time. What Louisiana group performed during half time of Super Bowls I and II, which were held in Los Angeles and Miami respectively?
A. The Dukes of Dixieland
B. The Hackberry Ramblers
C. Grambling State Marching Band
D. Clifton Chenier and the Zydeco Drifters
This play, which was a decisive moment in Super Bowl XLIV, involved two Louisiana players, one on each team.
What was it?
A. Dwight Freeny's second-quarter sack of Drew Brees
B. Jonathan Vilma's first-quarter tackle of Pierre Garçon
C. Pierre Thomas' third-quarter run past Kelvin Hayden
D. Tracy Porter's fourth-quarter interception of Peyton Manning's pass
Answer this BONUS QUESTION and be eligible to win an overnight stay for two at the luxurious PARAGON CASINO RESORT: Name quarterbacks from Louisiana universities (other than LSU) who made it to the NFL as starters in that position. What team (s) did they play for?
Send in your answer on a postcard addressed to:
Louisiana Life Bonus Question
110 Veterans Blvd., Suite 123
Metairie, LA 70005
Two winners will be drawn from among the correct answers. Each will receive an overnight stay for two at the recently expanded and remodeled Paragon Casino Resort in Marksville. Winners' names will be announced in the January-February 2011 issue.