Greater New Orleans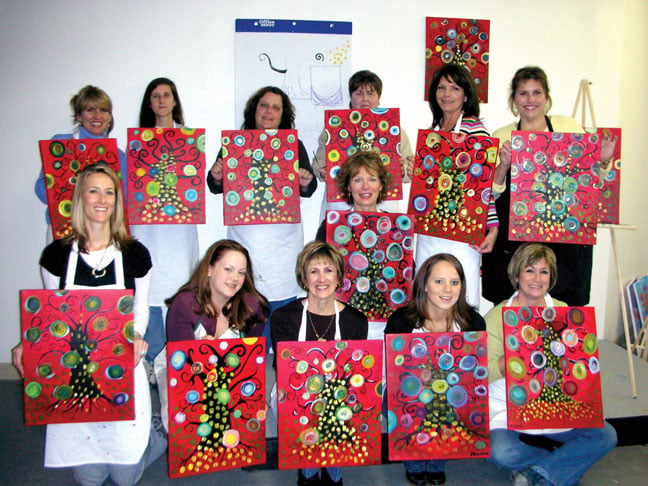 WORTH WATCHING
Uncorked art
Although it was a warm Saturday night in June and my birthday doesn't come until August, I was being treated to an early gift from my brother, Tim, and his wife, Pat, who are well-aware of my fondness for both good wine and dabbling in oils. Pat and I attended an evening session at Corks N Canvas, an Old Mandeville enclave established to teach, in one sitting, would-be artists how to render paintings suitable for framing at evening's end. Artists are also encouraged to bring a bottle of their favorite wine to sip as they paint. As I frequently sip wine when I paint anyway, I felt right at home.
Fortified with a bottle of Rex-Goliath (he of the 47-pound- rooster fame) pinot noir, Tim, Pat and I –– along with fellow family members, petit basset griffon vendeen hounds Geoffrey and Tippy (aka "The Lads") –– all piled into the truck, and soon my sister-in-law and I were deposited at the art studio. The painting we would learn to reproduce that night was George Rodrigue's Blue Dog. Tippy, with his penetrating topaz eyes, looks like a white-and-gray version of Blue Dog, and my sister-in-law was very eager to get started. Although each night's subject varies, the theme is usually Louisianian.
All easels along the table were occupied. We were given butcher's aprons, a canvas, paintbrushes, access to paints, cups for our wine and a large go-cup filled with water to hold brushes. Our teacher, Terry Brasher, gave easy, patient instructions on how to first sketch Blue Dog and then paint him. We were allowed to adorn him and his surroundings however we pleased.
Pat joked that she would just keep him "naked" but then decided to depict him wearing a yellow bandanna like the ones the family vet sends The Lads home with after a bath. She told our instructor, Terry, that she wanted to paint Mike the Tiger on the bandanna.
"Who was it that came in wearing that Mike the Tiger T-shirt?" asked Terry, looking around.
I pulled the bib of my apron down, for the first of several times that night, to reveal Mike's face.
As the wine was sipped and the canvases were filled with color, the sound of Barry White spilled into the room.
Singing under my breath, "My darling, I can't get enough of your love, babe," I caught myself mistakenly trying to sip from my go-cup of brushes and water. I had been at a loss as to how I would depict my Blue Dog when it hit me: He would be in the lavender-gray misty rain of a cypress bayou, wearing a jeweled crown. A golden fleur-de-lis, free-floating and unattached like the phantom dog he is, would adorn his breast while his back paw rested on his scepter, a wild Louisiana iris. Blue Dog, King of the Swamp. Wild brush strokes filled the background.
Pat's Blue Dog had captured Tippy, a sweet-faced, neatly painted pup wearing a Mike the Tiger bandanna, surrounded by big flowers and puffy clouds. As I meandered around the room, I saw canvases filled with royal blue, gold, purple and scarlet color and Blue Dogs in ties and vests, LSU emblems and racing caps. There wasn't a bad Blue Dog to be found, and all of the artists looked relaxed and happy, filled with the freedom of expression.
It had been the perfect gift.
If you need an antidote from the doldrums of January, a belated Christmas present or a timely Valentine's gift, call Corks N Canvas, at (985) 626-6272 in Mandeville or (504) 832-5536 in Metairie, or visit www.corksncanvas.com.
FORK IN THE ROAD
Bayona
At some point between the reverent merry-making of Christmas and the irreverent bacchanalia of Mardi Gras lies St. Valentine's Day. If you have long outgrown the candy hearts phase, dinner at a romantic restaurant is something two can share together once the red roses have been delivered.
Bayona Restaurant, located in the oldest section of the French Quarter, fits the romantic St. Valentine's bill of fare in many ways: Situated on Rue Dauphine in a cozy Creole cottage that seems painted in golden candlelight color, this intimate eatery boasts a lushly scented secret courtyard that spills out from the dining rooms. When the Spanish occupied New Orleans and filled the French Quarter with stone courtyards, iron lacework and curved stone arches, they called Dauphine Street "Camino de Bayona." Bayona, a town in the strange, mysterious and beautiful Basque region of Spain, received first news that Columbus had found a New World after he docked there on his return voyage to Spain. A century later, these strong Basques repelled a raid by British seafarer Francis Drake. For heaven's sake: privateers, explorers, the Spanish who gave us resonant guitars and the French Quarter's architecture? How much more romantic can it get? Chef Susan Spicer named her restaurant for the Spanish Camino de Bayona.
The food reflects the influences of Basque land, with dishes full of goat cheese, Madeira wine, black bean cakes in coriander sauce and accompanying sweet grilled shrimp. Although the menu can change daily, no item, from the sea scallops with cauliflower cous cous in basil sauce to the crawfish-and-smoked-salmon beignets with horseradish cream sauce could be considered an unpleasant surprise. The perfect ending to –– or, perhaps, beginning of –– your St. Valentine's celebration is dessert in the form of Dark Chocolate Banana Torte with Espresso Crème Caramel.
Bayona, 430 Rue Dauphine, 504-525-4455.