Greg Arceneaux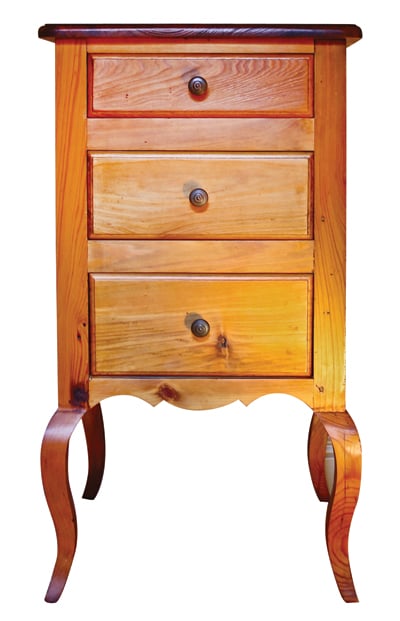 In recent decades, Louisianians have reawakened to their own history and cultural legacies. Young chefs are giving a new taste to old familiar Cajun and Creole recipes. Photographers and painters are interpreting natural and historic landscapes. And young musicians are pounding out new riffs and old rhythms from the state's bayous, prairies and inner cities to audiences worldwide. Thanks to Covington master furniture-maker Greg Arceneaux and a handful of other artisans across the state, the legacy of making Louisiana's subtle but graceful Creole and Acadian furniture lives on.
In his spacious workshop just north of Covington on the Folsom highway, Arceneaux and his crew are crafting Creole- and Acadian-style armoires, chairs, tables and chests that resemble the sometimes simple, sometimes elegant furniture made by 18th- and early-19th-century Louisiana craftsmen. "Creole and Acadian styles are some of the most unique yet overlooked forms of antiquity in the decorative arts," he explains. "These designs have not been produced in 150 to 200 years. I knew collectors were looking for this furniture, and there's not a lot of it left. Only a few original examples still exist. It's part of my heritage."
Like his early predecessors, Arceneaux uses the same native woods – cypress, pecan, walnut, willow, poplar and cherry plus imported mahogany – and traditional mortise-and-tenon joinery with hand-rubbed oil finishes to give his work an ageless look. He also gives new life to old lumber salvaged from demolished buildings and centuries-old sinker cypress raised from the bottoms of Louisiana bayous and rivers.
Of course, his tools and machinery are modern, and he often adapts pieces to modern needs, such as entertainment centers, bars and computer desks. Nevertheless, he prides himself on his aesthetic and historic connections to these early furniture-makers – as well he should. He was born and raised along the River Road in Baton Rouge, and his family has lived in the River Parishes since 1705 when his ancestor Michel Arceneaux arrived from Canada and settled in what is today St. James Parish.
He was recognized by the Louisiana Division of the Arts as a master craftsman, and his credits are mounting. He has appeared on national and regional television, and HGTV named him a Modern Master in 2001. He also is a three-time recipient of the New Orleans Jazz & Heritage Festival's Best of Show award. In 2010 the Ogden Museum of Southern Art featured his work in a special exhibition, and the Historic New Orleans Collection included his work in its 2012 exhibit Furnishing Louisiana. In addition, his work is now in the collections of the Louisiana State Museum in New Orleans, the Ogden Museum, the Historic New Orleans Collection, Oak Alley and Laura plantations in Vacherie, Shadows-on-the-Teche in New Iberia and in many other museums and private homes.
In a sense, Louisiana Creole and Acadian furniture reflects the social history of early Louisiana. Immigrants from France and French Canada, trade with Mexico and other Spanish colonies, French émigrés from the slave rebellion in St. Domingue and the creation of Haiti in 1804, Anglo-Americans arriving before and after the Louisiana Purchase and prevailing French and English styles all came together to form a distinct Louisiana Creole style decades before the Civil War. Acadian furniture-makers, however, continued to create less ornate and rural styles of functional, minimally ornamented and often painted furniture well into the 20th century.
Arceneaux's interest in early Louisiana furniture began after he moved to Lafayette in the early 1970s. He studied art and sculpture at LSU for two years but soon learned he wasn't interested in purely aesthetic forms. It was a good time to be in Lafayette, he recalls. It was the beginning of the Acadian awakening when young Cajuns began to explore their heritage, music, food and French language. "I became curious about the Acadian furniture people lived with in their homes," he recalls. "It speaks about the character of the people. I saw it in their houses and all around Lafayette. Before the early 1970s that style of furniture was overlooked."
While in Lafayette, Arceneaux worked for the Natural History Museum; did a bit of carpentry around town; and met his future wife, Liz Lieninger of New Orleans. He also made his first Acadian chair from native cherry wood.
Greg and Liz married in 1977; started a business in their garage; and in 1979, moved to Covington, where they had spent time canoeing the local rivers. They loved the artisan-fed swimming pools, the copper-colored streams that cut through the forests and its proximity to New Orleans and a bigger market for Greg's work. At first they had a small shop in old Covington, and in February 2012, they moved the shop to its current location. Liz later quit her midwife profession to work with Greg.
Over the years, Arceneaux has drawn upon various sources to create historically accurate designs. The most important of those has been the Louisiana State Museum's groundbreaking exhibition, Early Furniture of Louisiana, held in 1972 at the Cabildo in New Orleans. Here and in the accompanying catalog, the public got its first look at the history, evolution and importance of Louisiana's Creole and Acadian furniture. Forty years later, in 2012, the Historic New Orleans Collection published Furnishing Louisiana: Creole and Acadian Furniture, 1735-1835, a monumental encyclopedic history of early Louisiana furniture. At the same time, the HNOC mounted a major exhibition, featuring 18th- and early-19th-century Louisiana furniture. To show that the craft continues, the HNOC included several pieces made by Arceneaux. "It's still a living and evolving style," he says, glancing across his workshop at a new bookcase and armoire taking shape.
Arceneaux's work is a marriage of grace, form and function. "I want to connect beauty to utility," he explains. "Furniture has a sculptured quality and a purpose in people's lives." This attention to aesthetics and historical details has earned him respect among museum curators; historians; and collectors such as Jack Holden, an expert on early Louisiana furniture and co-author of the book Furnishing Louisiana.
Holden and his wife, Pat, first met Arceneaux several years ago while attending a festival at Oak Alley Plantation. "He had made a credible copy of a low Louisiana Creole chair, and we were fascinated by his enthusiasm about Louisiana furniture," Jack Holden recalled, reflecting upon Arceneaux's work. "We subsequently had him make reproduction chairs and tables for us. Using the correct woods and techniques, he manages to capture the essence of the original. Besides making excellent copies, he creates contemporary furniture, playing off the original Creole forms. He is an excellent craftsman who understands and works in the Creole style. One of the missions of Furnishing Louisiana was to encourage cabinetmakers to continue and expand the Creole tradition. Greg has helped fulfill that goal."
An earlier milestone in Arceneaux's career came in 1988 after a fire almost destroyed the Cabildo. The museum commissioned him to make cherry wood benches for the second-floor gallery and furniture for the Sala Capitular, a long, narrow room on the second floor where the transfer of Louisiana from Spain to France and from France to the United States took place in November 1803. For historical accuracy, the museum gave him the 1793 specifications for the large meeting table and relied upon him to design and make the appropriate period chairs. "To this day," he says, "all the wooden pieces in that room are my creation."
Liz tells a delightful story about the furniture Greg made for the Cabildo. A few years back, their daughter Sarah was on a class tour of the historic building when she and her classmates entered the Sala Capitular. She pointed to the furniture and said, "My daddy made that furniture." The tour guide quickly dismissed the young girl's proclamation. "No, dawlin', that furniture is over 200 years old." Sarah, then 12, capitulated, and once again the room – Sala Capitular – earned its name. According to the museum's website, the original 18th-century furniture no longer exists.
Such conversations with the past continue in his Covington workshop with its walls lined with raw planks, half-completed pieces of furniture and the remains of earlier times. "I felt the Creole and Acadian styles are beautiful and needed to be celebrated and not slip into obscurity," he says a bit wistfully. "The telltale marks of a culture are those things that remain after a culture disappears."
For more information about Arceneaux's work, visit www.gregarceneaux.com.