Halloweens Past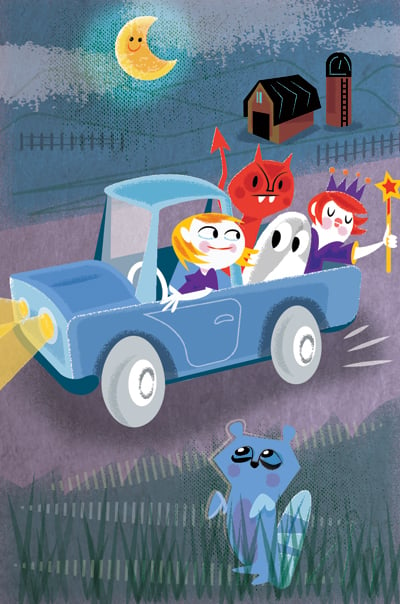 A bloody, severed hand. Glowing eyes in the black recesses of the closet. The witch on the corner.
October is upon us, so that means I'm getting all misty-eyed about the Halloweens of my youth. It also means I'm experiencing one of my semi-annual pangs of regret about where I'm raising my children.
Most of the time, I believe my sons are incredibly fortunate to be growing up in the fresh air and wide open spaces of our farm. I realize how many parents would dearly love for their children to experience just a little of the freedom and privileges mine take for granted. I like to believe that my boys' memories of this place will be warm and golden enough to carry them for the rest of their lives.
But there is just no avoiding the fact that sometimes life in the country is totally lame, and Oct. 31 is the epitome of those times.
We celebrate Halloween here, if you want to call it that, but it isn't the same deliciously dangerous night I remember growing up in the city.
My family lived in a turn-of-the-century neighborhood perched on the side of a hill in Birmingham, Ala. Counting our creepy unfinished basement and attic, our house was four stories tall. My bedroom, which had a large, sort of Gothic balcony, looked out into the treetops. To get to our front door from the street, one had to maneuver a steep flight of stairs, then a slanting sidewalk, then another flight of stairs to the porch. Long windows all across the upper and lower floors seemed to peer down at visitors.
During the daytime, it was one of the street's loveliest landmarks. After dark, it was perfect for terrifying trick-or-treaters.
Our whole family got in on the act. Hiding on the balcony, my sisters and I operated bed-sheet ghosts that floated down from the trees on strings while trick-or-treaters approached our darkened porch. When they knocked on the door, (some never made it that far), my dad would slowly crack it open, then, with a growl, thrust a furry, gloved hand around it. Ominous sounds emanated from the Thrilling, Chilling Sounds of the Haunted House album on the stereo. (Our favorites were "Chinese Water Torture" and the screaming guy who sounded more constipated than scared.) My mom dispensed candy while dressed as a witch.
One year we built a fairly elaborate haunted house in our detached, dirt-floor garage. Blindfolded guests were invited to stick their hands into bowls of "eyeballs" (peeled grapes) and "brains" (cooked spaghetti).
For weeks surrounding Halloween, my sisters and I scared ourselves silly with a pair of glow-in-the-dark eyes and a fake, severed hand. In the interest of full disclosure, I should confess that I was so fond of frightening my sisters with my lifelike amputated hand that I gave it a name: Gladys. Anyone who nicknames a rubber hand is bound to have high standards for Halloween.
But then, our neighborhood really didn't have to work at being spooky. It was awash in shifting shadows, with old houses looming on hillsides or set back in the trees. The demographics were about evenly split between young families with children and empty-nesters, who were less likely to leave the porch light on for trick-or-treaters. We dared each other to knock on their doors and run, especially when we got to the witch's house on the corner. I can't recall how the rumor got started that this poor old lady was a witch, but it probably had something to do with bratty kids trampling her prize daylilies.
That is all just a memory now as I face my annual dilemma of whether to buy Halloween candy, knowing that no trick-or-treaters will show up at our lonely farmhouse on the highway, and we will end up eating all of it ourselves.
Houses in the country are too far apart for decent trick-or-treating, so everyone converges on the residential neighborhoods in town. Consequently, the few neighborhoods that we have are crawling with princesses and ninjas lit up like Las Vegas billboards in their glow-in-the-dark necklaces and reflective safety stickers. Some families team up and pull utility trailers loaded with kids through the neighborhood. Others just use pickups. So much for shifting shadows – they're only headlights – and the only things going bump in the night are a dozen Chevy tailgates.
Again, I admit my perception was tainted by my childhood street – where it was easier to believe that a ghost or even a witch might be lying in wait for hapless trick-or-treaters – but, I'm sorry, the scariest thing about a 1970s subdivision is the harvest gold bathtubs.
Don't get me wrong. Some of the residents go all out to give trick-or-treaters a good time. They dress in costume and deck out their yards and porches in fake cobwebs and eerie lights and inflatable monsters and groaning, battery-operated zombies. I appreciate their effort. I really do, and some of it is kind of, maybe, a little spooky. Generally speaking, though, it feels more like a haunted Hobby Lobby than a haunted house. I guess it's hard to impress a person who is known for having a fake amputated hand named Gladys.
Another thing that disappoints me about my children's country trick-or-treating experiences is that nobody knocks on the door and says "trick or treat," anymore. Instead, all the candy is dispensed on the front porch or in the front yard. Everyone waits in line. The kids file past with their bags held open. Few words are exchanged. (However, I do insist that my children say "trick or treat" as well as "thank you.") Totally missing is the anticipation of knocking on the door and wondering who – or what – will answer. There is no thrill whatsoever. It's all about the free Snickers – like a soup kitchen for sugar-aholics.
Last year, I took my youngest son, who was 8, trick-or-treating in town as we always do. After an hour or so of going house-to-house and street-to-street, I asked where he wanted to go next.
"Let's go home," he replied matter-of-factly. "I have enough candy, and my feet hurt."
On the one hand, I was proud of him for being so sensible. On the other, it made me sad.
Where I come from, 8-year-old boys never wanted to go home after an hour of trick-or-treating. They didn't care if their feet hurt, and they never felt like they had enough candy.
Just once, I wish he could know how it feels to knock on the witch's door and then run home as fast he can on Halloween night.