Ham Sandwiches & Pecan Pies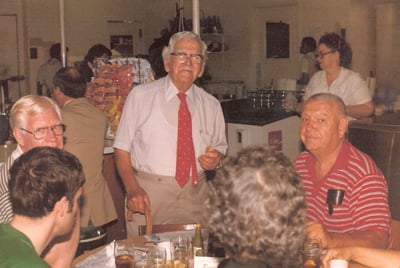 Even after 86 years, Lea's Lunchroom, located in Lecompte, is still the best place to get a homemade ham sandwich or a piece of pecan pie. Simple, delicious and completly unfettered, it has stood the test of time, weathered a depression, a world war and rises and falls in the economy. It still stands today, a testament to the fortitude and ingenuity as great as the man behind it.
Orginally established in 1928, Lea Johnson opened a diner with the intention of only serving ham sandwiches and a simple philosophy. "I love people. If you love people, you're going to give them the best." And that's just what he did. When he hired a young high school graduate, Georgie, whom he later married, to serve coffee and manage the diner, she brought her mother's recipes for homemade pies with her. She began, in 1928, making two pies a week. Today, more than 65,000 pies are made and shipped yearly, with most popular being pecan. In March 2001, the Louisiana Legislature proclaimed Lecompte to be the Pie Capital of Louisiana.
Lea's lunchroom became a popular stop-over for travelers. As time progressed, Lea's Lunchroom became busier and had to remodel to accomodate its ever-growing customer base. The menu expanded to include meat plates that boasted locally grown produce, specialty and seasonal pies, fried chicken, baked turkey, baked chicken and, of course, the famous ham sandwich, which Lea claims to have invented.
In 1974 Lea and Georgie's daughter, Ann moved back home from Houston to take over the management of the family business. She joined the Chamber of Commerce and Lousiana Restaurant Association, which gained even more recognition for the famous eatery. As if being on the Tonight Show Starring Johnny Carson and being named in the Lousiana Hall of Fame wasn't enough, a third generation, Toby Traylor (son of Ann Johnson) is carrying on the family namesake with his own restuarant, Lea's of Lecompte located in Monroe. It, of course, boasts pies made from his great grandmother's recipes, amoung other favorites.
Maybe its longevity and success can be attributed to its committment to keeping Lea's time-tested approach to pleasing his customers. Whatever the reason, one thing remains constant: Lea's Lunchroom is a reminder that "nice people are always looking for a nice place to eat."
Lea's is opened Tuesday through Sunday. You can check out their website at leaslunchroom.com or on Facebook at Lea's Lunchroom, Inc.