Harvey's New Outfit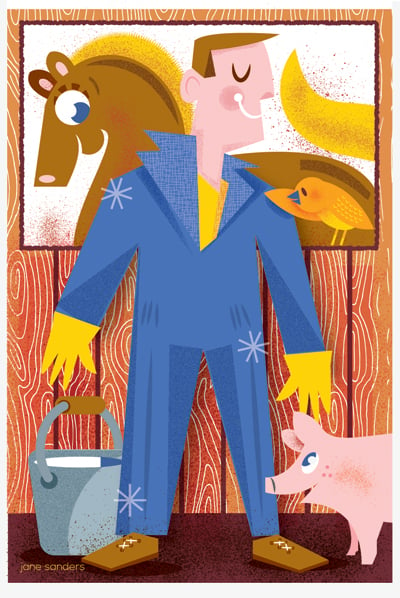 Big news: my husband finally got a new pair of insulated coveralls – or "skins," as he calls them.
Not to be confused with overalls – the things made out of denim with shoulder straps of "Hee-Haw" fame – coveralls are winter outerwear, more like an aviator jumpsuit. (Just for the record, I knew few farmers who actually wear overalls. My husband doesn't even own a pair.)
Instead, the more often-preferred coveralls, have long sleeves and a long zipper up the front and are worn over one's street clothes. The legs usually have long zippers up the sides, so they can be slipped off and off without removing bulky work boots. A layer of insulation between the outer fabric and the inner lining that keeps outdoor laborers warm in cold weather.
I may not have my facts exactly right, but I believe my husband has been wearing the same pair of coveralls since we got married – the year Bill Clinton was elected to his first term of office. Even then, his coveralls had seen better days. Trust me when I say that, 26 years later, our former president is holding up far better than Harvey's beloved "skins."
Not that they were ever terribly attractive to begin with, or that anyone around here remember can remember when they were new. Harvey's skins are an heirloom of uncertain provenance that his farming family acquired somewhere along the way, most likely at some now-defunct feed-and-seed or farmer's co-op.
Let me paint you a picture of this glorious ensemble, beginning with the color. I might describe it as olive drab, but I like olives too much to insult them. But if they ever were olive drab – a color with little discernible appeal apart from camouflaging soldiers – they long ago faded to something not quite green and not quite gray. Now, they're just drab.
Recently, while shopping online, I spotted a pair of coveralls the same color as Harvey's. The color was listed as "loden." The writer in me was a little embarrassed about having to look the word up until I noticed that not even spellchecker recognizes it. Turns out loden is a both a type of waterproof fabric and a dark olive-green color. If you ask me, It's more like a clever marketing term for "butt ugly."
Then there is the threadbare – I mean, vintage – condition of Harvey's favorite wintertime attire. The right shoulder seam is split open, revealing bright red lining and little kibbles of mustardy-brown foam rubber. There are similar gaping gashes in the lower left rear leg and upper right thigh, plus assorted minor rips and holes throughout. The hem of the right sleeve is completely frayed. The green paint is worn clean off the metal snaps. The whole thing is dotted in tractor grease and John Deere-green paint splatters plus certain other mysterious stains that almost certainly hearken back to our dairy-farming past. I can't figure out what is actually keeping him warm, because the original insulation has just about deteriorated to nothing.
Like most everything else on this old farm, we got our money's worth (or somebody's money's worth) out of Harvey's favorite coveralls. I wouldn't doubt there are better-looking clothes in the "rag bag" of castoffs Harvey keeps at his shop for wiping down filthy tools and mopping up spills.
And yet, it was only with obvious misgivings that Harvey finally conceded it might be time to replace his cold weather uniform.
As previously noted in this space, my husband is truly a farmer at heart. That is, he believes in fixing rather than replacing. And he is gifted (or cursed) with the ability to do so.
As I tell him every time he does his magic, "My husband can fix anything."
On one level, it's a financial thing. Self-reliance and thrift was instilled in Harvey when he was growing up on his family farm. But in Harvey's case, it's also pride and stubbornness. His ego does not depend on having the biggest, fanciest (most overcompensating) pickup truck in town, and he scoffs at those that do. He gets by just fine without buying a bunch of new stuff, thank you. Generally speaking, he is sincerely content with his old stuff. He's a survivor and proud of it.
But not even Harvey could salvage his old coveralls.
One day I informed him I could not bear to spend another winter looking at this depressing get-up. So, with some sadness, he reluctantly agreed to let me buy him a new pair.
This was a fairly tall order. For one thing, Harvey hates shopping. His idea of shopping is to walk into a store, buy the item closest to the front door and leave as quickly as possible. Plus, he has short legs and a long body, so fitting him for a one-piece jumpsuit was bound to be all kinds of aggravation.
In addition, the new coveralls couldn't be too stiff or bulky for him to work in. (In other words, it had to be just as comfortable as his 30-year-old worn-out skins.) And he didn't want hunter's camo, which ruled out at least half the coveralls on the market.
And above all – this was my decree – Harvey's new coveralls could not be stomach-bile green.
It took hours of online shopping and a few purchases and returns, but we finally landed the perfect pair. They fit just right. They were not too stiff or bulky. They even had something called "muscle back technology" to "increase your range of movement." Best of all, they were a nice, flattering shade of navy.
And Harvey was pleased, if only in a half-hearted "make-the-wife-happy" kinda way. He was definitely not as pleased as I was, of course, but it was clear we finally had a winner.
Harvey tried out his new skins one afternoon during one of the first really cold snaps when he and the boys went out to cut firewood.
They returned a couple of hours later, all rosy-cheeked and exuberant from their chilly outing.
Almost immediately upon entering the house, Harvey walked over to stand by me.
"Boys," he said, in the tone of voice that always means he is about to pass along an important life lesson to our sons, "I want you to see something."
He pointed down at a four-inch rip in the thigh of his coveralls.
"This is what that chainsaw would have done to my skin if I had not been wearing this heavy-duty fabric to protect me. Always remember that when you are working with a chainsaw."
There was something strangely exaggerated about the way he said it, and I slowly realized that the whole speech had been given for my benefit. That was Harvey's way of breaking the news that his purdy new outfit had already been defaced, but at the same time warding off any possible repercussions from me. After all, he pointed out, the damage was for a good cause. A rip in some cloth surely beat a trip to the emergency room, medical bills and months of rehabilitation. Why, those coveralls practically took a bullet for him.
I also realized that he, himself, did not seem upset in the least about messing up a brand new pair of $90 coveralls that took me weeks to find. If anything, I could swear I detected a certain joy that was not there when he left the house.
What else could I do? I sighed and silently wished Harvey and his new skins a long and happy life together.