Having a Vine Time in Lake Charles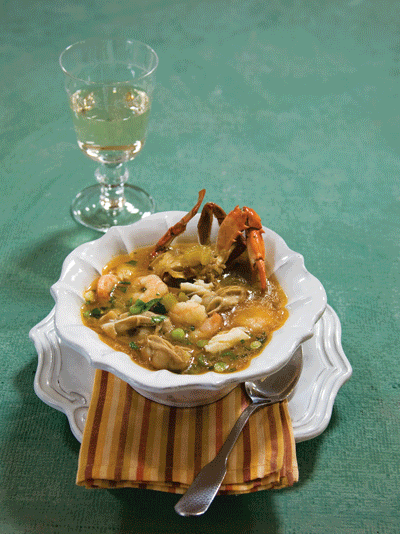 Question: Do you know wine?

Wrap your mind around that. Swish it around as if it were Wine Spectator's 2008 wine of the year –– Casa Lapostolle's Clos Apalta Colchagua Valley 2005 from Chile –– and honestly answer the question.
A wine like that will set you back $75, but why get lost in worrying about the price? You're thinking about wine, not money.
Now ask yourself again: Do you know wine?
You either do, or you don't.
Those of you who know the difference between a Malbec and a Bordeaux or a muscat and chardonnay can consider yourselves worthy of self-satisfaction, especially because it's certain that you've ventured into the wide world of wine. But the souls who find it all a little confusing shouldn't fret. Even the author of this piece needs a guidebook to map his way through the Kingdom of the Vine. Luckily, understanding wine starts with something of which we all have some significant understanding –– food.
Even schooled and amateur wine experts can indulge their fancy with food and wine –– the more, the merrier. Wine-and-food pairing may be the easiest way to learn about wines, and it's definitely fun.
Emphasis is on the word "fun" –– a thought even shared by wine experts. Jared Cocke, fine wine specialist at Republic National Distributing Co., says: "We tend to make a mountain out of a molehill at times when talking about wine. When all is said and done, it's supposed to be fun at all levels of experience and incomes."
And what better place to join wine, food and fun than Louisiana, a state regarded as a bastion of culinary richness with eaters who have a fondness for spirits.
Traditionalists will say the foremost way to pair the right wine with any dish is to remember that red wines are for meat and white wines for fish.
Cocke, who shares his knowledge with food- and wine-lovers during classes and wine events, says people should consider "the intensity of flavor of food and match that intensity with the wine."
For instance, if you're going to eat a white fish with a light sauce, select a wine that is light in intensity. Nothing "bold, brash or anything that will consume the food," Cocke advises.
Restaurants with extensive wine lists and wine experts are good resources of information for people who want to educate themselves about wine intensity and flavors. Essentially, that is the starting point for a wine education.
Once the groundwork has been laid down, then a budding wine-lover can explore.
"You have to know what food tastes like and how wine tastes," Cocke says. "Start with a basic appreciation for different wines. Remember, it's all subjective. But the biggest thing I remind people is that it's all about experimentation and displaying the willingness to have fun. The best part of food and wine is that the experience will never be terrible."
Another way to get introduced to wine is to attend classes and food-and-wine events such as Rouge et Blanc, which will take place Oct. 17, 2009, in downtown Lake Charles.
Rouge et Blanc will feature more than 20 area restaurants and dozens of wine experts with more than 100 different types of wine.
"Rouge et Blanc gives people a chance to taste a whole range of wines: dry, sweet, red, dessert and aperitifs," says Mary Richardson, event coordinator. "The experts will be right here. If people have questions, they can ask as the expert pours the wine."
The event will coincide with food-and-wine-pairing dinners throughout the city.
Blue Duck Cafe chef Briant Smith is taking the opportunity to showcase selected wines with Louisiana dishes he plans to prepare, such as his creamy oyster-and-mushroom soup in puff pastry bowls.
"The oyster-and-mushroom soup recipe comes from the LeCorgne family in New Orleans and was given to me by Dr. Lyle LeCorgne of Lafayette," Smith says. "I love this soup, and its wine pairing is special."
Cocke suggests Louis Jadot pinot noir from France, which costs $19.
Smith says: "You don't have to be an expert to enjoy wine with a meal. Simply ask. If the restaurant has a wine steward or knowledgeable waiter, suck up your pride and get their opinions. There's no shame in that; I do it all the time."
He advises potential wine-buyers to not be swayed by high prices either.
"Wine is for everybody, rich and poor," he says. "Many years ago when I was in college, I took a date to a very expensive fine-dining place. In the next dining room, a local bigwig was entertaining some friends, and I assume he was trying to impress them. When the waiter asked if they would care for some wine, he waved his hand and told him to bring them two of the 'most expensive bottles' they had. No mention of whether or not it went with the meal –– the important thing was the price. Just as we were finishing our meal, he got his check. It turned out those two bottles were $750 apiece, and that was in the 1970s. When we left, he was screaming about the price and taste of the wine with the owner. The bottom line: Don't be influenced by price, only taste."
Cocke also notes that the public shouldn't be set on thinking the best wine should always cost more than a dinner.
"Wine is only as pretentious as we make it out to be," he says.
For a guy like Cocke, who started in the wine business while attending Louisiana State University, of all the facts and figures he can present to people attending classes and seminars, the moment of wine enlightenment is what matters most.
"I like when I see the proverbial light go off for a person who is learning about wine," he says. "And at times I ask people when they had their wine epiphany."
Simply put, that's the moment when a person realizes which wines he or she likes, knows where to find the wine and a few details about the wine and has lost that initial fear of wine. For those people, wine is fun.
"And then they like wine and are comfortable tasting until something hits them," Cocke says. "My job as a wine specialist for the last eight years is to help people to that point, bridge the gap between, build bridges and bring people who know wine and those who don't together. Watching a person have that epiphany is like watching a child opening a present. Seeing the smile of satisfaction is what matters."
Once a person knows wine and has fun enjoying it, then food-and-wine pairings are easier to manage.
Comfort leads to pleasure, and why else should we eat?
"The right pairing can do nothing but enhance your dining experience, which is something that people today seem to be in too much of a hurry to get through," Smith says. "When I was young, we went out to eat maybe four or five times a year, which meant that it was a big deal, something to be savored and enjoyed."
So go back to the top of this article, and consider the question again: Do you know wine?
If not, why?
Apprehension due to lack of knowledge isn't an excuse, not when all you have to do is ask questions.
Being hungry also helps because deciding what wines to drink with different dishes can be exciting.
Take that chance, then. Attend wine-and-food events, go to the classes, and map out a personal tour of wine country.
Remember: In a state where food is relished, enhancing the moments at the table and making memories is what counts.
"Get a plate, and take sips of wine," Cocke says. "It's trial and error. You'll know if the wine is good because it's your taste that counts. For wine and restaurant professionals, a positive, meaningful experience for the customer is what we try to make happen. After people start tasting, they will know what they like."
And after that, the old adage "the world is your oyster" will have an enhanced and delicious meaning.
Blue Duck Redfish on the Half Shell
2 6-to-8-ounce redfish fillets with skin and scales on
Italian dressing
Salt and black pepper to taste
Chopped parsley
Meunière sauce (recipe follows)
Heat the grill to very hot, making sure that the grill grate is 8 inches above the coals. Coat the flesh side of the fillets with Italian dressing, and season them with salt and pepper. Place the fillets on the grill, skin-side down; cover the grill; and cook until the flesh is flaking, about 8 to 10 minutes. Remove the fillets from the grill, and place them on a platter. Pour 2 ounces of meunière sauce over the fish, and garish the dish with parsley.
Meunière Sauce
1 pound unsalted butter
1/3 cup lemon juice
In a large skillet, melt the butter until it begins to caramelize. Add the lemon juice, stir, and reduce the mixture by one-third. Keep warm when finished.
Cocke's wine-and-food-pairing suggestion: Craggy Range chardonnay, New Zealand, $21
Chosen because the wine is not oak-aged and would balance with the creamy-and-nutty flavor of the fish
Creamy oyster-and-mushroom Soup in Puff Pastry Bowls
2 cups whole milk
1 bunch green onions, finely chopped
2 tablespoons shallots, finely chopped
1⁄2 stick butter
1/3 cup flour
Salt and freshly ground black pepper to taste
1⁄2 can cream of mushroom soup
11⁄2 dozen fresh oysters*, drained
2 teaspoons hot sauce
2 teaspoons fresh parsley, finely chopped
Pernod or Herbsaint to taste
6 puffed pastry patty shells
Freshly grated Parmesan cheese
Preheat the oven to 350 degrees. In a saucepan, heat the milk to almost simmering. Turn off the heat. Sauté the onion and shallots in butter over medium heat until soft. Add the flour, and cook for 3 to 4 minutes over very low heat, stirring constantly. Add the warmed milk, and whisk vigorously until completely combined. Heat this mixture until it's just simmering, and then season it with salt and pepper. Add the soup, and stir well. Add the oysters and the hot sauce, and simmer until the edges of the oysters begin to curl. Stir in the parsley and liqueur. Remove from heat.
Remove the center top of the pastries and set aside, and then carefully scoop out the centers, taking care not to cut all the way through. Heat the hollowed-out pastries and tops in the oven for 5 minutes.
Fill the centers of the pastries with the oysters and sauce, and then replace the tops, and drizzle the sauce over the pastries. Top the pastries with grated Parmesan, and serve immediately.
*If the oysters are large, cut them into smaller pieces, about three-fourths of an inch.
Cocke's wine-and-food-pairing suggestion: Louis Jadot pinot noir, France, $19
Chosen because the dish and the wine have complementing earthy flavors