Health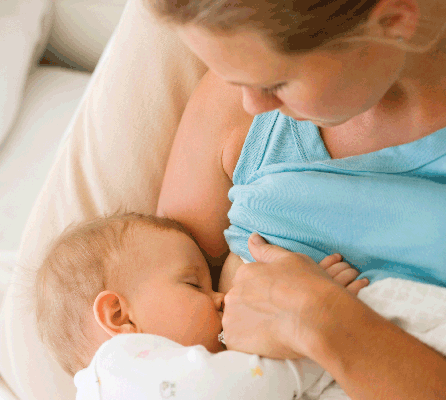 FOUR LOUISIANA HOSPITALS PICKED TO PROMOTE NATIONAL BREAST-FEEDING PROGRAM
OPELOUSAS – Although it is widely known that breast-feeding for at least a year has numerous health benefits for both mothers and infants, half of the infants born in the U.S. are given formula within the first week of life, and by 9 months, only 31 percent are breast-feeding at all. Best-Fed Beginnings is a national effort, led by the National Initiative for Children's Healthcare Quality in conjunction with the Centers for Disease Control and Prevention and Baby-Friendly USA Inc., to significantly improve breast-feeding rates in states where the rates are currently the lowest. Nationwide, 90 hospitals are participating.
In Louisiana, Opelousas General Health System was selected – along with Terrebonne General Medical Center in Houma and East Jefferson and Tulane-Lakeside hospitals in Metairie – to participate in the 22-month program. The ultimate goal of the program is a Baby Friendly designation, which verifies that a hospital has "comprehensively implemented the American Academy of Pediatrics-endorsed Ten Steps to Successful Breast-feeding, as established in the WHO/UNICEF Baby-Friendly Hospital Initiative," according to a press release.
"Opelousas General Health System is delighted to have been chosen to participate in this important effort and to have the opportunity to improve our maternity care services to better support breast-feeding," Dr. Carmen Johnson, pediatrics committee chair, said in a press release.
HEALTH CARE: "A DIFFICULT TIME FOR ALL OF US"
NEW ORLEANS – Dr. Frank Opelka, who in September assumed control of all seven Louisiana State University system hospitals in South Louisiana in the newly created position of executive vice president for health care and medical education redesign, presented a plan for cuts to public health care. The cuts were mandated by state cuts and a Medicaid shortfall.
Under Opelka's plan, unanimously approved by the LSU Board of Supervisors on Oct. 4, state financing to the seven state hospitals will be reduced by $85 million. Coupled with a decrease in federal Medicaid funding, the cuts total $152 million.
Overall, 1,487 jobs will be eliminated from the 6,140 positions in the current budget, and many clinics associated with the state hospitals will close or reduce their hours. In New Orleans, the women's health, pain management, endocrine and sickle cell clinics will close. Other hospitals around the state are cutting back on the number of available beds and other services.
Poor and uninsured patients will feel the cuts the most; the majority of patients at the state hospitals are either uninsured or on Medicaid. Opelka said that private hospitals will pick up the slack in caring for these patients and added that he is working with Louisiana Department of Health and Hospitals Secretary Bruce Greenstein to figure out how to compensate these private hospitals for treating uninsured patients.
"This is a very difficult time for us, all of us," Opelka told the board. "These are the most vulnerable patients in the most difficult circumstances requiring some of the most complex treatment."
Opelka acknowledged to concerned state legislators that if private hospitals are not willing to negotiate a deal and provide care to the uninsured, people could have trouble getting the medical care they need. But, he said, the current system of using state hospitals to provide this care is "unsustainable."
LSU HEALTH SHREVEPORT LEADS IN ELECTRONIC RECORDS
SHREVEPORT – In November 2011, LSU Health Shreveport became the first hospital in the region to convert from paper to electronic health records. Just 10 months later, the hospital achieved a Stage 6 rating on HIMSS Analytics' Electronic Medical Record Adoption Model. Stages range from 0 to 7, with 7 being the highest and representing an "advanced electronic patient record environment." As of September 2012, only 391 U.S. hospitals have attained a Stage 6 rating.
"The Stage 6 designation validates LSU Health Shreveport's implementation of electronic medical records," Chief Information Officer Marcus Hobgood said in a press release. "With an EMR, we have given our physicians and nurses the tools to make better decisions about managing patient care and safety. I credit our medical and hospital staff for their tireless efforts."