Health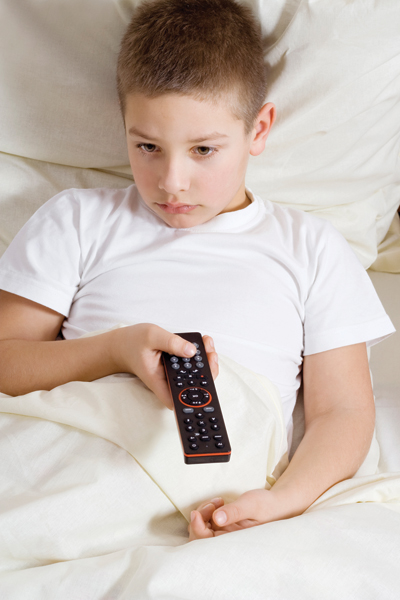 Bedroom televisions link to obesity in children
Baton Rouge – Pennington Biomedical Research Center recently published a study in the American Journal of Preventive Medicine, revealing that children who watch television in their bedrooms are at a greater risk for obesity than children who do not. The study, "Television, Adiposity, and Cardiometabolic Risk in Children and Adolescents," found that the average American child from age 8 to 18 watches approximately four-and-a-half hours of television per day. Seventy percent have televisions in their bedrooms. About one-third of youths age 6 to 19 are considered obese.
Pennington researcher Peter Katzmarzyk found that TV viewing time was related to visceral adiposity, and bedroom TV was related to cardiometabolic risk in children. Between 2010 and 2011, 369 children and adolescents aged 5 to 18 in Baton Rouge, representing a balance between gender, ethnicity, age and BMI status, were evaluated for a variety of factors, such as waist circumference, resting blood pressure, fasting triglycerides, high-density lipoprotein cholesterol, glucose, fat mass and stomach fat. According to a Pennington-generated press release, analysis of the data developed produced two models, which revealed that children with a TV in the bedroom were more likely, in general, to watch more TV. These children also were shown to have more fat and subcutaneous adipose tissue mass, as well as higher waist circumference, when compared with their peers who did not have a bedroom TV.
Study participants with a TV in the bedroom and those who watched TV more than two hours a day were each associated with up to 2.5 times the odds of the highest levels of fat mass. Viewing five or more hours a day produced an association of 2 times the odds of being in the top quartile for visceral adipose tissue mass. Co-author of the study Amanda Staiano said: "A bedroom TV may create additional disruptions to healthy habits, above and beyond regular TV viewing. For instance, having a bedroom TV is related to lower amounts of sleep and lower prevalence of regular family meals, independent of total TV viewing time. Both short sleep duration and lack of regular family meals have been related to weight gain and obesity."
Willis-Knighton accredited as a Chest Pain Center
Shreveport – Willis-Knighton Medical Center received full accreditation with percutaneous coronary intervention from the Society of Cardiovascular Patient Care for a three-year period. Kathy Walker, director of the Willis-Knighton Heart & Vascular Institute, said that it validates the medical center's "commitment to improving care for patients with heart disease." During the survey, Willis-Knighton received favorable comments for its community involvement and partnership with local emergency medical services.
Key areas in which an Accredited Chest Pain Center must demonstrate expertise include integrating the emergency department with the local emergency medical system; assessing, diagnosing and treating patients quickly; treating patients with low risk for acute coronary syndrome and no assignable cause for their symptoms; maintaining organizational structure and commitment; supporting community outreach programs; and more.
LGMC named a Site of the Year for its pharmacy
Lafayette – Shane Domingue, pharmacy director at Lafayette General Medical Center, accepted an award for the 2013 Site of the Year from the Comprehensive Pharmacy Services for the South Central Region. CPS, which is a leading pharmacy services provider to hospitals and integrated health systems, works on cost containment, patient safety and regulatory compliance. Identifying improvement strategies and leading the implementation process to ensure successful results is part of its mission. LGMC's pharmacy department earned its recognition for scoring at least 85 percent or better in an operation audit, for outstanding financial performance by meeting or exceeding its budget, for superior scores on The Joint Commission survey, for clinical success and for maintenance of good relationships with its staff members.