Health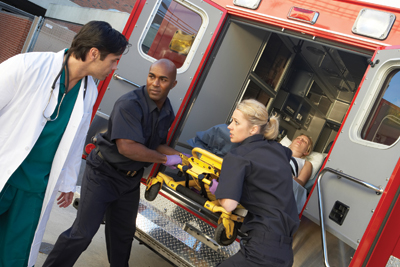 Rare Surgery Saves Newborn
SHREVEPORT – In late February, Brendicianna Turner was having what was supposed to be a routine ultrasound when doctors noticed that her son, who was at full term, had an underdeveloped jaw. "I thought I might have seen only just a little tiny bit of bone," obstetrician and clinical professor of OB Rose Brouillette said in a press release. "It was very bad."
Brouillette called Dr. G.E. Ghali, an oral and maxillofacial surgeon who specializes in craniofacial deformities. "Due to a severe lower jaw deformity, the infant would not have been able to breathe on his own …" Ghali said.
Together, Brouillette and Ghali decided that the baby's best chance for survival was a rare procedure known as Ex-Utero Intrapartum Treatment, or EXIT, which allows doctors to perform life-saving surgery while the baby is still in the womb and attached to the mother via the umbilical cord. Fewer than six of these surgeries have been performed in Shreveport; it was Ghali's third. Only a few medical centers in the country perform EXIT procedures at all.
"The EXIT procedure was the safest way to secure the child's airway," Ghali said. "With the help of a well-organized team consisting of obstetrics and gynecology, oral and maxillofacial surgery, anesthesiology, neonatology, respiratory therapy, nursing and operating room personnel, we were able to safely care for both the mother and her child."
In all, more than 50 doctors, nurses and medical technicians gathered in a large surgery suite at LSU Medical Center on Feb. 27. The OB team first delivered the head and partial shoulders of the baby via cesarean. Next, Ghali and his team worked to establish an airway – while the baby is still receiving oxygen from the mother, there is a 90-minute window to put a tube down the baby's tiny throat to establish an airway. After Ghali was unable to get a tube in, he and his team performed a tracheotomy instead. The time from the start of the cesarean to the completion of the tracheotomy was less than 10 minutes. After the tracheotomy, the obstetrics team finished delivering Donavan Turner, and he was immediately taken to the Neonatal Intensive Care Unit.
Lafayette General Exceeds Average of Organ Donation
LAFAYETTE – April was National Donate Life Month, and Lafayette General Medical Center held a press conference in the lobby to celebrate "donor heroes" and honor its commitment to and involvement in registered organ, tissue and cornea donations.
The Louisiana Organ Procurement Agency, or LOPA, presented Lafayette General with the Medal of Honor for exceeding the national average of organ donation with a consent rate of 95 percent. According to a press release, Lafayette General Medical Center Chief Operating Officer Patrick W. Gandy accepted the award, saying, "Our process is among the best in the state because of the team effort from our incredible physicians and staff here at Lafayette General."
LOPA said that in 2012 Lafayette General had the third-most organ donations in the state and the most among hospitals with fewer than 450 beds.
In addition, Southern Eye Bank honored Lafayette General with its Hospital of the Year award for its "exemplary support and care to grieving families as they make end-of-life decisions for their loved ones." In 2012, Lafayette General helped 57 families make cornea and tissue donations, which in turn helped 62 other families receive the gift of sight. "Saving and restoring eyesight falls in line with Lafayette General's mission 'To Restore, Maintain and Improve Health,'" Gandy said.
Lafayette General flew the Donate Life flag in front of the hospital for the month of April in honor of Acadiana's organ and tissue donors, transplant recipients and their families.
Lakeview Regional To Offer Emergency Transfers
COVINGTON – In collaboration with Lagniappe Transfer Center, Lakeview Regional Medical Center now offers emergency transfer services. The two entities will work together to coordinate all aspects of transferring patients from one health care facility to another.
According to a press release, the ability to make these transfers illustrates the hospital's commitment to outlying areas; when a patient requires a higher level of care, Lagniappe Transfer Center will work with the patient's current facility to ensure a safe and fast transfer to Lakeview Regional.
Bret Kolman, CEO of Lakeview Regional, said that in situations such as trauma, cardiac, surgical and stroke-related conditions, the availability of efficient patient transfer is critical. "We understand acute patient care and are sensitive to the needs of the family, as well," Kolman said. "When a patient's condition warrants a transfer to Lakeview from another facility, we are able to offer this transfer service. It reinforces our commitment to the highest level of health care possible for our community."