Herbert Fontenot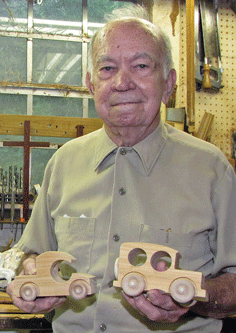 EUNICE — For most of Herbert E. Fontenot's 92 years, woodworking has been a major part of his life.
He's found a way for his lifelong hobby and love of wood, especially Louisiana's own cypress, to bring smiles to the faces of sick and hurting children. For the past several years, Fontenot has taken planks of milled Louisiana cypress and transformed them into keepsake cars and trucks.
Fontenot's cars and trucks, all of which are modeled after Depression-era vehicles, are bundled up several times a year and taken by his daughter to St. Jude Children's Research Hospital in Baton Rouge. Once there, they are handed out to the children that have been admitted for treatment.
"I have been told it makes them happy, and that's why I do it," says the retired rice mill worker, pausing to put wheels on several of his creations. "This is something I can do to make them feel better, and I enjoy doing it for them."
Besides cars and trucks, Fontenot also turns out other cypress keepsakes, including small ornate boxes; banks; clocks; and crosses, both large and small. He says a family member sold a few of his smaller crosses, but mostly he gives away his treasures.
Occasionally, he says, someone will ask him to build something specific, which he is happy to do, and he says he is always working on something for his two daughters.
Fontenot pays for the specially milled cypress from a dealer in Port Barre himself. He says cypress is becoming harder and harder to get but has no plans to switch because he favors the wood's dimensions and grain.
The shop where Fontenot plies his skills is located just steps from his back door. Entering through the shop's doors is like stepping back in time several decades. It's filled to the rafters with stacks of wood, mostly Fontenot's beloved cypress, and with well-used and worn hand tools and other projects in varying stages of completion.
Although it would be easier for him to use more modern electric conveniences, he keeps them to a minimum.
"I use my drill press quite a bit, but most of the rest I do with my hands," he says. "I like to work with my hands."
Fontenot spends four to five hours daily in his cobweb- and sawdust-covered shop.
"Being out here gives me a good feeling and a real sense of having accomplished something rather than just sitting around wasting time," he says, pausing to sign one of his cars. "It keeps my mind going."
Fontenot and his brother, Ronny, who also lives in Eunice, came to woodworking naturally courtesy of their father, who was a carpenter.
"I've been doing this pretty much my whole life," he says.
Ronny's creations are in the musical vein. He has been crafting violins for at least the past 30 years, and according to his older brother, he has "gotten pretty good at it."
While Herbert and Ronny Fontenot represent the family's second generation of craftsmen, Ronny's son, Darwin, who lives in neighboring Arkansas, is carrying on the family tradition with his own handcrafted violins.
"I guess we have sawdust in our blood," says Fontenot, flashing a slight grin and scratching at a few wisps of white hair.
The numerous acts of kindness have not gone unnoticed or unappreciated.
"The feedback has been good," he says. "I got a letter from St. Jude in Memphis, [Tenn.], and others from children thanking me and telling me how much they appreciate the toys. I even got one from a child in Memphis."
Fontenot says it is rewarding to see the pleasure his toys bring on the faces of the children. "They really bring them happiness."
Each one of Fontenot's creations is signed, and he attaches a small tag so the owner can have their doctors, nurses and friends sign them as a remembrance of sorts.
Fontenot's crowning achievement came earlier this year when he was asked to construct a large cypress cross for Our Mother of Peace Elementary School in Church Point. He donated the cross to the school, which has it displayed in the gymnasium.
"That was a really nice feeling," he says. "Everyone was so nice, and it made me proud to do this for the church and school."
At 92, Fontenot shows no signs of slowing down. Besides woodworking, he maintains an active social life and visits daily with friends from around town at the senior center, where he also eats lunch.
According to Fontenot: "I believe what I do keeps me going and keeps my mind sharp."