Hey, Who's the Guy on the Right?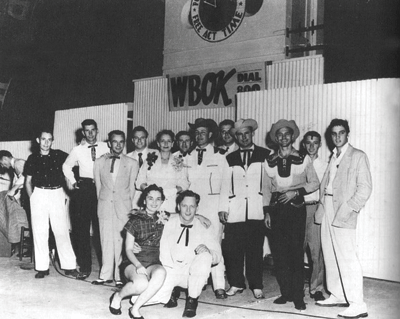 In American pop culture, just about any place where Elvis Presley hung out has come to qualify as a quirky place, even if it was 56 years ago.
Presley came to Louisiana often, most notably for Shreveport's Louisiana Hayride, where the term "Elvis has left the building" was said to have originated when the show's legendary founder and producer, Horace Lee Logan, tried to calm an overly emotional teen crowd wanting their idol to return to the stage.
New Orleans was also a frequent stop, including an extended stint to film King Creole. In his early days, the rock star with country roots would occasionally appear on the big stage at Pontchartrain Beach Amusement Park.
This picture (dated Sept. 1, 1955) shows Presley as part of a crowd of mostly country singers who performed in a show put together by Red Smith, a local DJ for radio station WBOK. The other big name was country singer Jim Reeves, whose song "He'll Have to Go" would go platinum in 1960. A not-so-big name was Ann Raye (up front wearing the corsage), who that day had been crowned Miss Hillbilly Dumplin.
A Web site, PontchartrainBeach.com, points out an irony about the gathering, as mentioned by Joel Scarborough, who at the time was a ninth-grader who was working as Red Smith's unofficial assistant: Months later, after Elvis signed with RCA and recorded "Heartbreak Hotel," he killed country music overnight. According to Scarborough, "Red Smith left WBOK after announcing that the owners were going to change to a rhythm-and-blues format because there was no money in country radio."
Smith would move to another market, Scarborough would become a DJ himself, Reeves would acquire legendary status though his career was cut short in a plane crash, WBOK would become a soul music station, and Elvis – he would become King.