Highbrow Eyebrows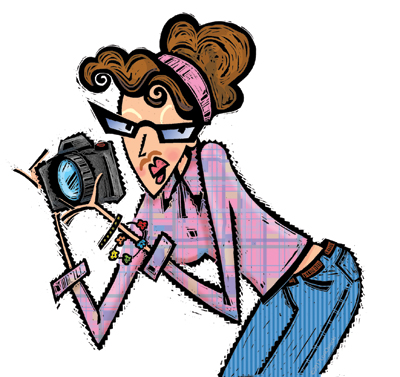 This is the Year of the Eyebrow. I know this courtesy of my teenage daughter Gladiola.
The girl is obsessed with her own eyebrows. If it was her boobs, that would be normal; I wouldn't worry. But eyebrows? We live in a strange new world.
When I was her age, I had no boobs, which bothered me a lot. I also had eyebrows like a schnauzer, which didn't bother me at all. I shaved them off and drew them back on like McDonald's arches, and that was that.
But now the Eyebrow Pendulum has swung the other way. It is all about the "feathered" look. So Gladiola, whose eyebrows are perfect, needs $30 for special eyebrow enhancement gel that got tiny bits of actual fake hair in it, plus a fancy brush to smear it on with.
It gets worse. I meet my mother-in-law, Ms. Larda, for coffee and she says, "Notice anything new?
I say, "Haircut?" No. "Lost weight?" No. "New stretch pants?" No. She waggles her eyebrows.
"Got my eyebrows enhanced."
I hack up some beignet, but she don't notice.
"After the cataract surgery, I could see in the mirror again, and what I seen was my eyebrows weren't there no more. Now, I am about to be sworn in as president of the altar society, as you know. I want to look good. So I went to the beauty shop and told your friend Awlette, and she said my eyebrows have faded to the same color as my skin. So she did a enhancement. See?" She waggles them again. "Deep Charcoal."
Then she squints at me. "Maybe you want to have a little work done yourself? This is the Year of the Eyebrow, Modine."
Hmph. I go home and look in the mirror. Then I phone Awlette. I want a price on eyebrow enhancements for me and Gladiola.
Now, Awlette and me have been friends our whole lives. "I'll let you in on a little secret, Modine. You can make that stuff yourself," she says.
That Sunday, when the shop is closed, me and Gladiola go over there and Awlette shows us how to do this. She crushes up some old eye shadow — Sultry Brown for me, Ebony Black for Gladiola — and mixes it into Vaseline. Then she clips off some tiny pieces of our hair and adds it in. She puts it on with a regular mascara brush.
She says this is long-lasting eye shadow, so these eyebrows will last at least three days, even if we wash our faces. And since she is my friend, she also mixes me up something to bleach the hair on my upper lip. Crushed potato, honey, lemon juice and a touch of hydrogen peroxide. Put it on before my bath, wrench it off when I get out. We spoon each mixture into a little jar and bring them home, ready for beauty.
We are beautiful for a whole week.
The next Sunday, I wake up late. The power is out. I am supposed to be taking pictures of Ms. Larda's altar society swearing-in. I say some bad words about Entergy; jump in and out the bathtub; throw on my clothes; slap on make-up by light of my cell phone, and tear over to church.
The ceremony has started already, so I tiptoe in and start taking pictures. Ms. Larda is acting strange. Every time she looks at the camera, she gets this astounded expression, and her enhanced eyebrows shoot right up to her hairline. Afterward, when I go to congratulate her, the other ladies look at me funny. "You must be from the French Quarter, honey," one lady says. Ms. Larda don't even invite me to breakfast. I wonder what got into her.
Until I walk in my front door and Gladiola says, "OH. MY. GAWD."
Here's a tip: never put your eyebrow enhancer and your mustache bleach in identical jars on the bathroom counter. Because in Ms.Larda's moment of glory, I showed up with a enhanced mustache and no eyebrows.
Maybe next year will be the Year of the Upper Lip. I could say I was ahead of my time.
---