Historic Hunter's Retreat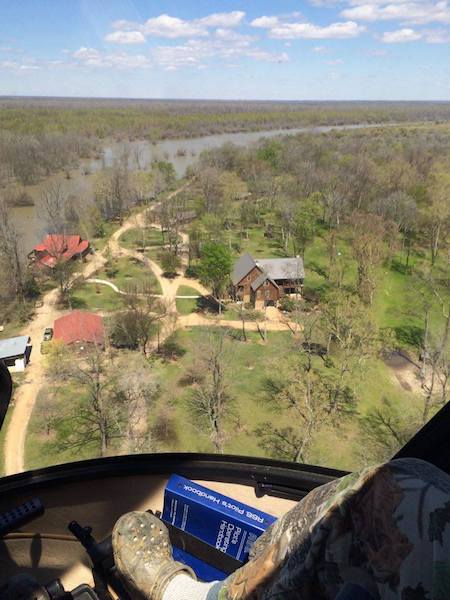 Just as American pioneer Jim Bowie did, you, too, can take a boat ride to Giles Island. Only when he visited, back in 1827, the island was merely a wide sandbar in the middle of the Mississippi River. Today, hunters and wildlife enthusiasts visit the island for its premier hunting retreat and plethora of wildlife, which is a stark contrast from the reason Bowie went there and what it looked like back then. Bowie's motive for stepping foot on the then-sandbar was because it was located on neutral territory for the famous and formal one-on-one duel, the Vidalia Sandbar Fight, which ended in a violent brawl between two parties.
Along with the main course of the river, the island's topography has changed dramatically, with the help of massive dredging in 1933; today it is bordered by both the Mississippi River and the Old River and can be accessed from a landing in Ferriday, Louisiana. Many historians are enthralled with the location and its historical markers the Sandbar Fight which also contributed to the glamorization of the sheath fighting knife known as the Bowie Knife used in that duel.
This hunter's paradise and its premier hunting club sits on 9,400 acres and is governed by a wildlife management program operated by its private owners. The habitat program helps maintain the island's bountiful large-scale wildlife, including trophy bucks. (Fun Fact: The average buck weighs more than 200 pounds, with some as large as 280.) That wildlife, by the way, is sustained by nearly 175 acres of food plots, which support white tail deer, turkeys, rabbits and more. There are even fruit, nut, and live oak orchards to provide another food source during the winter months.
A stay on Giles Island includes guided-only hunts for creatures such as white tail deer, alligator, turkey, and doves, and include rifle and bow hunts. (Fun Fact: Giles Island has been featured on "Mossy Oak" and Hank Parker's "Flesh and Blood" television shows.) (Tip: Because of high demand, it is advised to book deer hunts two years in advance and place your name on a cancellation list.)
A canvas of dense thickets, wide-open fields, and a stunning forested terrain offer hunters a perfect setting. These hunts also include a recording of your kill shot – these recordings are used to keep a log of the wildlife on the island for management purposes. (Fact: The game that hunters do not take home with them is stored and used in many mouthwatering dishes, including fried deer.)
Need more activity? Bordered by two rivers and containing several lakes, Giles Island is a great place for guided fishing excursions. Among the most popular species caught in these waters are bass, brim, and white perch, and guides will clean and bag your catch for you.
Rest assured, you will not go hungry here! Full-time Chef Mike Carle tempts the taste buds of guests with three Southern-inspired hearty meals – which include juicy steaks, delectable pork loin, and fried deer. Be prepared for a multitude of sides like twice-baked potatoes and broccoli casserole, and make sure you save room for Chef Carle's desserts like bread pudding and pecan pie. (Tip: Chef Carle's fresh-baked cookies and pies are among the variety of snacks and complimentary drinks also available.) (Tip: Giles Island does not have a liquor license, so guests are encouraged to bring their own libations.)
After a day of hunting, relaxing, or sightseeing, you will be ready for a good night's sleep. You can choose from a handful of accommodations like The Tree Tops Lodge, which is the most luxurious of accommodations, and offers countless plush amenities. (Tip: The Mockingbird Room has a fireplace and is one of the most popular rooms.) The Sippin' Shack is a private and relaxing upscale cottage with large windows where you can view wildlife and the woods. It has a double bed, queen bed, and a child's sleeping nook, plus a full-kitchen, laundry room, and living area. Another option is the Antlers Lodge, which also boasts a great view of Mother Nature from the main dining room, and accommodates up to 25 people. (Tip: Both a continental and full Southern hot breakfast are served so that guests can enjoy a meal following a hunt.)
Guest check-in for Giles Island is in Ferriday, Louisiana and the island is only 15 minutes from Natchez, Mississippi. Guests board a luxury double-decker party barge to access the island or they can opt for a quick helicopter ride.
For hunters and non-hunters alike, Giles Island, with its bounty of wildlife, natural beauty and luxury accommodations, offers a one-of-a-kind experience within a tranquil and breathtaking setting steeped in history.
For more information visit gilesisland.com