"Hogs for the Cause" helps children diagnosed with pediatric brain cancer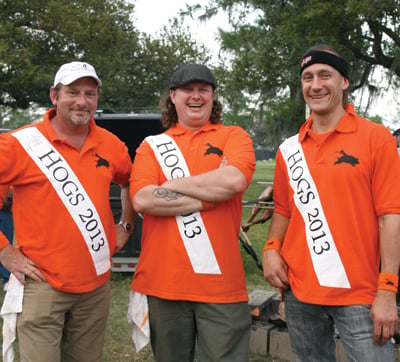 Childhood friends Becker Hall and René Louapre organized their first pork cook-off simply as a way to entertain family and friends – and then they met Ben Sarrat Jr., a little boy whose courage in the face of brain cancer inspired the duo to convert their cook-off into a message of hope. Today, "Hogs for the Cause" is a two-day outdoor festival with live music and a barbecue challenge with more than 80 teams competing. This March in City Park, it raised over $700,000 for families nationwide.
2013 "Hogs for the Cause" launched with a Southern Asado, a traditional outdoor feast where the main meal is cooked entirely over an open fire. The evening also featured a raw bar, silent auction, champagne and "hogtails," specially crafted cocktails that were created exclusively for the benefit. Alex Layfield and Jessica Ibert graciously co-chaired the auction, whose lavish prizes included a Saints tailgating party for 20 people catered by local "top chefs" and a Lake Martin getaway for four, including horseback riding, boating and a championship golf course.
On Saturday, March 22, festivalgoers enjoyed an all-day party with live music performed by the Rebirth Brass Band, The Apache Relay and other nationally renowned acts. The barbecue lineup was equally impressive, with categories such as ribs, whole hog and "porkpourri." Lamb and other mouth-watering meats were also prepared Asado style. James Beard Outstanding Chef finalists Donald Link and Sean Brock were among the celebrity chefs in attendance.
---
Event at a Glance
What: "Hogs for the Cause"
When: March 22-23
Where: Festival Grounds at City Park