Home: Attention-Getting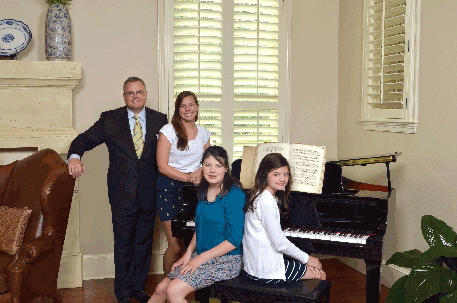 John B. Dunlap III has his great-great-great-grandfather's pistol from the Civil War in a special locked drawer in his study, while the American flag he carried during his tour of duty in Iraq during Desert Storm hangs on the wall, and a piece of the Berlin Wall from his military service in the late 1980s is on a shelf behind his desk. "Yes, you could call me a collector," explains the Baton Rouge attorney (of Dunlap Fiore LLC), who is a colonel in the Army National Guard and the state judge advocate of the Louisiana National Guard. "My home is a reflection of everything that is interesting in my life."
He proudly tells the story of the framed flag in his study. "I always carried an American flag with me when I was deployed overseas, and when my commanding general was looking for a flag to fly in Iraq, he asked to borrow mine," he says. Dunlap complied with the request, but he made sure that he didn't leave the country without his flag when he returned from his tour of duty.
Dunlap bought the tree-filled lot, almost an acre in the quiet Baton Rouge Southdowns neighborhood, when he returned from duty in Iraq and contacted Baton Rouge architect John "Ike" Capdevielle II to design a home to reflect his admiration for French Provincial architecture. "I wanted a traditional home that would be ideal for entertaining my family and friends," Dunlap explains. "I worked well with Ike, and I liked having a great deal of input in the design." The final 5,300-square-foot floor plan includes a formal living room and dining room, with the den and kitchen configuration as one large open space. "I love to cook, and the open kitchen allows me to do so and still be near my guests," he says.
The next step was to find the right contractor to execute the plan. "Don Ernst was a perfect choice because of his pragmatism that made me feel the important project was in good hands," Dunlap says. "He is honest, and he used the best materials and insisted on the fine workmanship."
Handsome arched windows are featured in the living and dining rooms, with only the windows facing the front covered with interior plantation shutters. Dunlap admires the way Adria Ellis, his interior decorator, interpreted his desire to include the vistas of the tree-filled grounds through the large uncovered windows. "Adria instinctively understood my personality and helped put my imprimatur on the interior of the house, which is very masculine."
Another interesting aspect of the ideal-for-entertaining plan is the enclosed French Quarter-type of courtyard that adjoins the dining room and den-kitchen.
Completing the downstairs plan is a study that is chockablock with memorabilia. A large master suite is located at the rear of the house. Upstairs there are bedrooms for his daughters, Elizabeth, Emily and Camille, who live nearby with their mother and spend a great deal of time with him.
"This house definitely reflects my personality," Dunlap says. "The location is perfect. It is right in the middle of Baton Rouge, so everything is convenient. I am near the LSU lakes, but it is extraordinarily quiet and feels like I live in the country."