'Home for the Holidays' Remembers Daniel Price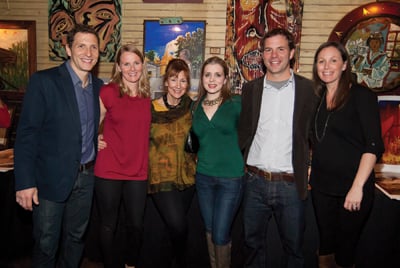 Celebrating great food, great music and an even greater cause, New Orleans' House of Blues held a rockin' holiday concert event in December benefitting The Daniel Price Memorial Fund for Aspiring Artists.
In memory of Daniel Price, a beloved New Orleans Center for Creative Arts alumnus whose passions were art and music, the fund grants scholarships annually to exceptional young artists in order for them to study and cultivate their talents at NOCCA. The "Home for the Holidays" December concert is a fun-filled celebration that features local art, including work from NOCCA students, and the best in music, from locally renowned to nationally known artists.
An exclusive patron party and silent auction kicked off the evening, with performances by the NOCCA Jazz Ensemble and Theresa Andersson. Lucky auction bidders were delighted to go home with fabulous prizes, including a Drew Brees jersey and football; a framed 2009 Trombone Shorty Congo Square Jazz Fest Poster, which was signed in person that night by the NOCCA alumnus himself; as well as fine art and music. Great food matched these great prizes, and guests enjoyed a voodoo shrimp station, scrumptious hors d'oeuvres and a holiday dessert buffet, all graciously provided by House of Blues.
This year's concert line up featured over 45 musical acts, including local legend and Grammy winner Rebirth Brass Band, Trombone Shorty & Orleans Avenue and Kermit Ruffins & the BBQ Swingers. Among the many guests who helped make the evening a hit were Drew Brees and his family.