Home: From Memory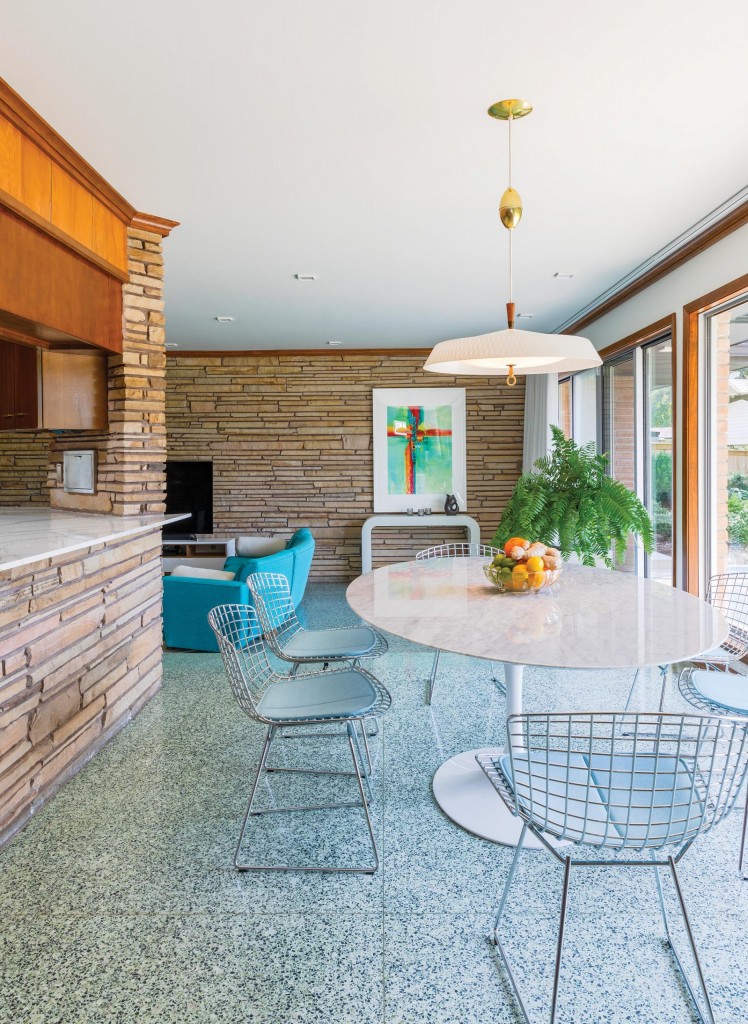 Russ Sonnier grew up in a midcentury modern house in Lafayette. But the midcentury modern that really grabbed Sonnier's attention belonged to family friends who lived in the Bendel Gardens subdivision named after world famous Lafayette native, designer and specialty department store owner Henri Bendel. Nearly 50 years after first visiting the house as an 11-year-old, Sonnier purchased the house and many of its furnishings, — which remained virtually unchanged — and restored them with respect for their original style.
Sonnier's life seems fatefully connected to both the house and its neighborhood. As a boy, he was introduced to the house when his brother began dating (and married) one of the three daughters of the family who owned it. Sonnier's grandmother's husband and his cousin's husband were two of the three men who developed Bendel Gardens. The Sonniers refreshed and repurposed Bendel Gardens' original entry gates for their own home. Also, like Henri Bendel, Sonnier would grow up in Lafayette, move to New York City, make a name for himself with a business that catered to the elite (he and a business partner started, ran and later sold the well-known catering company Sonnier & Castle), and have homes in both the North East and Lafayette.
When Sonnier learned that his sister-in law and her siblings were selling the property, he bought it long-distance and was delighted to find that it was just as he remembered it.
"It was like walking back into the same time period as when they built it," he says. "The furniture was like new. I was intrigued and amazed by it."
Lafayette restaurateurs Joseph and Marie DiGiorgio worked with architect Al Sutton to design and build the house in the late 1950s and the house belonged to the family until Marie's death. Shortly after acquiring the house in 2018, Sonnier hired Stephen Ortego of SO Studio Architecture to bring back its original luster.
"When Russ first reached out to us, we were blown away," says Ortego, who specializes in both innovative modern design and historic restoration, the common thread being buildings that are authentic to their timeframe. "It was almost like walking into a museum."
Structurally, the house was in need of work. The roof was visibly sagging and sixty-plus years of wear had left their mark on the wood paneling, uninsulated windows, wallpaper and a now-defunct intercom system. The roof was fortified with new trusses and worn shag carpeting was removed and replaced with wooden floors. Rather than supplant classic modernist features — terrazzo floors, stone fireplace, clerestory windows, sunken living room, paneling and tile — with inferior imitations however, they had everything from floors to brass pulls cleaned, refinished and repaired. A mint-condition built-in bar worthy of the Rat Pack required only a few touch-ups and a new baseboard.
"The quality of the craftsmanship is something you just can't find very easily today," says Ortego.
Sonnier was able to buy much of the DiGiorgios' original furnishings, which he mixed with midcentury pieces from his mother and original light fixtures found stored in the attic. Upholstery and drapery were refurbished using vivid shades of yellow and aqua, the latter inspired by the 1950s color once used for the kitchen appliances and outdoor shutters.
New additions, including a textured cork and foil wallpaper, a Jonathan Adler pendant fixture, and a Saarinen table and Bertoia chairs were chosen for their period resonance, while the landscaping by Lue Svendson of Svendson Studios was designed according to the characteristically striated quality of the architecture.
"It's so much harder to restore than to renovate," says Sonnier, a talented chef who spent many hours searching for pink tiles to match the originals in one of the three full baths. "But we did a great job. We worked with what we had and got it to be as close as possible to the way it was."
---
At a Glance
Architect
Original: Al Sutton;
Restoration: Stephen Ortego, SO Studio.
Interior Design
André Carr, SO Studio.
Square Footage
3,400
Outstanding Features
Sunken living room, built-in bar, original layout and footprint, terrazzo floors, stone fireplace, original kitchen cabinets, roll-out prep table and chopping board that slides out next to the cooktop, original 4×4 bathroom tiles.
---