Home: Gather Round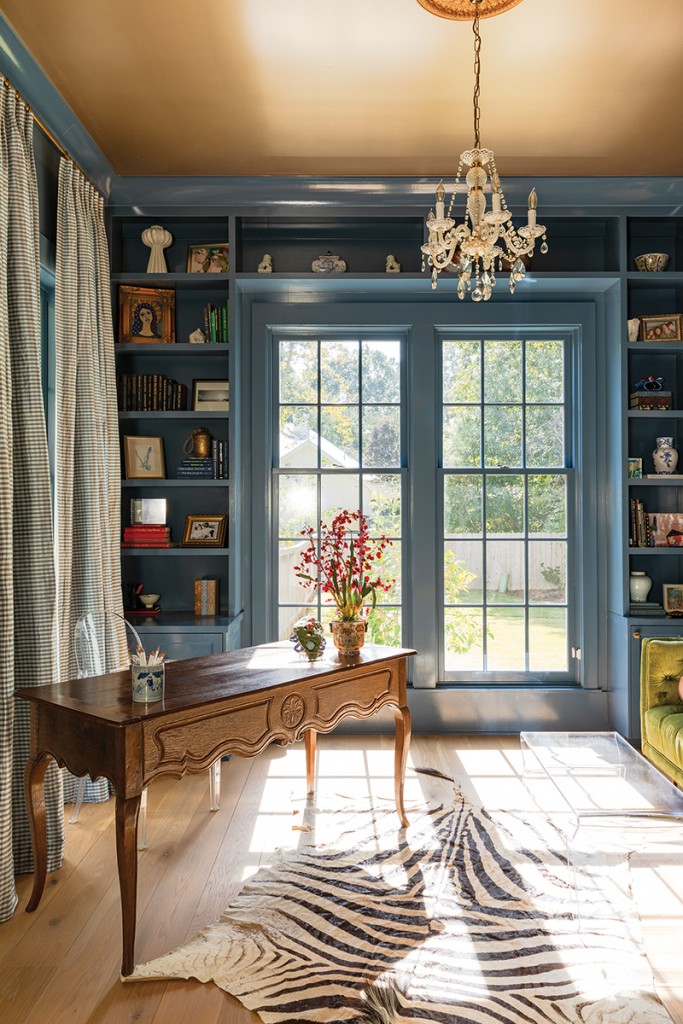 "I always wanted the big house with the big family gatherings; I thought maybe if I build it, they will come," says Vanessa Mayfield, invoking the magical mantra from the movie "Field of Dreams."
Vanessa and her husband Jeffrey, both raised in New Orleans, were living in New York and raising their first child, when they decided to return to the New Orleans area. Vanessa's parents moved from Lakeview to the North Shore due to flooding after Katrina and the Mayfields followed suit, moving first to Madisonville and then to Covington, where they built what Vanessa describes as a customized spec house. Their current home in Tchefuncta Estates, designed and built over the course of two years, took the design process a step further. This time, they cleared a lot and worked with architect Andy McDonald and Miles Biggs Construction to build a house tailor-made to their tastes and lifestyle, which includes a love of entertaining. They host an annual Christmas party for adults and last year added a spring crawfish boil and an Easter egg hunt to their roster of gatherings.
Vanessa wanted a large porch and had a file of images from shelter magazines. Jeffrey's wish list included a large kitchen island where friends could gather, while he indulged his love of cooking, and an open concept that allowed him to prep at the island and still watch football.
Loosely based on a cottage design that McDonald did for clients in Baton Rouge, the finished house reflects the Mayfield's casual family life (they have an 11-year-old son, a 9-year-old daughter and a miniature goldendoodle) and the beauty of its North Shore setting. There are family-friendly features such as Crypton slipcovers, a screened porch, and a heated pool used even in winter.
The Mayfields' grounded the 5,300-square-foot house with a mostly neutral foundation and added age with natural doors and beams found through architectural salvage. Vanessa then added color and pattern in the form of accessories, wallpapers and contemporary art.
"It was important to me to temper the newness with some elements that would lend character and warmth," she says. "Incorporating a few architectural salvage doors and reclaimed beams as headers helped, along with taking a similar approach of mixing old and new when it came to decorating."
While the house was built with family and friends in mind, it was also built with input from friends. Contractor Miles Biggs, decorator Marcia Artigues and her daughter Ashley Barrios, designer Angela Groner, store owner Erin Schaumburg, and organizer Kris Fortier are all friends who brought their expertise to the project.
"They were all really good about letting me do what I wanted but making sure I didn't screw up," says Vanessa.
Rather than use a high-end metallic grass cloth by Phillip Jeffries in the dining room, Artigues recommended using a less expensive grass cloth coated with a layer of gray paint and a top coat of silver paint to mimic the look. In the kitchen, Barrios suggested open shelves instead of upper cabinets, a decision that looked right and saved money.
"I hope in a way, the house reflects the neighborhood we are so happy to be a part of," says Vanessa. "Tchefuncta is a wonderful mix of old and new and we are thrilled that our kids are growing up in a place where neighbors become friends and friends feel like family."
---
AT A GLANCE
Location
Tchefuncta Club Estates in Covington
Square Footage
5,300
Year built
2017-2018
Architect
Andy McDonald
Interior Designers
Marcia Artigues and Ashley Artigues Barrios
Standout Features
Large porch with outdoor fireplace, designed to look as though the family added on to the original structure as the family grew, elevated quarters that hint at its Acadian roots, salvaged doors and beams.
---