Home: Invested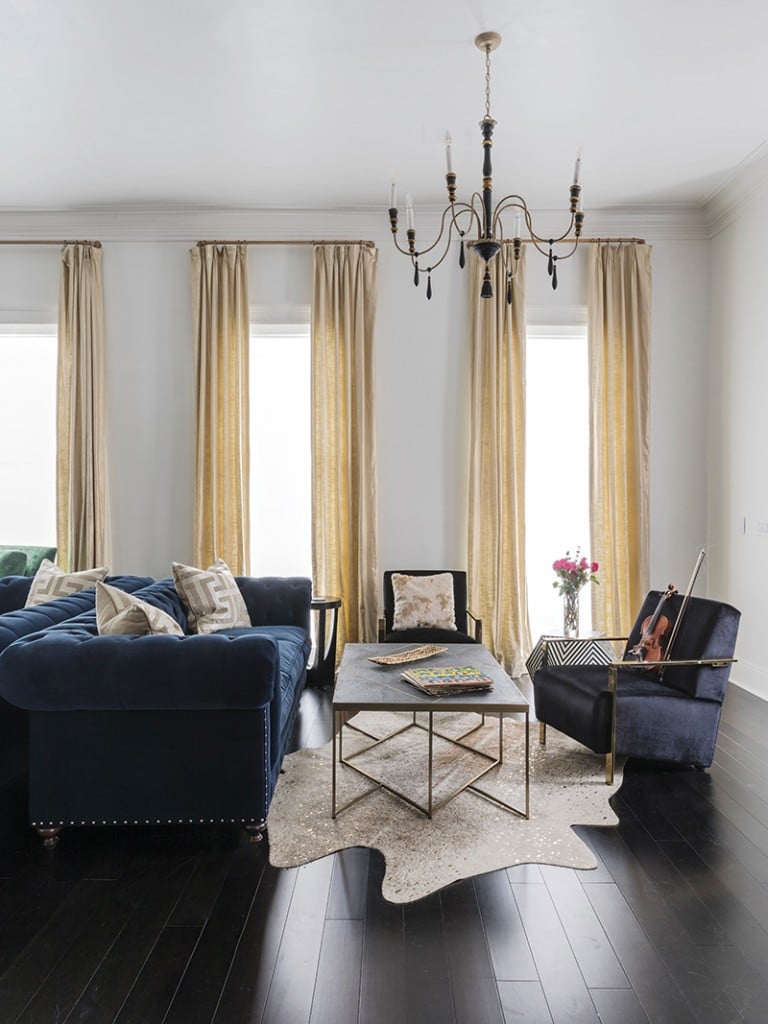 Tufted velvet sofas provide seating in the two-sided living room with gold linen curtains, metal chairs, an animal hide rug and antique reproduction chandeliers added for a touch of Hollywood glam.
Outside, Amanda Shaw's Bywater cottage looks like much of its surroundings — a modest Victorian cottage amid close property lines, old oaks and corner stores. In fact, as part of an historic district, the exterior of the house is protected by rules set in place for preservation. Inside, is a different story. The redesigned interior blends elements of the house's classic past with fresh, modern design that speaks to Shaw's creative spirit and to the influx of youthful artists and entrepreneurs that has turned the historic neighborhood into a hotspot of galleries and pop-up restaurants.
Investing in the community is a theme in Shaw's life. The Louisiana native, who began playing the violin as a child, found and developed a love of Cajun music early on. She has been performing since the age of eight and over time has become something of an ambassador for the state.
"I have friends all over the world now who are interested in Louisiana," she says. "It's good to be able to share what it means to be from Louisiana."
In 2015, Shaw started the Amanda Shaw Foundation and last September, she relaunched the foundation and kicked off the Orchestrating Dreams initiative, a grant program devoted to helping young people in Louisiana realize their dreams – in whatever area they may be, not just the arts.
"It wouldn't be the same to have this house and not help other people achieve their dreams," says Shaw who is mindful of those who helped her along the way and wants to pay it forward.
Putting down roots in New Orleans has gone hand-in-hand with her desire to help the city and state thrive. In 2016, when she decided to turn the worn downtown double into the single-family residence she shares with her four lovable rescue dogs, she knew she wanted the redo to have longevity. That meant it had to check a series of boxes: it needed to express her style, offer real livability and comfort, and be conducive to entertaining. She hired interior designer Kristine Flynn of Flynn Designs to open and update the house and Earl Preston of Construction Specialist Group as the contractor. The eight-month process entailed removing walls, repurposing areas, being innovative with architectural details, using materials that straddle past and present, and gutting the kitchen and baths.
"It was a collaboration, but I trusted Kristine," says Shaw. "She brought all the ideas together."
Even before choosing a designer, Shaw chose a dark bamboo flooring because she thought it would camouflage the wear and tear of her dogs. The rich chocolate-cherry color ultimately became a source of inspiration for the new interior design, which contrasts black and white surfaces and mixes in pops of bold color and gold Hollywood glam accents.
An existing support beam between what is now the kitchen and living area also provided an avenue for creativity. To incorporate the beam into the new design, Flynn fashioned a striking series of arches that Shaw loves for the "grandness" they bring to the space.
Deep tufted sofas and a bright green chair, which Shaw complements with buckets of cozy blankets when she entertains, work for both the style and comfort mandates and Flynn's subtle repetition of favorite motifs adds a detail-perfecting layer.
Yet for Shaw, the beauty of her dream house is inseparable from the community where it resides.
"I love it, this is my house and my space," she says. "I also love this time of year because the school across the street is practicing for Mardi Gras."
---
The black and white kitchen by Kristine Flynn of Flynn Designs features a tile backsplash from Floor and Décor and leather marbled stone counters from The Stone Gallery. Gold leaf trim on the stove mimics brass. Pendant fixtures and acrylic bar stools, through Flynn Designs.
Amanda Shaw at home.
A built-in bar is painted with a custom blue inspired by the sofas in the living room. The custom adjustable dining table is combined with cowhide chairs and an acrylic and metal chandelier.
A pop of bright green is combined with black and white tile in the guest bath. Sconce through Flynn Designs.
Amanda personally comfort-tested the chairs at Doerr Furniture and chose a bright green snake-skin pattern club chair that complements the blue sofas and the gray tufted ottoman, which doubles as a coffee table. Wall sconce and Aiden Gray chandeliers, through Flynn Designs.
---