Home Made in Louisiana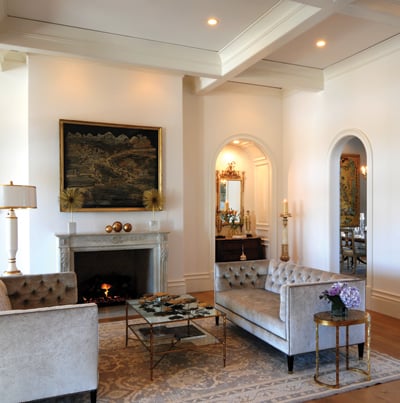 There is a neoclassic architectural feeling about the stately new home Adrienne and Dr. Michael Dole built on a 13-acre pastoral setting in Alexandria. As you approach the house, an arched front double-door with large arched windows greets you. To enhance the neoclassic theme, there's a colonnade portico.
"We enjoy the fact that the architecture honors the past," says Michael, an Alexandria physician. "Yet it is the fact that our house is a product of Louisiana design and craftsmanship that gives us the most pride. Every part of this house was made in Louisiana, supplied by businesses and put together by people who live in the state." Credits go to Baton Rouge architect William R. "Bill" Powell, AIA; New Orleans interior designer Stacey Serro; decorator Deborah Tillman and landscape architect Jeffrey "Jeff" Carbo, FASLA, both from Alexandria.
It is easy to understand the homeowners' pride. There is nothing ordinary about this house. Even the inspiration for the nine-foot tall, mostly glass front door came from the one Adrienne and Stacey Serro saw on a visit to Reims, France. "We knew instantly it was the right door for our home," says Adrienne, a registered nurse.
She says Peter Tully of Baton Rouge replicated it perfectly.
Serro adds other Louisiana talent to the list of project contributors. "Julie Neill on Magazine Street in New Orleans made most of the chandeliers, and the exterior lighting came from Chris Bevolo of Bevolo Lighting on Royal Street in New Orleans' French Quarter."
A neoclassic arch matches the front door, providing an introduction to the grand 23-by-33-foot living room. The first glance into the core of the house offers an additional visual symphony of arches. Three sets of French doors lead to the rear loggia, and arches, not doors, provide access to the adjoining rooms.
The interior design is inspired by French style. "We told Stacey that we wanted a home that would elude tranquility, comfort, timeless elegance, and a streamlined mix of contemporary and antique furnishings," Adrienne says. Serro's interpretation of the Doles' wishes gives everything a feeling of a French grandeur, without the heavy brocades and velvets that are often seen.
If the interiors of the Dole home reminds you of a grand Paris apartment, step outside and take in the glory of the park-like grounds created by landscape architect Jeff Carbo. Here the visual drama includes a 15-foot deep, three-acre lake that is stocked with bass, brim and minnows; a three-hole golf course; an 18-by-54-foot infinity pool (built by Robin Ewing of Alexandria) and a hot tub. Carbo supervised the planting of 800 trees that will someday make the grounds as picturesque as a River Road historic plantation. "Jeff came up with the idea to connect the hot tub and infinity pool with a 45-foot runnel that flows out of the hot tub, down the steps and into the pool," Michael says.
"We enjoy every aspect of our home," he summarizes. Adrienne especially likes their neighborhood: "We are grateful for the opportunity to build our dream house and have some land to spread out on," she says. "Our sons – Evan, 17, and Grant, 15, love sharing their home with friends, and we have found it cozy for entertaining small gatherings yet spacious enough for a grand party."