Home: Modern Farmhouse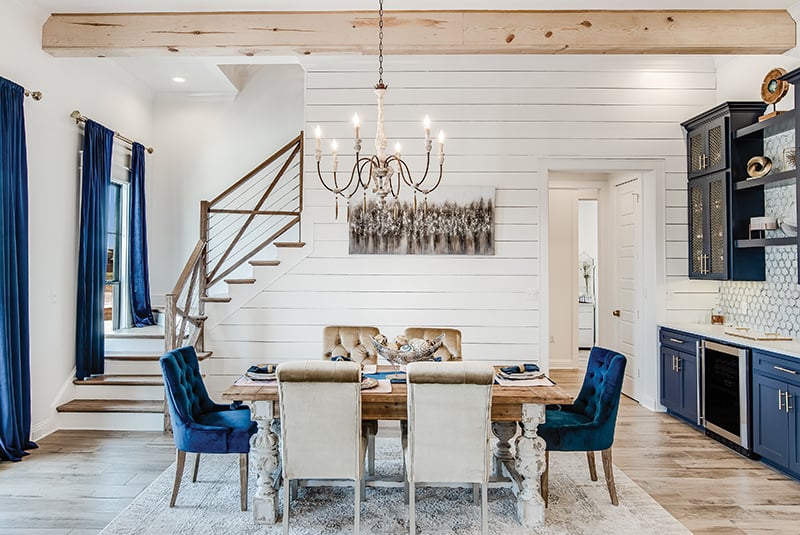 When Brittany and Aaron Ashby of Benton, Louisiana north of Bossier City decided to build a new house for the second time, they knew they wanted rustic elements that impart a sense of age. They also knew they wanted to avoid the hackneyed farmhouse signs and barnyard animals often associated with country.
"I didn't want any country clichés," said Aaron, an equipment operator with Southwestern Electric Power Company.
Instead, the couple, who designed the house with builder Twilla Robinson of Robinson Construction and architect Jim Saintignan of Palmetto Design, juxtaposed natural unfinished woods, exposed beams, shiplap walls, industrial light fixtures and brick fireplaces with things that evoke modern "city glamour" — tufted velvets, gold accents and statement chandeliers.
"I like rustic a lot but didn't want to do the whole house in that," said Brittany, an orthodontic assistant with a second business of her own cleaning new construction houses for builders.
"I tried to combine the modern with the rustic."
In addition to getting fresh ideas from the new houses she sees through her cleaning business, Brittany keeps a binder of inspirational pictures from sites like Pinterest. While the couple's former house had dark woods and paint colors, she wanted the new house to be a complete departure with lighter woods, kid-friendly tile floors that look like wood (the Ashbys have two daughters, ages 10 and five), white walls, airy 12-foot ceilings and an open floorplan that minimizes wasted space.
For the exterior, the couple went with a Southern Living cottage design with historic references — the Eastover. The interior is a custom plan that Brittany largely drew from scratch.
Among the custom highlights the Ashbys brought into the design are a built-in breakfast nook, a cable stair rail that manages to be reminiscent of both an urban loft (city) and a ranch fence (country), a gold-trimmed range hood, gliding barn doors and master bath vanities made with antiques topped with granite.
In most of the rooms, Brittany began with an important item from her wish list, such as the gold-trimmed hood in the kitchen and the wallpapers in the girls' rooms, and developed the room from there. When a design feature was especially costly, the couple customized it themselves with a budget-saving DIY version. They had the feet of the black and white tub in the master bath painted gold and used PVC to create the mullions on the shower door rather than ordering the metal door that inspired it.
Navy and gold, one of Brittany's favorite color duos, are found in both the master bedroom and in the main living areas, where it's combined with a pair of pink velvet sofas.
Friends of the Ashbys have suggested that they have a future in home design and the couple do envision building again.
"It's something we both love to do, designing and building and planning," said Brittany.
"It isn't going to be our last," added Aaron. "Hopefully we can at least match or do even better with the next."