Home: Take Two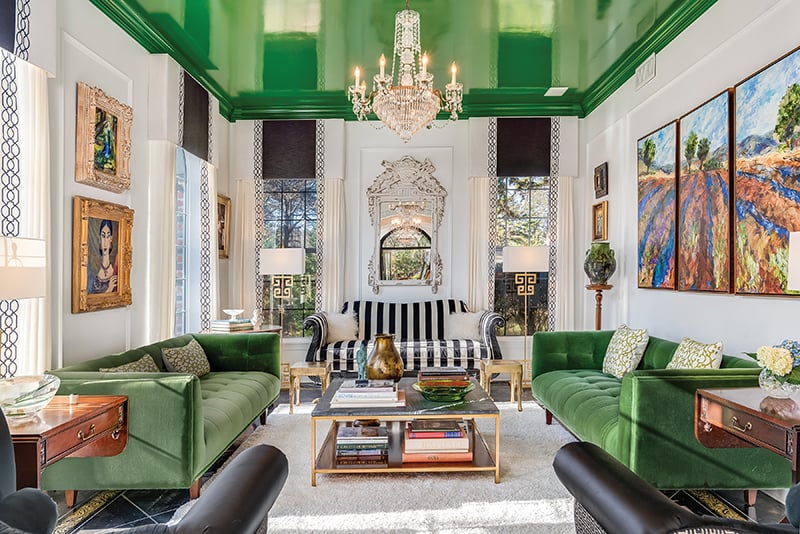 Magazine publisher Jay Covington describes the previous state of the house he shares with his partner Hugh Johnson as "Versailles Over the Top." When the couple built the Georgian-style house in 1998, their tastes leaned toward heavy furnishings, French embellishments, silk draperies, traditional Oriental rugs, gilding and ornate flourishes. But several decades later, vacations to Florida and the easy, modern lifestyle there had them longing for a simpler version of their home.
The homeowners called designer Myron Griffing of Space Interiors, whom they'd met through his work in the local magazine world, for a consult. They told Griffing they wanted a vibrant take on New Orleans style, a showplace where people could have fun. With the exception of a few pieces of heirloom furniture and much of the art they'd collected over the years, they were ready to edit and start with a blank slate.
"We don't have children, and we saw this as a chance to have fun and be a bit exuberant," said Covington. "It was hard to see things being carried off in trucks, but it was also very liberating."
The first drawing that Griffing showed the clients — the remodeled living room — checked some of their favorite boxes. It called for white walls, which both Covington and Johnson had envisioned as a background for their art, a coastal-inspired black and white stripe and a ceiling lacquered emerald green, which is Covington's favorite color.
"Unbeknownst to me, friends had dubbed their house 'Oz' because it's a little remote and magical," said Griffing who found inspiration for the redesign in a magazine photo of a boutique hotel lobby with a glossy black ceiling. "The emerald green was completely serendipitous."
Griffing proceeded with a full update of the living room, dining room and den, grounding his use of vivid color and graphic motifs with a simple masculinity derived from neutral tones, comfortable tufted seating and rich fabrics.
He also helped curate the couple's art to give it the importance it deserves and reworked pieces that needed a fresh perspective. In the living room, he chose figural works (and a large triptych landscape) featuring green as a main color and repurposed a weighty Empire-style sofa by painting it black and reupholstering it with a crisp stripe. To balance the adjacent living and dining rooms, he selected a green wallpaper for the dining room ceiling and a rug that repeats the Greek key pattern he used on the backs of a pair of living room chairs. In the den, where the couple spend most of their at-home time when not in the kitchen, he worked around the existing limestone mantel and the idea of "his and his" pairings of furnishings to create comfortable symmetry.
"Myron loved it because we let him have free rein and it was a pinnacle opportunity for him to express himself, but it also represents us very well, too," said Covington, who, along with Johnson finds the remix original, livable and great for entertaining. The couple open their home frequently for civic, charitable and family events, where guests overwhelmingly have a positive response to the house.
"It brings everybody's mood up; it makes everybody happy," said Covington. "It's very inviting. Hugh and I both love it, too. It's home, and we're glad to be here.
---
At a Glance
LOCATION
Shreveport
SQUARE FOOTAGE
5,600
YEAR BUILT
1998
ARCHITECT
Homeowners' design
INTERIOR DESIGNER OF REMODELED SPACES
Myron Griffing, Space Interiors
STANDOUT FEATURES
Lacquered emerald green ceiling, French molding, colorful art collection, arched doors and windows framing indoor and outdoor views.
---