Homeward Unbound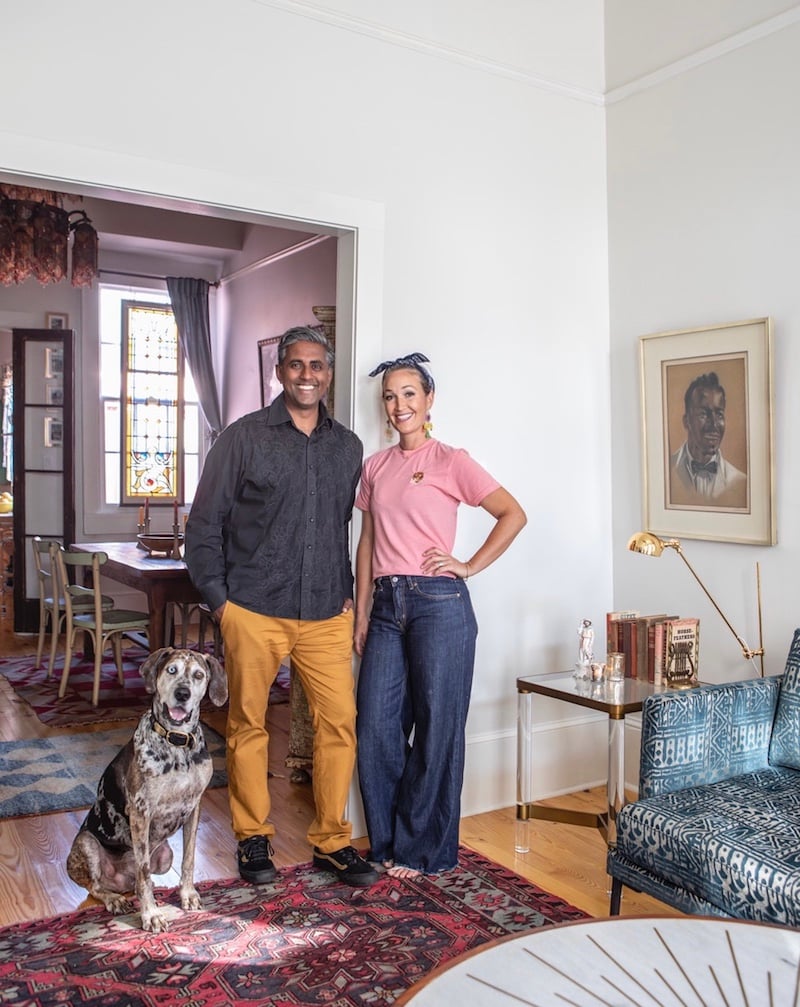 I often daydream about how cool it would be to live and work in a new city every year or maybe even every few months. In the past, I've cobbled together about two weeks of working remotely from about four cities. It involved a combination of crashing with friends or family for a few days here and there and securing hotel rooms and short-term home rentals between, with stays numbering at about two to three days per city. While fun, that's a little too nomadic and logistically complicated for my taste, at least with any level of frequency. Similarly, my husband Mark and I always play the "wouldn't it be cool to live here" game on vacation. Consequently, we played that game for so long with New Orleans, we did actually move here. Recently, I learned about a concept by the formerly nomadic, but now New Orleans-based husband-and-wife team, designer Breeze Braunschweig and her husband, Kartik Ramachandran, who works in finance and real estate. It's a downtown, multi-unit development that simplifies the concept of living in a new city every year or every few months — which we'll get back to shortly.
The couple currently runs Catahoula Collective (named after their dog, Bayou, of the same breed), a boutique property rental company for professionals who need live/work accommodations for 30 days or longer. Inspired by their own multi-city, remote working adventures, the restored properties in Venice Beach and Berkley, California, Waianae, Hawaii and here in New Orleans combine all of the things they sought while living that untethered life. The well-appointed properties are chicly furnished and outfitted with everything a busy creative needs including home office essentials — such as a workspace and high-speed wifi — plus the rental fees include utilities and housekeeping. The renter gets to live like a local, rather than as a tourist, in a stylishly decorated house nestled amid a desirable neighborhood, but doesn't have to worry about logistics, bills (other than rent) or even cleaning up.
"There's been a fantastic response from local and temporarily relocated professionals with newfound flexibility as trade in their urban jungles for urban oases where they no longer have to compromise happiness for career progression," says Ramachandran in a press release.
Each house is decorated in vintage cool style by Braunschweig, whose company Dogtown Design roots its work in history, local culture and sustainability.
"Our process is very organic with rooms often being designed around a singular found object or piece of art," says Braunschweig in a press release. "We scour the country for antique and vintage items which more often than not require restoration. I gravitate toward items with a visible history, with layers. We don't like waste. If the plaster in a house is too damaged to restore, we will find a way to utilize the lathe in the project. We're not purists in the sense of exact replication, but we honor history and the bones of the building."
For the couple's own circa-1800s Creole Cottage in St. Roch, Braunschweig's muse was New Orleans through and through, from the cheerful exterior paint colors and a sousaphone gaining new life as a chandelier vintage to the "Crescent Creamery" ice cream sign hanging in the living room.
Now, back to the new downtown concept. It is envisioned as a swanky, compact units where creatives can live, work and play. Braunschweig's eye will guide the interior décor with shorter- and longer-term residents enjoying access to a rich menu of amenities and social opportunities. A press release describes the project as comparable to long-term developments in larger cities, such as New York, Tokyo and Hong Kong, but made attainable for "talented locals and creatives from around the country at a fair rent without compromised quality."
The couple has relied on their own experience of traveling while working to hone in on what remote working, wanderlusting creatives want and need and have evermore finely tuned the experience through the current iteration of Catahoula Collective. With COVID_19 having turned most professionals into remote workers and experts agreeing that many sectors will continue employing the practice post-pandemic, the demand for long-term rentals — particularly for younger, single professionals — is likely to grow as travel becomes less restricted.
"We've lost immeasurably because of the pandemic, but it did force us to rethink where and how we work," says Ramachandran in a press release. "Turns out that our Zooms operate as well in New York as they do in New Orleans, but our budgets breathe easier and our lifestyles flourish as we trade in rent burdenship for financial sustainability."
If all goes as planned, New Orleans will be the location of the first multi-unit urban development by Catahoula Collective with a projected completion date of sometime in 2022. The target audience skews toward Millennials and Generation Z, but the concept certainly has the attention of this travel-loving, cool city daydreaming, childfree Gen Xer.