Houma Area CVB Announces Bayou Country Crawfish Trail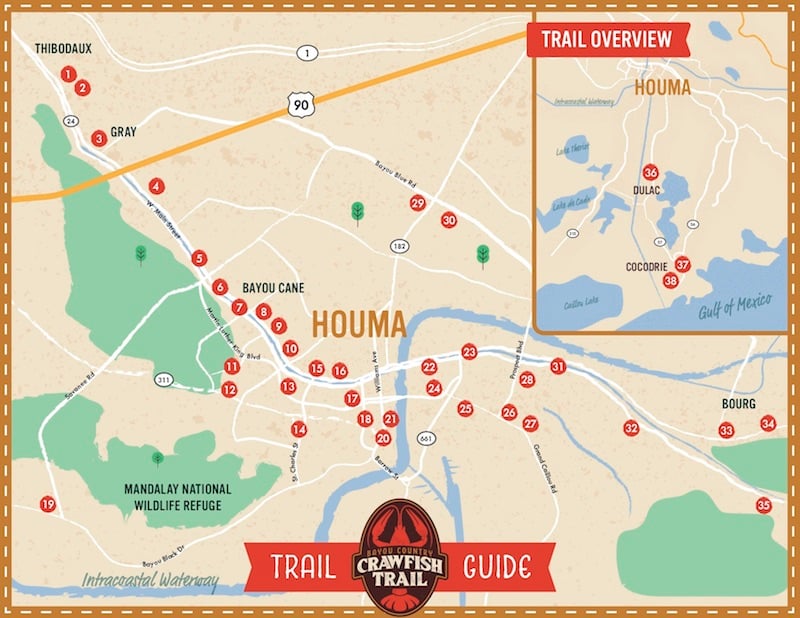 HOUMA, La (press release) – Houma Area Convention and Visitor's Bureau (HACVB) is proud to announce the launch of the Bayou Country Crawfish Trail, a new culinary attraction. This permanent attraction invites trail goers to explore the delicious crawfish and fresh seafood in Terrebonne Parish by eating along the route at over 30 trail stops, shining a light on local restaurants.
The Bayou Country Crawfish Trail is part of the ongoing economic development and revitalization efforts that make up HACVB's mission and commitment to Terrebonne Parish. "We're excited to be able to involve our local restaurants in this new attraction," says Sondra Corbitt, HACVB Executive Director. "Food is not only a pillar of our community here in Terrebonne Parish, but also an attraction itself. This trail is just the beginning of our organization's product development efforts to build a better experience in the Houma Area for visitors and locals alike."
Trail goers are invited to "eat, collect, and claim" as they make their way through the trail, keeping track of their crawfish adventure via the free Trail Guide, available online or at the Houma Area Visitors Center. After collecting 5 receipts from participating trail stops, trail goers can then fill out a short form to claim a free Bayou Country Crawfish Trail t-shirt.
Tourism in Terrebonne Parish
Visitors to Terrebonne Parish generated over $167 million in spending, producing $21 million in state and local taxes.
Visitor spending in Terrebonne Parish created $60 million in direct earnings and 2,180 direct jobs.
Without state and local taxes paid by tourists visiting Terrebonne Parish, each household would pay $520 more per year in taxes.