Houma: How Sweet She Is!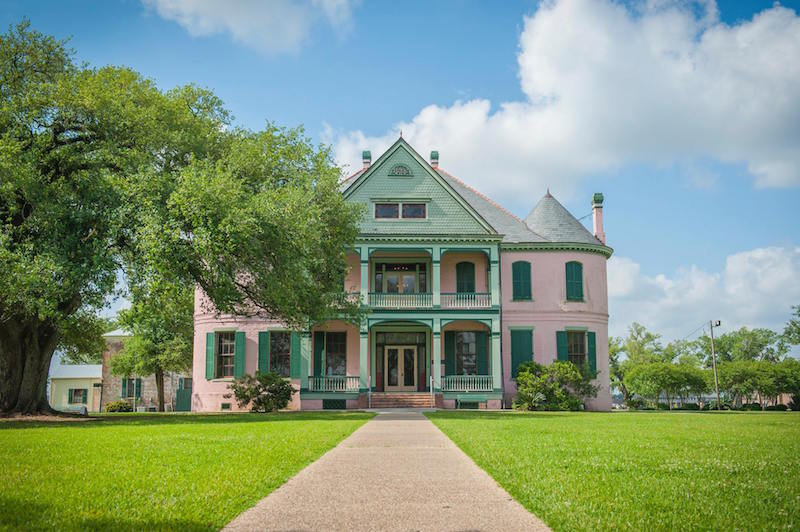 There's no question you've entered some place special when you drive down south into Houma, which lies in the coastal parish of Terrebonne. Its one-of-a-kind topography is riddled swamplands, bayous, and wetlands; hence its title "Louisiana's Bayou Country" is apropos. It's these waterways that attracted the European colonists who settled here before the Acadians (Cajuns) who made their way through Bayou Lafourche and Bayou Terrebonne.
Houma is steeped in the profound histories of the Native American, Spanish, French, and Acadian cultures. These early settlers have left their collective handprints on this city through the customs, architecture and cuisine all left for future generations to enjoy. (Fact: Houma is named after the Houma Native American tribe, which is a branch of the Choctaw nation. The Houma Indians used a Choctaw dialect which they continued to speak in the 1800s; today, however, the majority of the Houma people speak either English and/or Cajun French.)
Amazingly, Houma managed to maintain its cultural exclusivity well into the early 20th century because it was slow to transform and Americanize. The secluded geography of Terrebonne Parish, (including its swamplands and wetlands), and the myriad deeply-rooted cultures seemed to buffer Houma from fast pace change.
It's those waterways, quick access to the Gulf of Mexico and the abundance of seafood and wildlife that attracted the early settlers to this fertile land. In fact, even today, the interweaving of bayous and canals, which make up Houma's unique landscape, remain a daily part of many who live in the area. Adding to this plethora of watercourses, Houma is bordered by the Intracoastal Waterway, Bayou Terrebonne, the St. Louis Canal and Little Bayou Black. The 21st Century visitors and locals can enjoy many of the same waterways that attracted settlers here by hopping aboard swamp tours, partaking in numerous fishing charters, or paddling through the bayous in a kayak. (Fact: Forty-one percent of Terrebonne Parish is covered in waterways.)
On land, Houma is dotted with a handful of captivating one-of-a-kind museums and historical sites, which will capture your senses. One of the most intimate and insightful displays of Houma's sugar era can be found at Southdown Plantation. Southdown, whose beginnings as a sugar plantation can be traced to the early 1800s, played an integral role in the ever-important, revolutionary sweet commodity. This was the site of a massive sugar domain, which encompassed thousands of acres of sugarcane. (Fact: The Southdown property dates back to 1790 with the first Spanish landowner.)
The sugar industry was the backbone of Houma and south Louisiana's economy for more than 150 years. Many would argue that there is no better place in Houma that offers a prime example of this success at Southdown Plantation. (Fact: The Southdown Mill, which once stood among dozens of mills in Houma, closed in 1979 and was the last operational mill in Terrebonne Parish.) Not only will the history of the captivating sugar empire unfold before your eyes at Southdown, but you can also get an intimate look at one politician's life and his national ties, both of which played key roles in the success of Houma, Terrebonne parish, and State of Louisiana.
You will certainly get an eyeful at Southdown; in addition to the original, 19th-century Minor family furnishings, there is a plethora of Terrebonne Parish artifacts and photographs. (Fact: Four generations of the Minor family lived and worked on the plantation until 1936.) There's a historic Mardi Gras room, a Native People of Louisiana room, a Southdown Plantation and Sugarcane Industry room, and a mansion tour, which also includes the captivating re-creation of the Washington, D.C. office of longtime Houma Senator Allen J. Ellender (Note: The office is draped in historic photographs and memorabilia.) (Fact: Senator Ellender was an ally of Huey Long, and among the notables who paid their respects at Ellender's Houma funeral were 1972 Presidential campaign rivals President Richard Nixon and Senator George McGovern.)
(Big Tip: Be sure to join Mr. Ed Borne's Tuesday through Friday 10 a.m. to 3 p.m. tours. Borne was not only a longtime caretaker of the property, but is also writing two books on the Minor family and is a walking encyclopedia full of fascinating stories.) (Fact: The mansion's pink and green exterior has been painted to reflect that same colors that the home had in 1893.)
If you're in need of more sugar history, head 16-miles north to the neighboring city of Thibodaux, where you will find Laurel Valley Village Plantation. This is the home of the largest remaining 19th and 20th century sugar plantation compound left in America. You can stroll around the complex, which includes nearly 60 original buildings, all of which can be seen by making pre-arranged group tour reservations. Be sure to visit the Laurel Valley Store and Museum, which contains many intriguing artifacts including sugar cane tools and farming equipment.
There's much more to see and experience in Houma including its downtown area, which is designated as a historic district and listed on the National Register of Historic Places. A walking tour of downtown Houma is a great way to delve into its colorful history and familiarize yourself with the town. Among other intriguing sites are the Bayou Terrebonne Waterlife Museum, the Folklife Culture Center, and the Regional Military Museum.
After delving into all this history, you will have worked up an appetite and you don't want to miss the food offerings of Houma, that include the bounty of Cajun cuisine and seafood. Among the great options is the iconic A-Bear's Cafe, a family-owned restaurant with the same Hebert family serving delicious Cajun dishes for 55 years. This relaxed atmosphere will make you feel like you are one of the family and will surly please your palate. (Tip: The Catfish A-Bear and the gumbo are two of the most popular dishes, but save room for the homemade, mouthwatering pies.) Another great eatery is the Jolly Inn Dance Hall, which exudes character and offers a toe-tapping good time and delicious Cajun food.
If you're looking for more, Boudreau & Thibodeau's Cajun Cookin' Seafood Restaurant and Big Al's Seafood Market and Restaurant also serve authentic Cajun dishes and great seafood!
After all the sightseeing and getting your fill of the savory cuisine of Houma, you will be ready for a goodnight's rest. There are plenty of hotels in and around the Houma area, but a great one-of-a-kind choice for lodging is the Grand Bayou Noir, French for 'Big Bayou Black', which runs in front of the Georgian-style home.

*Jolly Inn
This 7,000-square foot home sits on four acres and was once part of frontiersman Jim Bowie's personal property. (Fact: The home, which has bedrooms with queen-size beds and private baths, plus a suite with Jacuzzi, was featured on NBC's "Today Show.") Adding to its mystique is the fact that three generations of the Ellender family lived in the home including today's owner, Tim Ellender, whose father was the brother of the aforementioned U.S. Senator Allen J. Ellender.
Visitors love relaxing amid the oak trees in a hammock or inside the screened-in porch in rocking chairs with fans overhead to keep them cool in the heat of the summer. There's even a hot tub on the patio and several ducks and chickens gracing the grounds, both of which add to the ambience. (Tip: Be sure to walk through the gardens which include 15 varieties of citrus trees, 34 varieties of banana trees, and much more).
Another excellent lodging option is to stay overnight at Crochet House, where you can learn all about the Cajun lifestyle from proprietors Leland and Sally Crochet. The Crochets are also lifelong residents of Terrebonne Parish and both speak Cajun French and English.
Although Houma is rapidly changing, the unmatched multitude of cultures and its welcoming people are alive and well, and is something to behold while you spend time in this inimitable city. Another great way to experience the rich culture is to partake in a handful of festivals and fairs that are held annually here; these events are just another way to witness the uniqueness of the area through its celebrated occasions.
For more information:
facebook.com/LaurelValleyPlantationStore