Hurricane Laura Provides Unique Opportunity at State Historic Site During National Hispanic Heritage Month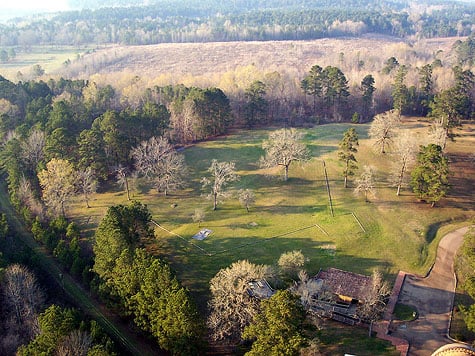 BATON ROUGE, La (press release) – National Hispanic Heritage Month began on Sept. 15, and during this month and throughout the year, Los Adaes celebrates the history, heritage, and accomplishments of Hispanic Americans. Los Adaes is a Louisiana State Historic Site in Robeline, Louisiana, near Natchitoches. It's a fort, or presidio, built on the edge of the Spanish Empire dating back to the early 1700s as an outpost to protect Spanish settlements from the French.
The presidio Nuestra Señora del Pilar de Los Adaes (Fort of Our Lady of Pilar at the Adaes), built in 1719, was surrounded by a hexagonal stockade with three bulwarks. Today, the buildings are gone but visitors can experience guided tours and demonstrations led by the Cane River National Heritage Area that bring it all back to life.
It's a unique time of rediscovery at Los Adaes State Historic Site. Recent damage from Hurricane Laura has provided an opportunity for excavations organized by the Louisiana Division of Archaeology. Teams from Northwestern State University in Natchitoches and Stephen F. Austin University in Nacogdoches, Texas, have recently found Native American sherds, French colonial pottery, and hand-wrought nails. Fieldwork was accomplished with the help of volunteers from the Louisiana Archaeological Society, Tulane University, Louisiana State University, and the University of Louisiana at Lafayette. These artifacts will become part of Los Adaes' permanent archeological displays.
For more information on the Los Adaes State Historic Site including the history of the site and pictures of artifacts, visit the multimedia website.