In Search of a Seafood King: Louisiana Seafood Cook-Off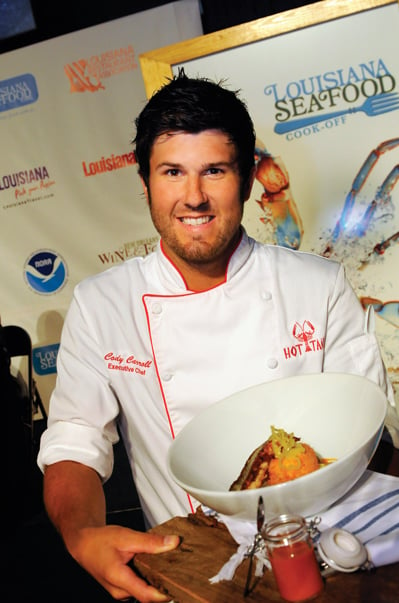 You may have noticed that cooking competitions are all the rage. You can't turn on the television without stumbling across a group of chefs trying to out-do one another in some context. In Louisiana, we add a local spin to just about everything, including cooking competitions.
2013 marked the sixth year that the Louisiana Seafood Cook-Off was held during the New Orleans Wine & Food Experience. On May 25, 10 chefs competed for the title of King or Queen of Louisiana Seafood and the right to compete in the Great American Seafood Cook-Off held in connection with the Louisiana Restaurant Association Food Service Expo taking place in August, also in New Orleans.
The field was chosen from chefs who responded to a call for entries issued by the Louisiana Seafood Promotion & Marketing Board, which presents the event. Each chef was allowed one assistant and was required to prepare five portions of a dish in one hour.
This may seem like enough time to you, but other than filleting fish and cleaning produce, all of the cooking had to be done on-site, by two chefs, in a fairly small work station. Apart from stocks, all sauces had to be prepared à la minute as well. Despite the time constraints, all of the chefs completed their dishes, but each was working right up until time was called.
The chefs were a diverse group, both in age and geography. They presented their food on a tight schedule, with chef Cody Carroll of Hot Tails Restaurant in New Roads up first. He and his wife, Samantha, began cooking at 1:30, and presented at 2:30. Each of the next 10 chefs followed on 10-minute intervals, with chef Guy Sockrider of New Orleans' Tomas Bistro bringing a close to things at 4 p.m.
To enter a competition of this nature requires a great deal of effort and preparation. None of these chefs took on the task as a holiday from their day jobs; if anything, the time they spent on the floor of the Ernest N. Morial Convention Center was likely more stressful than their normal routine.
You need only read a list of the dishes presented to understand what I mean:
Chef Carroll presented speckled trout pain perdu with étouffée of red swamp crawfish, sweet corn and blue crab calas, whipped Creole potato salad, Tabasco sabayon, charred green onion and sassafras and house-pickled banana pepper.
Chef Troy Deano of 18 Steak at L'Auberge Casino in Baton Rouge was second to serve his dish of cornmeal-crusted croaker with Louisiana Gulf shrimp, croaker cracklins, spring corn maque choux, sausage dumplings and bourbon-ginger gastrique.
Up next chef Tommy DiGiovanni of Arnaud's in New Orleans cooked potato-encrusted cobia over cauliflower-celeriac purée with Creole tomato jus, pancetta lardons, julienned leeks and sautéed Morel mushrooms.
Chef Brett Duffee of Bayona in New Orleans made sautéed American red snapper with smoked oyster-leek velouté, succotash and Louisiana blue crab.
Chef Dustie Latiolais, of Crawfish Town USA in Henderson cooked panko-crusted Cypremort Point soft-shell crabs with Tabasco chipotle aioli atop Atchafalaya crawfish corn maque choux.
Chef Austin Kirzner of Red Fish Grill in New Orleans followed with crispy smoked Louisiana soft-shell crab, crawfish maque choux, potato-basil purée and Tabasco sweet and spicy five-pepper glaze.
The next chef was Dean Terrebonne of Belle Terre Country Club in LaPlace, who plated Louisiana Gulf fish with sweet and spicy Tabasco onions.
Kevin Bourg of Wine Country Bistro and Bottle Shop in Shreveport prepared Louisiana flounder Orléanais: seared flounder fillets served with confit of local new potatoes in a mushroom-wine sauce.
The penultimate competitor was chef Manny Augello of Jolie's Bistro in Lafayette, who made braised Vermillion snapper with heirloom baby tomato and roasted garlic fumet, Dragoncello sauce and corn romesco toast.
Last, chef Sockrider served pecan-crusted Gulf cobia with crab and pecan relish.
Judging the competition were Errol Laborde, editor-in-chief of this magazine; chef Tenney Flynn of GW Fins restaurant in New Orleans; food writer Rien Fertel; and Megan Murphy, New York-based food writer and blogger at ThisGirlCanEat.com.
Ewell Smith, executive director of the Louisiana Seafood Promotion & Marketing Board and 2011 winner chef Cory Bahr of Cotton Restaurant in Monroe acted as emcees of the event.
The thing that struck me, most of all, was how seriously the chefs took this event.
There's no prize money at stake, and the crowd watching numbered around 100 at the busiest point, but most of the chefs seemed nervous when describing their dishes to the judges. And they did describe their dishes to the judges, because nothing was anonymous about the judging.
Indeed, the judges sat on a raised platform like Aztec Gods, or like judges at a regional cooking contest, depending on your perspective. My point is that the judges didn't discuss their thoughts on the chefs' presentations between dishes; they hardly would have had time even if collaboration had been encouraged, but it wasn't.
Each judge individually scored each dish on five categories: presentation, creativity, composition and harmony of ingredients, correct preparation and craftsmanship and flavor, taste and texture. I've judged cooking competitions in the past, including the Grand Tasting at NOWFE. It's not easy to keep perspective on what you've tasted after an hour or two has passed, which speaks to the quality of the dish that eventually took the prize this year.
When the votes were tallied, the first dish served proved the best in the eyes of the judges. Chef Cody Carroll was given the honor by last year's winners chefs Keith and Nealy Frentz. You may think I'm using "given the honor" in a figurative sense. Not the case; dude had to kneel and be crowned. Second-place went to chef Tommy DiGionvanni, and third to chef Guy Sockrider. They seemed pleased.
Most pleased was the Louisiana Seafood Promotion Board whose post-BP oil spill mission of promoting the state's seafood had taken another big step. And so too had the reputation of some Louisiana chefs.
---
1st PLACE: LOST TROUT
---
SPECKLED TROUT PERDU
4 speckled trout fillets (skin on)
4 eggs
4 ounces heavy cream
White pepper
Salt
Sugar (to taste)
• Whisk together eggs, cream and seasonings.
• Dry the fillet with a clean paper towel, dredge in mixture and cook on medium-high heat for 40 seconds on each side until fish is cooked throughout.

---
ETOUFFEE OF RED SWAMP CRAWFISH
24 ounces crawfish tails (with fat)
4 ounces butter
16 ounces onion
4 ounces bell pepper
4 ounce celery
2 teaspoons garlic
1/3 cup flour
1 teaspoon tomato paste
3 cups chicken stock
1 teaspoon salt
1 teaspoon cayenne
1 teaspoon black pepper
• Melt butter in pan, add onions, bell peppers and celery. Cook until translucent.
• Add garlic, cook for 1 minute, stir in tomato paste then flour, add crawfish tails, seasonings and fat.
• Add stock and cook for 30 minutes until thickened.
• Add green onions.
---
SWEET CORN AND BLUE CRAB CALAS
8 ounces cream cheese
3 tablespoons butter
2 cups rice
8 ounces lump crab
8 ounces sweet corn
1 teaspoon salt
1 teaspoon sugar
2 eggs
1 teaspoon corn starch
2 cup panko bread crumbs
4 cups corn oil
• Cook rice, set aside.
• In separate pan add butter, cream cheese, salt and sugar. Melt thoroughly, add lump crab. Blend in rice and let cool.
• In mixing bowl, blend corn starch and eggs.
• In a separate bowl add panko bread crumbs.
• Heat vegetable oil to 350 degrees.
• Form rice mixture into balls, dip in egg mixture then panko bread crumbs and fry until golden brown.
---
WHIPPED CREOLE POTATO SALAD
4 medium Russet potatoes
(peeled and diced)
1 1/2 tablespoons Creole mustard
1 1/2 tablespoons yellow mustard
3/4 cup mayonnaise
3 tablespoons sweet relish
1 teaspoon salt
1 teaspoon black pepper
• Boil potatoes until tender.
• Mash and blend potatoes until whipped consistency, let potatoes cool and begin to stiffen.
• Add all ingredients and blend thoroughly.
---
TABASCO SABAYON
6 egg yolks
1 cup Tabasco
1/3 cup sugar
splash lemon
• Over double boiler, blend together egg yolks and sugar until it forms a ribbon.
• Slowly whisk in Tabasco and finish with lemon
---
CHARRED GREEN ONION AND SASSAFRAS
1/2 cup dehydrated green onions
1 teaspoon dehydrated sassafras leaves (stem removed)
• Lay flat on sheet pan.
• Using a blowtorch, torch lightly from 6 inches away until 3/4 of ingredients are charred.
• Put into food processor and blend until powder.
---
HOUSE-PICKLED BANANA PEPPER
8 ounces fresh banana peppers
1 cup white vinegar
1 cup water
1 tablespoon sugar
1 tablespoon salt
1 bay leaf
1 teaspoon granulated garlic
1/2 teaspoon whole peppercorns
• Slice banana peppers into rings set aside.
• In heat-proof container, add all other ingredient into sauce pan boil for 5 minutes.
• Pour mixture through a chinois over peppers; let pickle in cooler for 15 days.
---
2nd PLACE: POTATO ENCRUSTED COBIA ON CAULIFLOWER CELERIAC PUREE, TOMATO JUS AND PANCETTA LARDON
---
POTATO ENCRUSTED COBIA 4 5-OUNCE PORTIONS OF COBIA FILLETS
4 5-ounce portions of cobia fillets
3 Russet potato, 70 ct, peeled
4 tablespoons clarified butter oil
1 teaspoon of black pepper
1 teaspoon of kosher salt
• Salt and pepper the fish fillets.
• Cut the very tips off of the potatoes and reserve for cauliflower puree.
• Spin the potatoes on a spiral cutter. Stretch the spun potato without breaking, and wrap the cobia fillets end to end.
• Place the butter oil in a large skillet over medium heat.
• Place the filets in the hot skillet and cook until golden brown, and repeat on the other side.
• Lower heat, as to not burn the potato.
• Rotate again to cook the fish thoroughly, about 5 minutes on each side.
• Place the cobia on a hot dinner plate atop a mound of cauliflower puree.
---
CAULIFLOWER AND CELERIAC PUREE
6 ounces cauliflower flowerets
2 ounces celeriac, peeled and diced
2 ounces potato tips reserved from cobia recipe
1 quart water
2 ounces heavy cream
kosher salt, to taste
• In a two-quart saucepan, add water and bring to a boil.
• Place the rinsed cauliflower, diced celeriac and potato into the water.
• Cook for 3 minutes until al dente.
• Strain the vegetable mixture and place into a food processor and puree until smooth.
• Add heavy cream and salt to taste. Place in the center of the hot dinner plate.
---
CREOLE TOMATO JUS
3 Creole tomatoes, medium diced (Hot House)
2 garlic cloves, minced
1 shallot, minced
3/4 cup water
1 tablespoon olive oil
1/2 teaspoon kosher salt
1/2 teaspoon cracked black pepper
1 tablespoon Tabasco, Chipotle
• Place the oil in a small sauce pot. Over medium heat, add garlic and shallot and sauté for one minute.
• Add tomatoes and let them sauté about 1 minute.
• Add half water, salt and pepper. Let cook on medium to low heat for about 10 minutes.
• Add remaining water and Tabasco and simmer for 2 minutes.
• Remove from heat and strain the jus through a medium grate china cap into a 1-quart insert.
• Press tomato through the strainer to extract as much jus as possible.
• Using a rubber spatula, rub the outside of the strainer to add some pulp to the jus.
• Reserve until ready for use.
---
PANCETTA LARDON
3 ounces pancetta, small brunoise
• Place a small sauté pan over medium heat.
• Place the pancetta in the pan and let the fat render.
• When the pancetta is rendered and carmelized, remove with a slotted spoon on a paper towel to drain excess fat.
• Reserve until ready for use.

---
POTATO CRUSTED COBIA GARNISH
12 leek tops, julienned, 1.5 inches in length
2 pints water
1 teaspoon kosher salt
• In a small saucepan, bring the water to a simmer and add salt.
• Add leeks and blanch about 30 seconds until bright green and al dente.
• Remove with a slotted spoon and place on paper towels with mushrooms.
• Reserve and keep warm until ready for use.
---
SAUTEED MOREL MUSHROOMS
16 morel mushrooms, fresh or dried
2 tablespoons butter, unsalted
1 tablespoon shallots, minced
Cracked black pepper, to taste
Kosher salt, to taste
• Over medium heat, melt the butter and add shallot until semi-translucent.
• Add washed mushrooms to the pain and cook for about 5 minutes.
• Reserve and keep warm until ready for use.
---
ASSEMBLY
• Place the hot cauliflower celeriac puree equally onto the center of each serving plate.
• Place the hot mushrooms around the puree.
• Partially place the hot cobia fillet atop the puree.
• Spoon the warm tomato jus around the cobia fillet.
• Randomly place the pancetta lardon around the cobia fillet.
• Place a few julienned leeks atop the cobia fillet and serve immediately.

---
3rd PLACE: PECAN CRUSTED GULF COBIA WITH CRAB AND PECAN RELISH
---

PECAN CRUSTED GULF COBIA
6 ounces cobia fillet
2 ounces pecan crust
(equal parts ground pecans and bread crumbs)
4 ounces pecan relish
1.5 ounces lemon butter sauce
Creole seasoning
Seasoned flour

---
PECAN RELISH

2 ounces pecans
1 ounces onions, diced
1/2 ounce bell pepper, diced
1/2 ounce celery, diced
1/2 teaspoon garlic, chopped
1 ounce lump crabmeat, shells removed
1/2 teaspoon Creole seasoning
1 ounce butter
• Place butter in sauté pan over medium heat.
• When melted, add onions, peppers, celery and garlic. Sauté for 2 minutes.
• Add crabmeat, pecans and Creole seasoning and sauté for 1 minute more, stirring frequently. Set aside.
• In another sauté pan, over medium heat, add 2 tablespoons of oil.
• Lightly coat both sides of the cobia in the seasoned flour, shake off the excess flour.
• Carefully place the fish in the sauté pan and cook for 2 minutes (until golden brown).
• Turn fish over and top with pecan crust.
• Place sauté pan in a pre-heated 375-degree oven and cook until fish starts to flake (about 5 minutes).
• Place pecan relish on plate and then add the fish over the relish. Spoon lemon butter sauce around the fish.
---
LEMON BUTTER SAUCE
3/4 cup white wine
1 shallot, diced fine
1 teaspoon white peppercorn
1 tablespoon lemon juice
Salt
White pepper
1/4 pound butter, cubed
1/8 cup heavy cream

• Place white wine, peppercorns and shallot in a small pot and reduce to almost all liquid is evaporated.
• Add cream and reduce until thick.
• Turn heat to low and slowly whisk in butter one cube at a time.
• Remove from heat and add lemon juice
• Season with salt and white pepper.
---
COOK OFF CONTESTANTS
---

Kevin Bourg
Wine Country Bistro & Bottle Shop in Shreveport
Louisiana Flounder Orléanais
---

Manny Augello
Jolie's Louisiana Bistro in Lafayette
Braised Vermilion Snapper, Heirloom Baby Tomato, Roasted Garlic Fumet, Dragoncello Sauce & Corn Romesco Toast
---

Troy Deano
18 STEAK in Baton Rouge
Cornmeal Crusted Croaker, Louisiana Gulf Shrimp, Spring Corn Maque Choux, 1792 Ginger Gastrique
---
Dustie Latiolais
Crawfish Town USA in Henderson
Panko-Encrusted Cypremort Point Soft-Shell Crabs with Tabasco® Chipotle Aioli set atop Atchafalaya Crawfish Corn Maque Choux

---

Austin Kirzner
Red Fish Grill in New Orleans
Crispy Smoked Louisiana Soft-Shell Crab, Crawfish Corn Maque Choux, Potato Basil Puree with Tabasco® Sweet & Spicy 5 Pepper Glaze

---

Brett Duffee
Bayona in New Orleans
Sautéed American Red Snapper with Smoked Oyster-Leek Velouté, Succotash & Louisiana Blue Crab

---

Dean Terrebonne
Belle Terre Country Club in Laplace
Pan-Seared Red Snapper with a Tabasco®, Cumin & Sherry Red Onion Confit Sauce topped with Louisiana Lump Crab