Inside Outside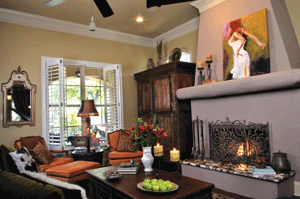 aye Alexander is a trim, fit woman who runs marathons and does triathlons. Then she comes home to an amazing cocoon of a house that is perfectly tailored for relaxation. "When I built my house in 2008, I wanted something to capture the beauty of the outdoors with the cozy feeling of a Mediterranean countryside house and to have just a touch of Southern comfort," she says. "Most of all, I wanted a place to relax."
Enter Alexander's home in the quiet, gated Broussard neighborhood of Vintage Park, and you will realize she got just what she wanted. The 2,560-square-foot house is a treasure. From the moment you view the house, you are aware that it is unusual. Even the solid shutters are different than most surrounding homes. "I wanted shutters that would act as sunscreens as well as for hurricane protection," she explains. "The fenced yard affords me complete privacy. There isn't a hint from the curb that there's a tropical garden and an outdoor living room hidden away behind the fence."
The introduction of arches begins the minute you view the property. Arches frame the portico and the front door, and there is even an arched entry to the walled courtyard. "My outdoors spaces are just as important as the interior," she says. "I love to be outside, so I wanted an outdoor living room with a fireplace and a television over the mantel. I added the columns on either side of the arched wall, dividing the space from the courtyard and garden to further give it a Mediterranean feeling."
Designed by architect Terry Judice of Judice Campbell Design LLC and built by Bryan McLain of McLain Homes LLC, both in Lafayette, the home welcomes you into a vestibule where a grand piano fills the space between tall windows. Even the front door is reminiscent of a Mediterranean villa with its inlaid ironwork that was fashioned by Paul Broussard of Broussard Iron Works in Milton, who also did the banister on the inside stairway, ironwork on the archway leading to the master bedroom, the iron gate to the garden and the decorative ironwork in the courtyard.
The great room is focused around a large fireplace with a raised hearth, and the open floor plan looks inward to the courtyard. "One thing I wanted somewhere in the house was a niche like the one I had seen in a beautiful Old Spanish hotel in New Mexico," Alexander says. "The dining room proved to have just the right spot for the niche in the angled wall that allows a view of the courtyard from my kitchen and dining room. It was here that the architect added the niche where I keep a special Madonna and child.
"The kitchen was designed around the Saltillo tiles that feature hand-painted accents," she continues. "We used the tiles on the countertops and backsplash, and we added a cypress bar between the kitchen and dining room to add warmth to the open space that features 11-foot ceilings with cypress beams and old reclaimed wood floors. Then to continue the Old World look that I love, I searched for just the right lighting and found hand-forged steel forms to hold the handblown shades that have just the right aged feeling."
One special request she had was for a faucet above the cooktop. "I wanted the pot filler because I liked the look of it, but once I got to using it, I loved it, and it comes in very handy when cooking soups, gumbos and any other large one-pot meals."
An archway leads from the office to the master bedroom, which opens onto the courtyard though a large glass door with tall matching windows on both sides. A spa-like bathroom adjoins the space. "The archway over the tub is another example that I'm not into straight lines," she says.
Not afraid of a bold new look, Alexander had workmen create what she calls "Venetian plaster" on the walls by roughly cutting the corners and arches with a box cutter prior to applying the plaster to give them an aged look. The furnishings reflect her fearless approach to decorating. "I selected tall, roughly carved, dark-stained furniture pieces and incorporated a leather-and-cowhide sofa, then added textured fabric and pillows to chairs and ottomans to create a warm and comfortable feeling."
Her favorite place? "It's hard to say, but I especially love the upstairs porch that overlooks the courtyard that was designed by Kevin Dugas [of Garden Arts Landscape Co. in Carencro]. The porch and the courtyard below are both peaceful oases far away from my athletic pursuits and busy professional life as a petroleum landman/site acquisition specialist in the telecommunications industry."