It's Not Their First Rodeo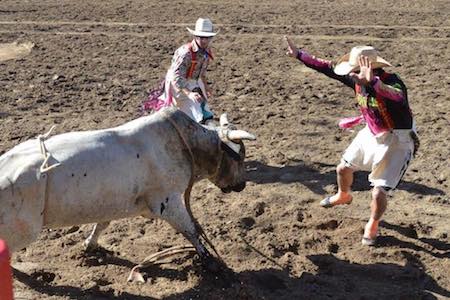 If you haven't experienced a legendary Angola Prison Rodeo, you are missing out on a real Louisiana experience, which has been touted as the "Wildest Show in the South." The Angola Prison Rodeo is one of the longest-running prison rodeos, and organizers are getting ready to open the gates for throngs of attendees every Sunday in October for the rodeo's 53rd year. (Fun Fact: Angola is the largest maximum-security prison in America with 6,300 prisoners, and is nicknamed the "Alcatraz of the South" and "The Farm.")
The historic rodeo, which takes place at the Louisiana State Penitentiary, began on a very small scale in 1965 and draws tens of thousands of spectators. Generation after generation – including tourists from around the globe – can't seem to get enough of the spectacle of inmates dodging raging bulls and showing off their examples of skilled horsemanship. (Tip: Be sure to take the bus tour around Angola to see the fascinating farming, with numerous crops grown by inmates.)
Among rodeo highlights are the Wild Cow Milking, Convict Poker, and Bull Riding. Want more entertainment? How about the world famous, heart-stopping Guts-n-Glory (in which inmates try to pluck a poker chip from the forehead of a charging bull) and newly-added specialty acts.
Many Angola prisoners live for this moment, which organizers say gives them a sense of pride and hope. The countless hours of training pay off when riders witness a sea of people in the stadium. (Fact: Professional rodeo clowns are hired as a safety distraction and are on the stadium floor during the show.) Proceeds from the rodeo help promote moral-rehabilitation and reentry initiatives at Louisiana State Penitentiary, as well as throughout the Louisiana Department of Public Safety and Corrections.
Additionally, don't miss the stunning and inspiring arts and crafts for sale, all created by the inmates. You will be amazed at their wares, from wood carvings to rosaries and everything in between. There is something here for everyone's taste at affordable prices. For little rodeo fans, there are pony rides, space walks, carnival games, an antique carousel, and more
If you're hungry, how about some great southern cuisine? You can choose from dozens of food items to tempt your taste buds including BBQ ribs, cracklin, fried catfish, hamburgers and, of course, funnel cakes.
Don't forget you are in West Feliciana Parish, which offers breathtaking landscapes of Louisiana and its hilly terrain. While here, a great place to make your lodging base is at a historic bed-and-breakfast, a nearby plantation or hotel in Saint Francisville, or you can opt to camp out.
Admission price for the rodeo is $20-dollars (with reserved seating), and the gates open at 9 a.m. with the show starting at 2 p.m. After witnessing this "Super Bowl for inmates" as one participant called it, you will know that your $20-dollars was well spent!
For more information go to: