James Burton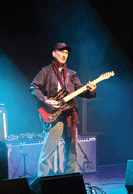 For most people, the idea of a career that consists of playing music side-by-side with the larger-than-life characters of rock 'n' roll is the stuff of fantasy. For Shreveport native James Burton, it's the story of his life.
At 70, Burton is still doing the same work he began in his teens. Between those tender years and his current state of non-retirement came thousands of performances, countless recording sessions and lengthy tours with the likes of Dale Hawkins, Jerry Lee Lewis, Ricky Nelson, John Denver, Emmylou Harris, Little Richard, Fats Domino and Elvis Presley –– among many, many others.
Burton was still a child when he began falling in love with the music he heard on KWKH radio in Shreveport, and he was particularly infatuated with guitars. His mother recalled how he would grab a broom out of her hands and start strumming it right there in the kitchen. At the advanced age of 13, his musical yearnings reached a turning point.
"I happened to be walking by J&S Music on Milam Street," he says. "This guitar was hanging in the window, and I just stood there drooling over it."
He hurried home to tell his mom and dad about his new obsession. Fortunately, they were sympathetic. Burton's dad went down to the store and bought the guitar.
"It was perfect," Burton recalls. "It was the most important guitar in the world for me, and still today, I love that guitar."
Burton practiced and practiced on the instrument, teaching himself to play the licks he heard on the radio by musicians such as Chet Atkins, Chuck Berry, Bo Diddley, Elmore James and Lightnin' Hopkins. One day in 1953, he slung his beloved guitar over his shoulder and headed downtown to Municipal Auditorium. The Louisiana Hayride radio show that was broadcast from there each week was fast becoming a nationwide hit.
He began hanging out at the Hayride, and in no time the professional musicians who were regulars there took notice.
They were amazed not only at how well Burton could play but also how fast he could mimic a tune after hearing it once or twice.
Soon, Burton was playing the Hayride on a regular basis, backing such rising stars as George Jones and Johnny Horton. "We played and recorded, and I wrote songs," he recalls. "I went professional at age 14."
In 1957, Burton came up with a lick that singer Dale Hawkins found intriguing. The distinctive riff had a compelling rhythm, and Hawkins paired it with a simple lyric. Soon after, the two recorded it for Chess Records. The tune –– "Susie Q" –– would put Burton on the musical map.
Word of his guitar prowess made its way around the performance circuit. In Los Angeles, an up-and-coming kid named Ricky Nelson was forming a backup band to play on his family's weekly television program, The Ozzie and Harriet Show. Burton was invited to audition, and for the next several years, he appeared each week in the musical segment of the popular show. For a few years, he even lived with the Nelson family.
With recordings such as Nelson's "Hello Mary Lou" and "Travelin' Man" under his belt, Burton found his guitar skills increasingly in demand. Calls came in from the likes of Glenn Campbell, Dean Martin, Bobby Darin, the Everly Brothers and Johnny Cash, and Burton recorded with all of them. Soon, the phone rang with one of the most memorable calls of his life.
Burton first met Elvis Presley when the singer was just beginning to build a name, launching his career –– as so many others did –– from the stage of the Louisiana Hayride. Over the years, Burton would play and record with Presley.
"In 1969 Elvis asked me to put a band together for him to open in Las Vegas at the International Hotel," Burton says.
"I did, and I played lead guitar. From 1969 to 1977, I played on everything Elvis did."
Burton and his wife, Louise, returned to Louisiana in 1990, settling into a home on Cross Lake in Shreveport. Today their home is filled with memorabilia, including a photo of Burton with Rolling Stones guitarist Keith Richards, who in 2001 inducted Burton into the Rock and Roll Hall of Fame.
Though he's well into the sixth decade of his career, Burton continues to perform and record more than 200 days a year. But he says his most important work these days involves the James Burton Foundation. The organization, which he launched in 2005, raises money to buy guitars for schoolchildren around the country. "We have given out more than 6,000 guitars," he says.
There may be more James Burtons in the making.