James Dickson – Louisianian of the Year – Wildlife Conservation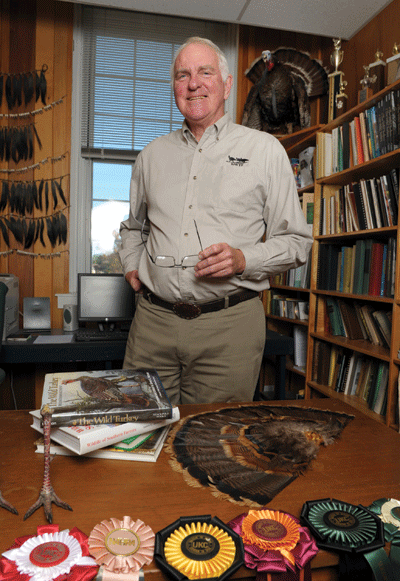 We present here our first class of Louisianians of the Year. In doing so we defined some key categories: Conservationist, Visual Artist, Civic Activist, Educator, Celebrity, Chef, Musician and Entrepreneur. There are other important, higher profile categories that we could have looked at – politics and sports being among them – but these chosen eight represent to us an impressive cross-section of local creativity. Thanks to all of them for their good works; thanks to all of you for providing an active state in which those works can be appreciated.
Wildlife Conservation
James Dickson
Forestry professor / Ruston
When he talks turkey, experts listen.
He was an undergraduate at the University of the South in Sewanee, Tenn., when he got the itch to visit Louisiana. You might assume that James Dickson, like untold numbers of other college students, was simply feeling the lure of Bourbon Street, but you'd be wrong.
"I came to Louisiana to see a swamp," Dickson says of the trip he made more than 45 years ago.
His first glimpse of a cypress bog, drenched in the somber hues of a netherworld and teeming with rarely seen creatures, drew Dickson in.
"Louisiana is so different from other places – the marsh, the bottomland hardwoods, so many people of different ethnicity, the Cajun culture – I was intrigued by all of it," he recalls.
Today, Dickson looks back on a career filled with efforts to understand, document and preserve Louisiana's unique natural environment. With a master's degree from the University of Georgia and a doctorate from Louisiana State University, the Frank Merritt Professor of Forestry has spent the past 12 years at Louisiana Tech University, where he is coordinator of the Wildlife Habitat Management Program.
Dickson has racked up dozens of awards for his scholarly works and efforts to broaden public understanding of Louisiana's forests and wildlife. His investigations helped define wildlife relationships in Southern forests and expanded professional knowledge of the birds, small mammals, deer and amphibians that populate these regions. Through hundreds of presentations to professional and lay audiences, he contributed to better wildlife management practices and habitat models nationwide.
One of his biggest achievements was completion of The Wild Turkey: Biology and Management, a book that was instrumental in the conservation of the birds and
is now seen as the bible of wild turkey management.
"We've been able to return a species that was limited to a few pockets in mostly remote places and really bring it back big-time," he says, reflecting on the book and his leadership in the National Wild Turkey Federation.
More recently, he compiled the award-winning Wildlife of Southern Forests: Habitat and Management, which he wrote with several other wildlife experts.
The father of two says the message he's aimed to spread through his work has to do with humans' responsibility to the natural environment. "We are part of the land," he says, "and with that comes responsibility to perpetuate the resources as best we can."